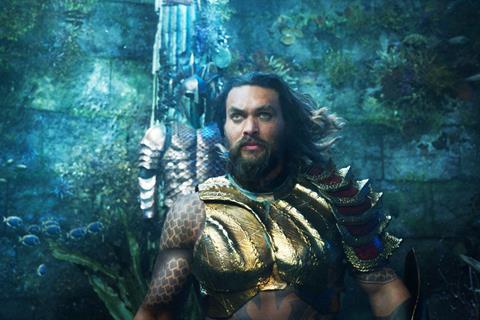 DECEMBER 31 UPDATE: DC Entertainment's Aquaman closes out 2018 as the top film at the global box office as a $140m haul boosted the running total to $751.8m.
WARNER BROS PICTURES INTERNATIONAL
UPDATE: The tentpole added $88.4m from 78 markets through Warner Bros Pictures International for $562.4m and ruled international and global box office for the fourth consecutive weekend, and stayed atop the North American charts for the second session. Australia was a standout with an $11m five-day opening weekend that delivered the second best debut for a DC Universe film behind Batman v Superman, and the third best five-day launch of the year.
Aquaman now ranks as the second highest grossing DC Universe release internationally behind The Dark Knight Rises on $636.8m (this is the unadjusted total from 2012), and is the highest DC and Warner Bros release of all time in China, where it added $11.4m for $260.4m after four sessions and also ranks as the sixth highest imported film.
Aquaman is also the top DC Universe release of all time in Indonesia, India, Malaysia, Thailand and Vietnam, and, besides China, ranks as Warner Bros' biggest ever release in Indonesia, Malaysia and Thailand. For Warner Bros it is the studio's biggest release of the year in 15 markets, among them China, South Korea, Brazil and Mexico. Director James Wan has achieved career-best results in South Korea, Indonesia, and Philippines. Across Asia excluding China, it is Warner Bros' biggest release of 2018, the second biggest DC Universe release of all time, and the third biggest Warner Bros release. It also ranks as the top film across Latin America for the third consecutive weekend.
The superhero adaptation starring Jason Momoa and Amber Heard opened in Colombia on $3.8m for 70% market share of the top five films. In a quartet of number one holds in the second weekend, South Korea generated $7.4m for $24.8m, France $7.1m for $15.2m, Germany $5.5m for $12.6m, and Spain $2.3m for $8m. In the third session, Brazil produced $4.1m for number one and a $23.7m running total, Mexico $3.2m for number one $22.4m, and the UK $3.1m for number three and $18.2m. Aquaman opens in Italy on Tuesday (January 1), and Japan on February 8.
Fantastic Beasts: The Crimes Of Grindelwald added $8.2m from 58 markets for $470.9m, and $627.6m worldwide. China remains the lead market on $57.3m, followed by Japan on $49.8m, and the UK on $41.5m. A Star Is Born stands at $187.7m internationally and $388.7m worldwide. The UK is the lead market on $37.9m.
PARAMOUNT PICTURES INTERNATIONAL
Action adventure Bumblebee starring Hailee Steinfeld and John Cena added $45.7m from 55 markets, including 17 debuts as the early running total reached $90m from roughly 59% of the international footprint. South Korea led the way with a $7.8m number two debut including previews, followed by the UK on $6.3m for second place, France on $4.1m for number three, and Brazil on $3m for number three.
The Taiwan debut delivered $2m for number one, Hong Kong $1.5m for number two, Spain $736,000 for number six, Argentina $616,000 for number one, and Belgium $518,000 for number six.
Indonesia led the holdovers on $2.6m for number one as the tally climbed to $9.2m. Germany produced $2.1m for number six and $4.6m, Mexico $1.8m for number three and $7.7m, Australia $1.4m for number three and $4.8m, Malaysia $1.2m for number one and $5.2m, Italy $957,000 for number seven and $3m, Singapore $774,000 for number one and $2.7m, Russia $578,000 for number six and $5.7m, and the Netherlands $453,000 for number nine and $1.1m. Bumblebee is expected to get another major boost this week when it opened in China on January 4. The Japan debut is scheduled for March 22.
WALT DISNEY STUDIOS MOTION PICTURES INTERNATIONAL
Mary Poppins Returns grossed $28.9m from 37 territories to climb to an early $74.4m. The UK is the lead market on $29.6m, then Italy on $11.2m, France on $6.2m, Germany $5.7m, and Spain $5.1m. Ralph Breaks The Internet added $13.7m from 32 for $174.7m with China the lead market on $39m.
SONY PICTURES RELEASING INTERNATIONAL
Spider-Man: Into The Spider-Verse grossed $27.4m from 60 markets to reach $109.6m. The animation opened in second place in Mexico on $4.7m, and added $8.5m for $45.4m in the second weekend in China. Holmes And Watson debuted day-and-date with North America in eight markets, producing $4m led by Australia on $1.8m uncluding previews, and the UK on $1.7m.
UNIVERSAL PICTURES INTERNATIONAL
The Grinch surged past $200m to reach $203.9m following a $17.5m session from 61 active markets. Mortal Engines stands at $47.9m.
FOX INTERNATIONAL
Bohemian Rhapsody added $17m in its tenth weekend to reach $513.3m and become Fox International's seventh highest grossing title of all time. It will overtake X-Men Days Of Future Past on $516m within a day or two to become the sixth biggest release. Japan has generated $63.9m after eight weekends. Dragon Ball Super: Broly added $3.4m to reach $24.4m and stands at $23.6m after three weekends in Japan.