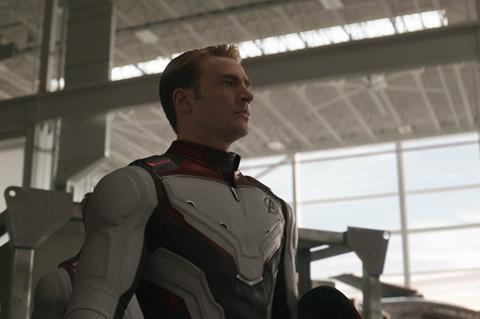 The record-breaking antics of Avengers: Endgame have propelled Walt Disney Studios past the $4bn worldwide and $3bn international box office thresholds for the year-to-date.
Disney executives announced the milestones on Friday (10), adding somewhat opportunistically that when Fox releases are added to the equation (following Disney's acquisition of Fox earlier this year), the global tally surges to $5b.2bn and international climbs to $3.8bn. Disney films alone in 2019 have generated $4.3bn worldwide, and $3.011bn internationally.
Avengers: Endgame has grossed $592.1m in China, and will cross $100m in the UK this weekend. As of Friday reporting the running total stood at $98.8m. South Korea has delivered $90.1m, Mexico $65.3m, Brazil $64.9m, India $56.2m, Germany $49.5m, and Australia $48.8m.
Endgame ranks number two in the global and international all-time pantheon. In North America $660.4m places it at fifth after it overtook the $659.4m final tally of Titanic on Thursday.
Warner Bros Pictures International brass reported on Friday that new release Pokemon Detective Pikachu added $5.8m on Thursday for an early $20.7m from the first 38 markets, including Japan.
Thursday opening day highlights include $534,000 in Australia, $424,000 in Germany, and $404,000 in Thailand. The family animation debuts in a further 24 markets on Friday including the UK. Early results from China on Friday reveal an $11.5m opening day on roughly 20,000 screens to rank number one ahead of Endgame.