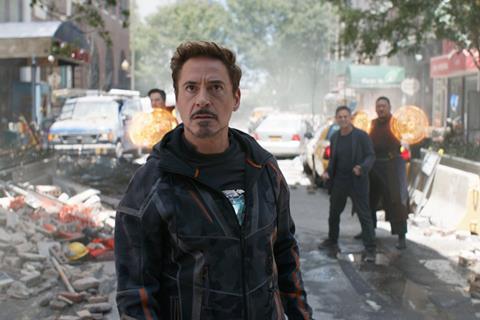 MAY 5 UPDATE: Avengers: Infinity War will cross $1bn on Saturday in a record 11 days as it added $69.5m on Friday to surge to $974.5m.
On Friday The Walt Disney Studios crossed $3bn in global grosses for the calendar year in record time, comprising $1.727bn internationally and $1.292bn from North America.
The previous record for reaching $3bn was achieved by Disney on May 6, 2016.
Avengers: Infinity War has grossed $606.4m internationally and $369.7m in North America. Full territory updates are expected on Sunday.
MAY 4 UPDATE: Marvel Studios' smash Avengers: Infinity War added $47.5m worldwide on Thursday to reach $905.1m after nine days in release and remains on course to cross $1bn in a record-breaking 11 days on Saturday.
Star Wars: The Force Awakens holds the record of 12 days. Infinity War stands at $566.7m internationally and $338.4m in North America heading into its second weekend, when it will cross $1bn worldwide.
The UK remains the lead market by a nose over South Korea, and stands at $53.7m. South Korea has generated $53.1m, followed by Mexico on $39.9m, Brazil on $33.5m, India $30.1m, Australia $27.8m, France $26.3m, Germany $23.2m, Indonesia $17.8m, and $17.4m in Japan.
Avengers: Infinity War stands at $17.3m in the Philippines, $16m in Italy, $14.5m in Spain, $13.9m in Thailand, $13.7m in Taiwan, $12.8m in Hong Kong, and $12.1m in Malaysia.
On Wednesday the tentpole overtook the final global grosses of Thor: Ragnarok ($854m), and Spider-Man ($822m)
The day before it passed Spider-Man 2 ($784m), Deadpool ($783m), Guardians Of The Galaxy ($773m), The Amazing Spider-Man ($758m), X-Men: Days Of Future Past ($748m) and Suicide Squad ($747m).
On Monday the blockbuster passed Captain America: Winter Soldier ($714m), The Amazing Spider-Man 2 ($709m), Doctor Strange ($678m), Man Of Steel ($668m), Justice League ($658m), and Thor 2 ($645m).
The tentpole previously overtook the global grosses of Iron Man 2, Logan, Iron Man, Ant-Man, Thor, Captain America: First Avenger and The Incredible Hulk.
Black Panther stands at $644.3m while Coco has amassed $592.2m through Walt Disney Studios Motion Pictures International.
Warner Bros Pictures International's Rampage on $275.3m opens in France, while Game Night on $44.4m opens in Italy. Ready Player One has amassed $424.1m, and Tomb Raider stands at $215.3m.
Paramount Pictures International executives reported that A Quiet Place stands at $80m, and Sherlock Gnomes $19.1m.
Isle Of Dogs on $19.5m through Fox International arrives in a dozen markets including Italy, Mexico, Russia, and Sweden. Local language title Duck Duck Goose ventures into Russia.
Blumhouse's Truth Or Dare opens in 17 markets via Universal Pictures, among them France and Brazil. The supernatural thriller has grossed more than $12.5m.