Warner Bros Pictures International's somewhat maligned DC Entertainment superhero tentpole remains the one to beat heading into its third weekend.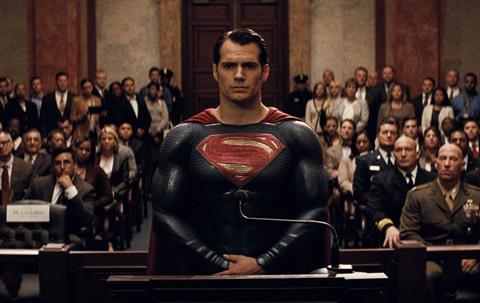 Batman v Superman: Dawn Of Justice has grossed $450.3m internationally and $720.8m worldwide.
The film initially seemed to be defying largely negative reviews when it opened strongly, but a heavy 69% drop in the second weekend in North America prompted insiders to speculate that poor word of mouth had begun to catch up.
That said, the film stands a chance of breaking even and should cross $800m worldwide by the end of this weekend. It has generated $90m in China, $43.3m in the UK, $31.3m in Mexico, $24.1m in Brazil, and $18.5m in Australia.
France has produced $15.4m, Germany $15m, South Korea $14.8m, Russia $11.6m, Japan $10.9m, Italy $10.6m, and Spain $9.6m.
Universal Pictures International has a busy weekend with multiple launches of The Huntsman: Winter's War starring Charlize Theron, Chris Hemsworth, Emily Blunt and Jessica Chastain in 19 territories.
Highlights are expected from the UK, Mexico, Germany, Spain, Italy, Sweden, Hong Kong, and Taiwan. The action fantasy debuts in North America on April 22.
Melissa McCarthy comedy The Boss arrives in eight smaller markets day-and-date with North America.
My Big Fat Greek Wedding 2 has several new debuts and has grossed more than $18.4m.
Walt Disney Studios Motion Pictures International's Zootopia stands at $531.6m and arrives in New Zealand this weekend.
Jungle Book opens one week ahead of North America in Australia, Argentina, Russia, India, Malaysia, Philippines, Singapore and some small territories this weekend. The Good Dinosaur has grossed $206.6m from all markets.

Hardcore goes out in Russia through Fox International day-and-date with the North American release via STX Entertainment under the title Hardcore Henry.
Eddie The Eagle on an early $10.6m flies into eight, among them Russia, South Korea, and South Africa. Victor Frankenstein opens in Italy and Demolition in France.
The Revenant has grossed $331.9m, The Martian $402.8m, and Deadpool $399.7m.