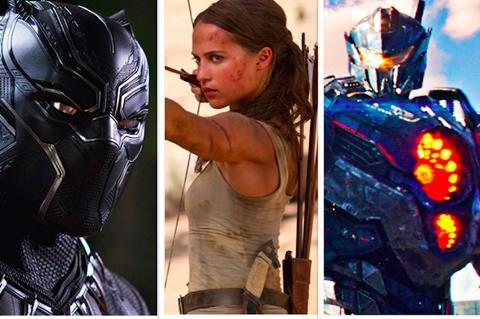 MARCH 23 UPDATE: Black Panther became the 14th highest global release in history as it crossed $1.2bn this week (March 21) and hit $100m in China to propel Disney past $1bn in international receipts for the year-to-date.
The Marvel Studios release has been Hollywood's box office sensation of 2018 so far – although its days atop the box office are over. Last week it ceded the crown to MGM/Warner Bros' Tomb Raider, which faces Legendary Entertainment's Pacific Rim Uprising in what will be a battle royal this weekend.
The Alicia Vikander action adventure has raced to an early $132.5m via Warner Bros Pictures International and swings into Japan this weekend. The market could yield rewards, given that audiences took to Angelina Jolie in the 2001 original Tomb Raider: Lara Croft, which finished on $21.4m (inflation-adjusted to $29.9m), and its 2003 sequel Lara Croft Tomb Raider: The Cradle Of Life, which opened there on $4.5m ($6.1m) en route to $15.9m ($21.4m).
Yet the thrill-seeking heiress must compete with John Boyega in Pacific Rim Uprising, the sci-fi sequel to Guillermo del Toro's 2013 tentpole that grossed $411m worldwide – $309m of which came from international markets.
Boyega and company arrive day-and-date with North America in a multitude of major territories via Universal Pictures International. Heavy hitters include Russia, Pacific Rim's second highest grossing territory on $20.6m five years ago. To match the $8.9m Russian opening weekend, Pacific Rim Uprising will need to gross $9.5m in today's terms.
Other key territories that receive the sci-fi action tentpole this weekend (the original's opening weekend is listed alongside the inflation-adjusted gross) include South Korea ($8.3m / $8.9m), Mexico ($5.5m / $5.9m), France ($3.7m / $3.9m), the UK ($3.3m / $3.5m), Australia ($2.7m / $2.9m), Brazil ($2.3m / $2.5m), Malaysia ($2.1m / $2.2m), Germany ($2m), and $1.3m in Italy and Argentina ($1.4m).
China was the original's highest grossing market on $111.9m and big things are expected when the sequel debuts there. A lot will be riding on it, too – Wanda owns Legendary Entertainment.
Returning to Disney, Black Panther remains a force on $593m and will surge past $600m this weekend through Walt Disney Studios Motion Pictures International. It crossed $100m in China on Thursday (current box office is $100.1m), and stands at $60.8m in the UK, $42.7m in South Korea, $33.5m in Brazil, $29.1m in France, $28.6m in Australia, and $26.7m in Mexico. Global box office stands at $1.2072bn.
Pixar's Coco has grossed a little over $554m, while Ava DuVernay's fantasy adaptation A Wrinkle In Time has climbed to slightly more than $11.8m and will get a boost with the UK debut.
Warner Bros' crime caper Game Night stands at $32m, while Clint Eastwood's thriller 15:17 To Paris has reached $19.2m.
Sony Pictures Releasing International's Peter Rabbit is getting some real momentum behind it and stands at $49.3m internationally, having recently crossed $100m in North America. Good business is expected to continue this weekend when the family release opens in Australia, Germany, Italy, Spain, Brazil, and Russia.
Fox International unleashes Steven Soderbergh's horror thriller Unsane starring Claire Foy heads into the UK, Taiwan, Hong Kong and Malaysia day-and-date with North America.
Jennifer Lawrence spy thriller Red Sparrow on $68.8m infiltrates the Middle East, while Three Billboards Outside Ebbing, Missouri starring Oscar winners Frances McDormand and Sam Rockwell has reached $96.6m and arrives in Romania. Oscar best pictures and best director winner The Shape Of Water stands at $114.1m.
MGM and Paramount Pictures co-produced the family animation Sherlock Gnomes, which stands at an early $2.4m through Paramount Pictures International.