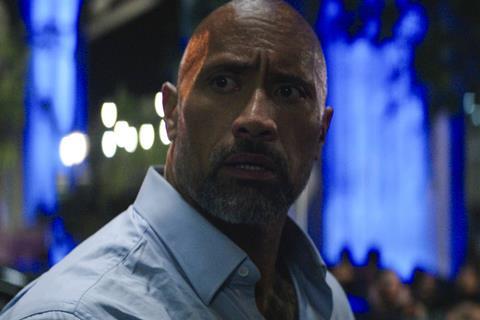 Despite a below par box office performance so far from the Universal-Legendary tentpole Skyscraper, hopes are high the film will prosper in China this weekend and capitalise on the popularity of Dwayne Johnson.
The disaster film has reached $56.2m internationally and $90.1m worldwide – not where studio executives hoped it would be heading into the second weekend.
There has been speculation that audiences are suffering from Johnson fatigue, certainly in the US, however thus far the same cannot be said of China. Rampage opened there in April and grossed $156.4m, while Jumanji: Welcome To The Jungle managed a considerable $77.9m back in February.
2017's The Fate Of The Furious starring Johnson remains the highest grossing Hollywood film in China on $392.8m, so this will be a timely bellwether to determine whether the star enjoys enduring appeal. The added bonus for Universal-Legendary is that July is the blackout month whereby Hollywood films are (mostly) blocked from opening in local theatres.
Universal Pictures International brass also have their eyes on Mamma Mia! Here We Go Again. A decade after the original stormed to $609.8m worldwide, the musical sequel arrives in 41 territories day-and-date with Friday's North American bow.
Watch for big numbers in the UK, where the original stopped everyone in their tracks with a $13.1m debut and went on to finish on a whopping $94.4m to rank as the 11th highest film of all time in the territory in local currency. In today's terms, that box office equates to $15m and $108.1m in real terms.
Australia, Germany, Spain, Malaysia, Argentina, Belgium, and Abba's home country Sweden are expected to be among the highlights in the first wave as the family tentpole rolls out through September.
Original cast members Meryl Streep, Amanda Seyfried, Dominic Cooper, Pierce Brosnan, Stellan Skarsgaard, Colin Firth, Christine Baranski, and Julie Walters return alongside newbies Cher and Lily James.
Elsewhere, Jurassic World: Fallen Kingdom has grossed $790.9m, while The First Purge stands at $26.9m.
The Equalizer 2 ventures into its first 11 international markets through Sony Pictures Releasing International day-and-date with North America this weekend, when all eyes will be on Australia to see whether Denzel Washington's no-nonsense, ultra-violent modus operandi can cut the mustard with local audiences.
The original was a highlight in Australia when it launched on $2m in September 2014 via Roadshow and went on to amass $5.7m. Overall the thriller generated $90.8m of its $192.3m global box office from international.
Meanwhile Sony Pictures Animation's Hotel Transylvania 3: Summer Vacation has raced to an early $80.5m and debuts in Germany, where the 2015 predecessor opened on $3.3m en route to a superb $13.3m final tally. The 2012 original finished on $10.9m and in both cases, Germany was one of the key performers of the films' impressive international runs ($201.1m and $303.5m, respectively.)
Walt Disney Studios Motion Pictures International executives report that Incredibles 2 stands at $343.9m and opens this weekend in South Korea and Hong Kong, which are both expected to play a part in pushing the Pixar hit well past the $350m international mark and towards $900m worldwide.
Marvel Studios' Ant-Man And The Wasp has reached $165.9m after a relatively short amount of time in action and is expected to be hovering close to the $200m mark by Sunday with new debuts in France, Belgium, Netherlands, and Switzerland.
Lucasfilm's Solo: A Star Wars Story stands at $174.4m and there are no new debuts this weekend.
Ocean's 8 stands at $125m through Warner Bros Pictures International. Comedy Tag on $16.3m opens in Mexico, while Life Of The Party has grossed $12m.
Wes Anderson's Isle Of Dogs stands at $31.7m through Fox International and heads into Brazil and Thailand this week. Deadpool 2 stands at $415m and rom-come Love, Simon $24.8m.