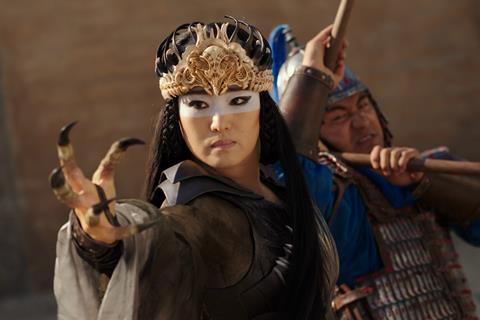 Disney's Mulan grossed just $6.5m on its second weekend in China, according to figures from Artisan Gateway, a decline of 72% over its opening, and placing it second in the weekend chart (September 18-20) behind local war epic The Eight Hundred.
Hit by piracy and poor word-of-mouth, Disney's live-action retelling of a popular Chinese myth has grossed a cumulative $36.3m since its September 11 release. In comparison, The Eight Hundred, which grossed $17.7m on its fifth weekend, reached a cume of $423.2m this week.
Christopher Nolan's Tenet, which opened one week before Mulan, came in third over the three-day weekend, taking $5.6m for a cume of $61m. Online ticketing platform Maoyan predicts the film's China box office will land up somewhere around $67m.
Italian crime thriller The Invisible Witness (Il Testimone Invisible) came in fourth over its opening weekend, grossing $2.6m, and marking the first successful appearance of a European film since Chinese cinemas reopened in late July.
The 2018 production is a remake of Spanish thriller The Invisible Guest, directed by Oriol Paulo, which grossed $25m in China in 2017. Paulo's next film, Mirage, was released in China last year and grossed a healthy $15.8m.
Hong Kong-China co-production I'm Livin' It, directed by Wong Hing Fan, took fifth position in the weekend chart with $1.4m. Released on September 17, the film has a cume of $1.8m. Starring Aaron Kwok and Miriam Cheung, the Hong Kong-set drama revolves around a group of people made homeless by the city's soaring rents, who are forced to spend their nights in fast food restaurants.
Sony's A Beautiful Day In The Neighbourhood, starring Tom Hanks as Mr Rogers, also opened this weekend, but only came in tenth behind local productions such as Love You Forever and documentary The Blue Defensive Line. China's Tencent Pictures was one of the investors in the Tristar Pictures production.
China's theatres are now gearing up for the National Day holidays (October 1-8), which sees the release of several big local films including Peter Ho-sun Chan's Leap, Jackie Chan vehicle Vanguard, omnibus My People, My Homeland and animation Jiang Ziya: Legend Of Deification. Chinese authorities have confirmed that cinemas will be able to increase seating capacity to 75%, from the current 50%, from September 25.