Magical caper becomes Lionsgate's biggest film ever in China.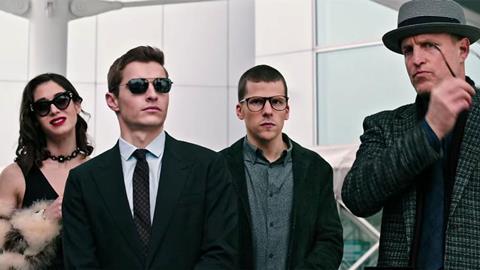 Now You See Me 2 retained the lead at the Chinese box office from June 27 to July 3, taking $39m with a drop of only 10.3%. With $82.76m after 10 days, the caper sequel has become Lionsgate's biggest film ever in China.
Independence Day: Resurgence maintained in second position with $30.93m after a drop of 14.7%. With $67.4m after 10 days, the disaster film sequel has become Fox's seventh biggest film in China.
Teenage Mutant Ninja Turtles: Out of the Shadows settled for third place with $25.84m from its two-day opening weekend. This represented 41% above its predecessor based on Saturday-Sunday results.
China's Wanda Cinema Line and Alibaba Pictures were co-investors along with Paramount.
Two new Chinese-Korean collaborations debuted in fourth and fifth place.
Bounty Hunters topped the chart on its opening day (July 1) and took $17.83m from its three-day opening weekend. Directed by Korea's Shin Terra, the action comedy marked the China debut of popular Korean actor Lee Min-ho who headed the cast along with Hong Kong actor Wallace Chung who was last seen in Johnnie To's Three.
So I Married An Anti-Fan made $8.79m from its first four days. Based on Korean comics, the new romantic comedy is directed by Kim Jae-young and stars Park Chan-yeol from Korean boy band EXO and Chinese actress Yuan Shanshan.
Finding Dory fell to sixth placed with $5.99m for $36.26m after 17 days. The Disney-Pixar animation sequel has topped Monster University to become the biggest Pixar release ever in China.
It was followed by Three with $5.22m for $14.75m after 10 days and Warcraft with $3.13m for $220.80 after 26 days, which narrowly beat Avengers: Age Of Ultron to become the fourth highest grossing imported film ever and the eight overall in China.
New local horror The Precipice Game, starring Ruby Lin and Peter Ho, debuted in ninth place with $0.65m from its first three days.
X-Men: Apocalypse added $0.62m from $121.84m after 31 days.
Last week's box office surged by approximately 11%. Chinese-language films will flood the theatres as over two dozen of them are scheduled for the coming weeks in July. This week's new releases include Never Gone, Cold War 2, Big Fish & Begonia, Rock Dog and Foolish Plans, all opening July 8.