Titles including Transformers and Breakup Buddies take box office total to $4.8bn.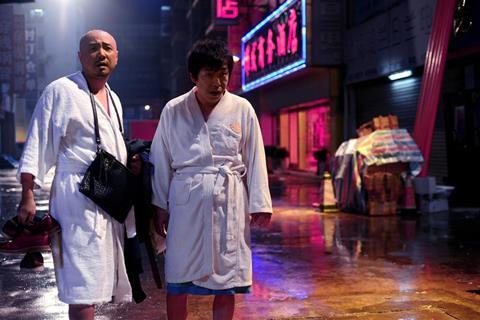 China's box office grew by 36% in 2014 to reach $4.8bn (RMB29.6bn), compared to $3.6bn (RMB21.8bn) the previous year, with growth driven by both local and Hollywood releases.
Local productions grossed $2.6bn (RMB16.15bn) in 2014 for a market share of 54.5%, according to figures released on Jan 1 by China's State Administration of Press, Publication, Radio, Film and Television (SAPPRFT).
Top-grossing local films included National Day holiday release Breakup Buddies, which grossed $190m, and Chinese New Year release The Monkey King, which took $169.5m. However, Paramount's Transformers: Age Of Extinction was the year's biggest film with a mighty $322m haul and holds the record for the highest-grossing film ever in China.
Zhang Hongsen, head of the Film Bureau under SAPPRFT, said that Chinese films gained market share and were welcomed by audiences, despite the competition they faced from Hollywood. He cited Tsui Hark's The Taking of Tiger Mountain, Zhang Yimou's Coming Home and Peter Ho-sun Chan's Dearest as examples of outstanding domestic films.
SAPPRFT also announced that admissions for the year rose by 34.5% to 830 million. The RMB100m ($16m) benchmark was passed by 66 films, compared to 60 films in 2013. Of the 66 that grossed more than $16m in 2014, 36 were local productions. None of the films in the year-end top ten (see below) grossed less than $100m.
A total of 618 Chinese films were produced in 2014, compared to 638 in 2013, although it wasn't made clear if they all received theatrical releases.
The number of foreign films released in China during the year was around 67 – of which 34 were revenue-sharing releases and 33 were imported on a flat fee basis.
Overseas sales of Chinese films hit $304m (RMB1.87bn), an increase of 32% on the previous year, according to SAPPRFT figures.
China added 1,015 cinemas with 5,397 screens over the year, bringing the country's total number of screens to 23,600. "On average, 15 more screens were added each day," said Zhang.
None of the big local films currently on release made the year-end top ten before the cut-off point of December 31, but should figure prominently in next year's figures. Both Jiang Wen's Gone With The Bullets and Tsui Hark's The Taking Of Tiger Mountain grossed more than $50m on their opening long weekends, while Gu Changwei's Love On The Cloud took $23m.
CHINA TOP TEN FILMS 2014 (Jan 1-Dec 31)
1.Transformers: Age of Extinction – $322m (RMB1.98bn)
2.Breakup Buddies – $190m (RMB1.17bn)
3.The Monkey King – $169.5m (RMB1.05bn)
4.Interstellar – $122m (RMB752m)
5.X-Men: Days Of Future Past - $117.4m (RMB724m)
6.Captain America: The Winter Soldier - $116.8m (RMB721m)
7.Dawn of the Planet of the Apes – $115.6m (RMB711m)
8.Where Are We Going, Dad? – $112.8m (RMB696m)
9.The Breakup Guru – $108m (RMB667m)
10.The Continent – $102.7m (RMB632m)
Source: State Administration of Press, Publication, Radio, Film and Television (SAPPRFT).