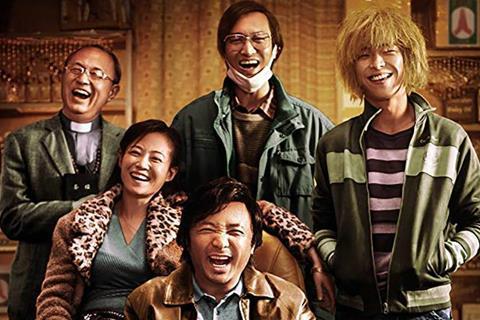 JULY 16 UPDATE: China's Dying To Survive ruled international box office for the second consecutive weekend on an estimated $66.6m as Sony's Hotel Transylvania 3: Summer Vacation used a strong Latin American performance to lead the Hollywood pack and dominate global box office over the session on $89.9m.
Skyscraper from Universal and Legendary grossed $40m, while Universal's Jurassic World: Fallen Kingdom scored the studio's highest Japan debut, and Pixar's mighty Incredibles 2 opened top in the UK.
CHINA UPDATE
UPDATE: Accentuating the might of Chinese box office, Dying To Survive maintained its international box office supremacy for a second consecutive weekend.
Wen Muye's social realist drama added $66.6m and has reached $350.2m after two weekends. It took another $1m on IMAX for a $10m running total.
Jiang Wen's action crime drama Hidden Man ranked third in the international pecking order on $44.1m, and grossed $2m from 506 IMAX screens. The big budget fantasy Asura flopped on $6.8m and was pulled out of many theatres.
SONY PICTURES RELEASING INTERNATIONAL
UPDATE: A $44.6m weekend haul from 44 markets ensured Sony Pictures Animation's Hotel Transylvania 3: Summer Vacation reached an early $53m internationally and reached $100.2m worldwide so far as the family tentpole opened top in North America.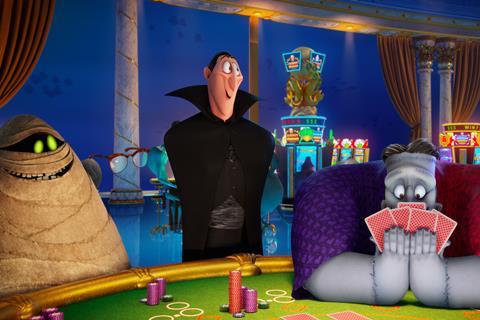 The animation featuring Adam Sandler opened higher collectively in its 42 new markets than the previous two instalments. There were plenty of accolades in Latin America, where Dracula and friends grossed approximately $23m across the region and ranked number one in all 11 markets for Sony's best animation debut in Latin America and its fifth highest overall.
The family-friendly market Mexico led on $8.5m for Sony's second highest debut behind Spider-Man: Homecoming, while Brazil produced Brazil $3.7m, and Argentina $2.1m for Sony's biggest launch in history. Despite the distraction of the World Cup final, results held up well against the launches of Hotel Transylvania 2 in late 2015, when Mexico generated $7.9m, Brazil $2.5m, and Argentina $2m en route to lifetime grosses of $23.9m, $10.8m, and $5.5m, respectively.
Central America delivered $1.9m for Sony's second highest debut, while $1.5m in Colombia achieved the same accolade. Peru and Chile each produced $1.2m.
A number one debut in World Cup hosts Russia delivered $5.8m, and $2.7m was enough to secure top berth in Spain. Hotel Transylvania 3 added $2.4m for $10.2m in its third weekend in Australia where the film has already surpassed the lifetime hauls of the first two. Hotel Transylvania 2 opened in Russia on $6.1m and in Spain on $3.2m in October 2015, and finished on $15.9m and $12.3m. The second film in the series finished on $8.3m in Australia. This week Dracula ventures into Germany.
Sony Pictures International Productions launched Hindi-language sports drama Soorma, based on the life of hockey player Sandeep Singh, on $2.6m from five markets, led by a $2.5m number three debut in India.
UNIVERSAL PICTURES INTERNATIONAL
UPDATE: Dwayne Johnson tentpole Skyscraper from Universal and Legendary opened day-and date with the number three North American debut, earning $40m from the initial wave of 57 territories to stand at $65m worldwide.
The action film about a security specialist who must save his family and others from a towering inferno in Hong Kong debuted at number one in 17 markets. The top three markets generated number two rankings as South Korea delivered $4.8m, Mexico $3.8m, and Russia $2.7m.
Skyscraper opened a number four in Australia on $2.3m, number two in the UK on $2.2m, number one in Taiwan on $2m, number one in Indonesia on $1.9m, number one in UAE on $1.7m for Universal's fifth highest opening weekend.
Malaysia generated $1.7m for top spot, France $1.6m for number two as the national football side beat Croatia 4-2 in Sunday's World Cup final, and Hong Kong $1.4m for number one. Skyscraper opens this week in traditional and IMAX theatres in China, where Johnson enjoys huge popularity.
Behemoth Jurassic World: Fallen Kingdom pulled in a further $28m from 67 for $773.1m, and $1.137bn worldwide. It opened top in Japan on a mighty $13.4m for Universal's biggest weekend of all time.
The First Purge, Blumhouse's latest entry in the horror franchise, added $6.2m from 27 for $23.3m, and $73m worldwide. After two weekends, Germany is the early lead market on $1.1m, followed by the UK on $1m.
WALT DISNEY STUDIOS MOTION PICTURES INTERNATIONAL
UPDATE: Ant-Man And The Wasp crossed $150m as $35.3m from 44 territories elevated the tally to $150.9m, more than two-thirds of which comes from the Asia-Pacific region with China and Japan still to come.
The Marvel Studios tentpole starring Paul Rudd and Evangeline Lilly arrived at number one in India on approximately $3.8m, and remained top in Australia where it has amassed a confirmed $9.7m after two weekends. South Korea is the lead market on $34.5m after, followed by Mexico on $11.5m. Russia has generated $9.4m, and Indonesia $8.9m. Worldwide box office stands at $284m.
The film brought in $4m on IMAX to push the global tally to $16.6m, of which $6.6m comes from international markets.
Pixar's Incredibles 2 has reached $858.5m worldwide and added $34.7m internationally for $322.6m. Firing up weekend business was a $12.6m UK debut that ranks as the second highest three-day opening for a Disney Animation/Pixar release behind Toy Story 3, and the highest Disney Animation/Pixar non-holiday opening.
China remains the lead market on $51.6m, then Mexico on $36m, Australia $29.5m, Brazil $23.3m, France $17.9m, Russia $15.1m, the UK, then Argentina on $12m, and Colombia $10.3m. Incredibles 2 debuts this week in South Korea and Hong Kong, and now ranks as the highest Pixar release in Thailand, and the number one Disney Animation/Pixar release in Colombia, Central America, Trinidad and Uruguay. It is the second highest Disney Animation/Pixar release across the Latin America region.
Lucasfilm's Solo: A Star Wars Story stands at $173m internationally and $384.9m worldwide.
WARNER BROS PICTURES INTERNATIONAL
UPDATE: Ocean's 8 brought in $4.6m from 62 markets for $122.2m, and $254.5m worldwide. The UK was the star performer, adding $707,000 for $12.9m in its fourth session. Australia has delivered $13m after six, Germany $5.8m after four, and Spain $2m after two.
Tag added $1.2m from 42 to reach $15.4m. The top market thus far is Australia on $2.5m, followed by Russia and the UK on $2.4m and $1.8m, respectively. The comedy debuts in Mexico this week.
In its third weekend Park Hoon-jung's South Korean revenge thriller The Witch added $3.5m to reach $13.1m. The martial arts release is a Warner Bros presentation of a Gold Moon Film production and a Peppermint & Company co-production.
FOX INTERNATIONAL
UPDATE: Fox Star's Bollywood hit Sanju is approaching $60m in India after a $3.9m weekend haul from India and the UK elevated the tally to $60.3m. The sub-continent generated a further $3.8m to boost the tally to $58.8m.
Deadpool 2 added $979,591 for $414.8m, while rom-com Love, Simon stands at $24.7m. Steven Soderbergh's psychothriller Unsane starring Claire Foy arrived in France on $477,219 and stands at $5.2m from two markets.
STX INTERNATIONAL
UPDATE: Shailene Woodley and Sam Clafin romantic survival drama Adrift grossed $2m for a $12.2m running total. It opened in four new territories including Germany at number four on $583,000. France has produced $851,000, and Australia and New Zealand $2.1m. Adrift opens in Mexico this week.
LIONSGATE INTERNATIONAL
Sicario: Day of The Soldado grossed $1.4m from 50 Lionsgate markets to push the early running total to $13.9m. Leading the way are the UK on $2.5m, Australia on $2.1m, and South Korea on $1.7m. The drug cartel thriller enters Germany and this week.