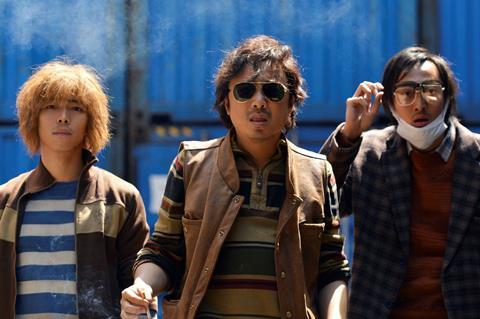 Dying To Survive continued to thrive at the Chinese box office in the period of Jul 9-15, as new opener Hidden Man failed to take it down from the top.
Dying To Survive maintained an astounding momentum in its second week and added $159.7m for $350.2m after 11 days. It has fast become the third highest grossing film of 2018, after Operation Red Sea and Detective Chinatown 2. It has also outpaced Monster Hunt and Fast And Furious 7 to become the sixth highest grossing film of all time in the territory.
But it may end up behind last summer's champion Wolf Warriors 2, currently the highest grossing film in Chinese cinema history. Its 11-day total was about 22% short of Wolf Warriors 2 based on the same period although it debuted 33% higher.
Dying To Survive is a comedy drama with rare social realist themes, about the import of illicit leukemia medicine into China. It is directed by newcomer Wen Muye and features top Chinese star Xu Zheng who also produces with Ning Hao.
In second place, Hidden Man took $44.1m from its three-day opening weekend, representing the best debut for a Jiang Wen-directed film. On its Friday opening day, it almost tied with Dying To Survive, but the gap became wider over the weekend.
Set in the 1930s, the local thriller is about a young man who returns home to solve an old murder case. With a cast headlined by Eddie Peng, Liao Fan and Jiang himself, it is the third installment of a loose trilogy that includes Let The Bullets Fly and Gone With The Bullets, both directed by Jiang.
Local gambling adventure Animal World dropped to third place with $7.6m for $68.7m after 17 days.
Asura came in fourth with $6.8m from its three-day opening weekend, a disappointment given its allegedly $100m budget. On Sunday, its producers suddenly announced that the film would be withdrawn from cinemas on that day from 10pm onwards. But as of today (Monday), Maoyan online booking app and other Chinese booking sites show that the film is still playing in cinemas despite far fewer screenings. The CG-laden mythical fantasy film stars Wu Lei, Carina Lau and Tony Leung Ka-Fai.
Local family animation New Happy Dad And Son 3: Adventure In Russia ranked fifth with $6.7m for $16.8m after 10 days, delivering a new record for the franchise.
The rest are mostly holdovers: Universal's Jurassic World: Fallen Kingdom on $4.9m for $237.5m after 31 days; Disney/Pixar's The Incredibles 2 on $3m for $48.5m after 24 days; local comedy Happiness Is Coming on $0.9m for $13.4m after 38 days; local animation Monkey King Reloaded on $0.8m from its first two days; and local documentary Do Not Miss It on $0.4m for $0.7m after 10 days.
While this week sees no major Chinese release, Skyscraper will open on July 20 as the only major US release in July.