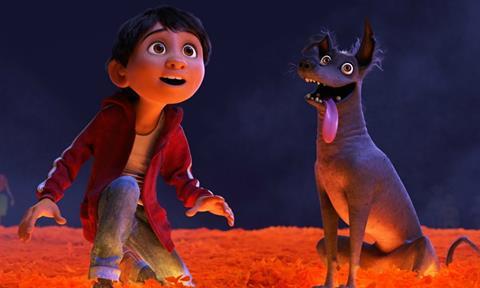 Pixar's Coco on Wednesday (November 15) became the highest-grossing film of all time at the Mexican box office.
The film crossed 827m pesos ($43m) to overtake Disney stablemate The Avengers after less than three weeks in release and would appear to have plenty left in the tank.
Coco premiered at the Morelia Film Festival on October 20 at the Bellas Artes Palace to benefit the Center for Music Training and Development of the Mixe Culture in Oaxaca and featured live performances by the National Symphony Orchestra and Carlos Rivera.
The film opened one week later in Mexico via Walt Disney Studios Motion Pictures International and within 11 days had already become the highest-grossing original animation in Mexico.
Lee Unkrich and Adrian Molina directed the Day Of The Dead story that features the voices of Gael Garcia Bernal, Benjamin Bratt, and Latin Grammy winner Marco Antonio Solís as part of one of the largest teams of dubbing talent ever assembled for 25 characters in the film.
To promote the film, the local Disney office created activations celebrating the pride of Mexico, family and traditions on Mexican independence day in September, including an outdoor campaign, local artist-inspired murals, and bespoke social content.
A Coco-themed float was featured in the Dia de los Muertos Parade in Mexico City on October 28. Coco opens in North America on November 22 and in China a day later.