EXCLUSIVE: Total grosses for the year climbed 7.9% on 2015 to reach approximately USD $174m.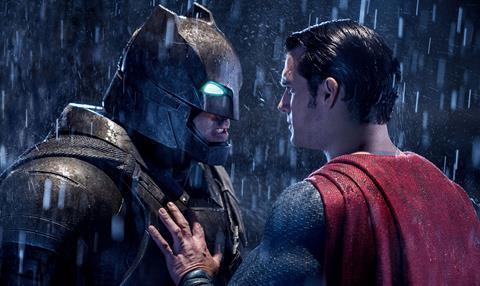 The total number of admissions in 2016 amounted to 61.44m as El Coco topped the local charts on 1.15m.
Agente Ñero Ñero 7 (Agent Black Black 7) ranked second on 733,807 admissions, followed by Uno Al Año No Hace Daño 2 on 723,385.
Rounding out the top five were Usted No Sabe Quien Soy Yo on 637,903 and El Paseo 4 on 564,372.
The biggest release of the year in Colombia in terms of revenue was Warner Bros' Batman vs Superman: Dawn Of Justice on USD $8.2m.
The tentpole drew 2.5m admissions compared to Disney-Pixar's Finding Dory 3D, which attracted more admissions — 2.8m — but USD $7.9m at the box office due to exchange rate fluctuations and the spread of ticket purchases across venues where prices are uneven.
Third was Disney-Marvel's Captain America: Civil War 3D on 2.17m admissions and USD $7.2m, followed by two from Warner Bros.
Suicide Squad 3D generated 2.22m and USD $7.1m, and The Conjuring 2 drew 2.4m admissions and $5.9m at the box office.
TOP FIVE LOCAL TITLES 2016
Title / Admissions
1. El Coco / 1.15m
2. Agente Ñero Ñero / 7 733,807
3. Uno Al Año No Hace Daño 2 / 723,385
4. Usted No Sabe Quien Soy Yo / 637,903
5. El Paseo 4 / 564,372
TOP 10 BOX OFFICE 2016
Title / Admissions / Box office in USD
1. Batman Vs Superman: Dawn Of Justice / 2.503m $8.25m
2. Finding Dory 3D / 2.786m / $7.96m
3. Captain America: Civil War 3D / 2.167m / $7.18m
4. Suicide Squad 3D / 2.223m / $7.09m
5. The Conjuring 2 / 2.4m / $5.97m
6. Ice Age: Collision Course 3D / 2.002m / $5.96m
7. Zootopia 3D / 2.054m / $5.93m
8. The Jungle Book 3D / 1.936m / $5.79m
9. X-Men: Apocalypse 3D / 1.539m / $5.04m
10. The Secret Life Of Pets 3D / 1.613m / $4.45m