Detective Dee was the surprise victor of this weekend's international chart, narrowly preventing Resident Evil: Afterlife from a fourth consecutive week at number one.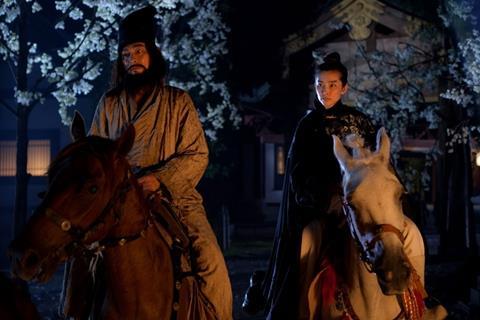 Huayi Bros' crime thriller Detective Dee: Mystery Of The Phantom Flame took $16.4m from 650 screens for an incredible screen average of $25,262. The film is not set to open in any new territories this week so will be hoping for strong holdovers in its current four territories if it is to repeat this weekend's performance.
However, Detective Dee's takings were the lowest figure all year to top the international chart despite this weekend's combined top ten total gross of $116.9m being almost $20m up from last weekend's combined top ten takings of $98.7m.
Resident Evil: Afterlife still continues to do strong business despite dropping to number two, suffering only a 34% drop in its fourth weekend. Sony/Summit's action-horror grossed a further $16.2m for an overall total of $182.6m at the international box office.
In a good weekend for Indian films, Enthiran: The Robot and Anjaana Anjaani both opened in the top ten at fourth and seventh respectively. Sun Pictures' sci-fi Enthiran: The Robot was released in three different languages – Tamil, Hindi and Telugu – and took a combined $12.9m from 1,778 screens at an average of $7,262; while Eros' Anjaana Anjaani grossed $9.9m from 1,643 screens at an average of $6,005.
Other notable debuts included Medusa's Benvenuti Al Sud, charting at 11th on the international stage after an impressive number one opening in Italy. Luca Miniero's comedy, a remake of the French hit Welcome To The Sticks, took $5.7m from 532 screens for the weekend's fourth highest screen average of $10,772. Its opening has put it on course to becoming one of the highest grossing Italian comedies of recent years.
Also appearing in the chart after only opening in one territory were Fortissimo's Reign Of Assassins and Toho's The Lady Shogun And Her Men at 15th ($3.7m from 415) and 17th ($3.6m from 312) respectively.
The weekend's most improved performer was Warner Bros' Legend Of The Guardian: The Owls Of Ga'Hoole. Zach Snyder's 3D animated adventure improved its performance by an amazing 690% largely thanks to a number one opening in Russia ($3.4m from 667) and a number two launch in Australia ($1.4m from 347), to take $9m overall in its second weekend.
As expected, Warner Bros' Inception crossed the half-billion mark in its 12th week after grossing a further $8.7m for $513m.