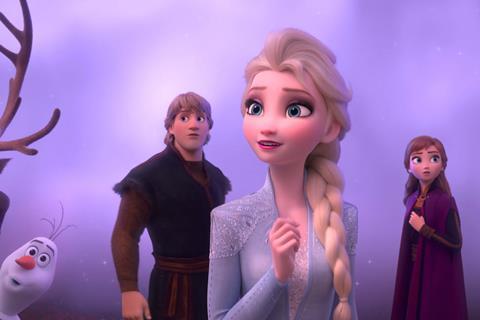 DECEMBER 9 UPDATE: With Star Wars: The Rise Of Skywalker still to come, Disney's combined releases so far in 2019 crossed $10bn at the global box office on Sunday (8).
The weekend's estimated results for Frozen 2 took global box office for The Walt Disney Studios for the year past the worldwide milestone, comprising approximately $6.72bn from international markets and $3.28bn in North America.
Next weekend Frozen 2 will become the sixth Disney release in 2019 to cross $1bn at the worldwide box office after Captain Marvel, Avengers: Endgame, Aladdin, Toy Story 4, and The Lion King.
Adding in results for Fox films this year takes the tally to $11.94bn ($8.14bn international / $3.8bn North America). Disney set the previous record for global box office in a calendar year in 2016 when its releases delivered $7.6bn.
Sony's Jumanji: The Next Level arrived on $52.8m in its first international wave, while Lionsgate International executives reported that Knives Out has reached approximately $124.1m at the global box office.
WALT DISNEY STUDIOS MOTION PICTURES INTERNATIONAL
UPDATED: The extraordinary result for Disney came at the end of a third consecutive weekend of dominance for Frozen 2. The family smash added an estimated $124.9m to reach $919.7m and become the eighth highest release of the year to date, and the 13th highest animated release in history as it prepares to overtake Shrek 2 on $923m any day now.
It added $92.4m internationally for a $584.4m running total, and an estimated $34.7m in North America for $337.6m to rank as the seventh highest release of the year after 17 days.
Frozen 2 remains number one in the UK, France, Germany, Italy Russia, Spain, every territory released in Latin America, Hong Kong, Philippines, Poland, Belgium, U.A.E., Switzerland, Austria, Hungary, and New Zealand.
China is top of the pile after $9.6m boosted the tally to $104.4m, followed by South Korea where $11.1m elevated the running total to $75.4m, Japan on $55.2m after a $9.5m weekend, UK on $43.5m after a $5.8m session, and Germany on $34.4m following a $6.5m weekend.
Elsewhere Elsa and friends have generated $31.9m in France, $23.1m in Russia, $21.2m in Mexico, $14.7m in Italy, $14.6m in Spain, $14.3m in Philippines, $13.2m in Indonesia, and $11.7m in Australia. The film debuted in South Africa on approximately $800,000, and more broadly has already overtaken the lifetime total of Frozen in: Philippines, Indonesia, Thailand, Taiwan, Malaysia, Singapore, South Korea, Mexico, Vietnam, India, China, Poland, Hong Kong, Russia, Peru, Central America, Colombia, Ecuador, Albania, Bosnia and Herzegovina, Croatia, Czech Republic, Egypt, Ethiopia, Hungary, Israel, Kuwait, Macedonia, Oman, Qatar, Romania, Serbia, Slovakia, Slovenia, Syria, Turkey, UAE, and Ukraine.
There is a new Imax global record for biggest animated film as $2.7m over the weekend raised the global running total to $38.6m.
Fox's Ford v Ferrari grossed $9m internationally for $77.3m, and roughly $14.8m worldwide to reach $167.6m. The motor racing drama with Matt Damon and Christian Bale opened in second place in South Korea on $3.4m, and arrived in Panama on $300,000 and Thailand on $200,000. Russia, France and the UK are the top three markets on $9.5m, $8.2m and $7.3m, respectively.
SONY PICTURES RELEASING INTERNATIONAL
UPDATED: Jumanji: The Next Level erupted on to the scene with a $52.8m international debut that secured number one ranks in 16 out of its initial 18 markets in Europe and Asia. China led the way on a lacklustre $24.9m.
The adventure starring Dwayne Johnson, Kevin Hart, Karen Gillan and Jack Black debuted in France on $5.9m to finish more than 93% ahead of the debut of 2017's Jumanji: Welcome To The Jungle. It opened in Netherlands at number one on $1.5m, more than 58% ahead of the original, and arrived in the Nordic region on $2.5m, finishing number one across all five markets and 30% ahead of the original.
Taiwan produced $2.4m, and the Southeast Asia region delivered $14.2m for more than a 47% gain on the 2017 release and opening top in three out of four markets. Jumanji: The Next Level scored the second highest release of all time in Malaysia on $4.6m for Sony's highest debut in the market. Indonesia generated $6.4m for the second highest debut for a December release, and Singapore and Philippines produced opened to $1.7m and $1.4m, respectively.
This week the film arrives in North America, the UK, Germany, Spain, Russia, South Korea, Japan, and Mexico.
Charlie's Angels added $1.9m from 37 markets for $38.2m.
LIONSGATE INTERNATIONAL
UPDATED: Knives Out has reached $124.9m at the global box office after 12 days, as the international weekend delivered $19.4m from 67 markets for a $61.3m running total.
South Korea was the top debut market for the all-star whodunnit ensemble on $1.7m in third place, while debuts in Italy and Mexico produced $1.3m in third and $1.1m in second, respectively. China remains the top market on $23.7m after 10 days.
The Thrombeys have reached $7.8m in the UK, where they ranked third on a 20% drop, and stand at $3.9m in Australia after a 2% decline. Knives Out grew three percent in Spain and has reached $2.1m after two weekends. It opens in six new markets including Brazil this week.
UNIVERSAL PICTURES INTERNATIONAL
UPDATED: Emilia Clarke and Henry Golding rom-com Last Christmas used an $11.4m session to propel the international running total to $52m from 63 territories, and $85.5m worldwide. It opened in Russia in third place on $1.5m, South Korea in fifth on $1m, and Mexico in second on $872,000. The UK delivered the weekend's top holdover business on $1.7m for $16.1m after four sessions.
The Addams Family grossed $4.5m from Universal territories to vault to $73m, and $88.7m through all distributors. The global tally stands at $185.2m. The animation debuted in France in third place on $1.9m, and Australia in third on $847,000. DreamWorks Animation and Pearl Studio's Abominable has reached $101m through Universal territories, rising to $116.2m including China via Pearl Studio, and $176.5m worldwide. Local Italian crime drama L'Immortale, made in partnership with SKY Vision and based on a TV series, opened in Italy this weekend on a superb $3.1m.
WARNER BROS PICTURES INTERNATIONAL
UPDATED: Joker delivered $2.8m from 72 markets to boost international numbers to $723.6m as the worldwide tally climbed to $1.056bn. Top markets for the world's only R-rated $1bn-plus performer are the UK on $72.1m, France on $47.4m, Japan on $45.9m, Mexico on $43.8m, and Germany on $40.6m.
The Good Liar added $2m from 43 for $9.2m internationally $25.4m worldwide. The mystery opened in Australia and Spain on $600,000 and $385,000, respectively. It also debuted in Italy on $325,000, and South Korea on $140,000. The UK remains the top market on $4.8m.
Motherless Brooklyn added $1.7m from 24 for $4.2m, and $13.5m globally. Edward Norton's period noir debuted in France on $706,000, Russia on $467,000, the UK on $198,000, and Brazil on $26,000. Italy is the top market on $844,000. Doctor Sleep stands at $38.5m internationally and $69.7m worldwide. Russia leads all international markets on $4.3m followed by UK on $4.2m.