UPDATED JANUARY 5: The Hobbit: The Battle Of The Five Armies brought in a confirmed $52.5m over the weekend from 65 markets to reach $504.7m.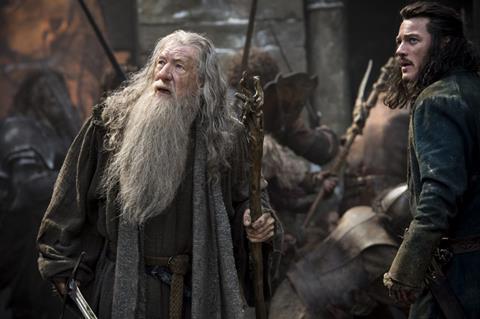 WARNER BROS PICTURES INTERNATIONAL
UPDATED: The New Line-MGM fantasy finale scored the biggest Warner Bros launch of all time in Argentina on $2.1m (Ps 18.1m) from 397 screens to rank top and claim 56% of total market share.

It has reached $69.2m in Germany and stayed top for the fourth consecutive weekend and stands at $57.3m in the UK after four, where it has also stayed top for its entire run.

Five Armies stands at $42.5m in France after four, $28m in Russia after four, $21.2m in South Korea after three, $19.5m in Australia after two, $17.8m in Brazil after four, $17m in Spain after three, $16m in Italy after three, $16m in Mexcico after four, $14.4m in Sweden after four and $10.7m in Japan after four.
The film is set to open in China on January 23.

Horrible Bosses 2 grossed $3.3m from 40 markets for $47.5m and has taken $5.9m in the UK, $5.4m in Australia, $3.7m in Germany, $3.3m in Russia and $2.7m in Brazil.

American Sniper finished its opening weekend in Italy on a mighty $7.1m from 425 screens for second place behind Si Accettano Miracoli. It has become Clint Eastwood's biggest debut and Warner Bros' second biggest opening weekend for a non-franchise title behind I Am Legend. It opens in the UK on January 16 and Australia on January 22.
Honig Im Kopf added $8.8m in its second weekend in Germany from 683 to reach $18m. Interstellar has grossed $477.4m.
FOX INTERNATIONAL
UPDATED: Exodus: Gods And Kings grossed $30.6m from 51 markets to climb to $141.5m powered by a $7.9m number two debut in Russia and a $4.5m number one hold in Brazil that pushed the tally to $13.6m after two weekends.

The adventure epic added $3.4m in France for $10.5m, $2.5m in the UK for $9.9m and $2.4m in Germany for $7.3m, all in the second session. Central America generated $1.2m from 182 screens in the opening weekend. Mexico has generated $12.5m and Spain $10.6m, both after five sessions.

Night At The Museum: Secret Of The Tomb took $26.2m from 61 markets to stand at $92.9m. Mexico produced $3.9m for a number one hold in the second weekend that raised the tally to $11.5m, while Brazil delivered $3.1m in the opening weekend for second place.

The UK produced $2.7m for $15.2m after three weekends and Australia $2.1m for $6.9m after two. Germany delivered $1.7m for $7.3m after three. In a pair of number one launches, Secret Of The Tomb arrived in Colombia and Peru on $1.2m and $1.m, respectively. The Colombia result was Fox's sixth biggest debut.

DreamWorks Animation's Penguins Of Madagascar grossed $23.1m from 55 for $193.9m. It opened in South Korea on $14.9m and arrived at number three in Australia on $3.6m.
The family release added $3.2m in Mexico for $16.2m and $2.9m in France for $14.1m, both in the third session. The UK stands at $11.1m after five and Germany $13.1m after six.

Taken 3 ventured into its first two international markets on $9.3m overall, grossing an impressive $8.1m in South Korea for a Liam Neeson record and $1.3m for number one in Hong Kong.

Birdman arrived at number seven in the UK on $2.4m from 262 venues. Gone Girl stands at $196.1m and has taken $7.6m in Italy after three sessions and $7.6m in Japan from four.

Fox International Productions' Yolki 1914: Tsar Christmas earned $2.4m from 1,100 screens in Russia in its second session to boost the tally to $5.3m.
CHINA UPDATE
Bona Film Group's 3D 1940's-set spy tale The Taking Of Tiger Mountain from Tsui Hark added $23.8m for $97.3m.
WALT DISNEY STUDIOS MOTION PICTURES INTERNATIONAL
Big Hero 6 surged past $150m as a further $20.2m from 53 territories boosted the running total to $167.4m.
With a 58% international footprint there is plenty of time to go on the animation, which has generated $378.7m worldwide including $211.3m from North America.

The film opened in Taiwan on $1.9m for the second biggest animated release ever and a new record for a Disney Animation title. Japan has generated $34.6m, Russia $20.2m, Mexico $16.6m, Italy $9.6m and Spain $8.9m.

Into The Woods opened in Slovenia, Hungary, Greece, Portugal and South Africa this weekend and took $1m to reach $5.8m. The musical has grossed $2.3m in South Korea and $1.4m in Russia. The UK and Australia open this week.

Disney-owned UTV's fantasy comedy PK starring Aamir Khan is the biggest release of all time in India after adding $8.6m for $65.2m and ranks as the top Bollywood release in Australia on $1.9m and the US on $9m for an $86.2m global tally.

UNIVERSAL PICTURES INTERNATIONAL
UPDATED: Legendary's Seventh Son, which Universal is distributing worldwide, grossed $18.4m from 24 territories to reach an early $21.7m way ahead of the scheduled February 6 release in North America.

The action fantasy opened top in Russia on $8.6m and is expected to play strongly through the national holidays that run until January 11. It also opened top in the Ukraine on $697,000 for Universal's biggest ever launch.

Seventh Son opened in Spain in fifth place on $1.2m and studio executives noted a string of decent debuts in Hong Kong, Norway, Peru, Portugal and Taiwan that they said met or exceeded expectations.

The international pattern rolls out over the next few months including nine territories next weekend.

The Theory Of Everything added $7m from nine territories as the tally climbed to $12.2m, fuelled by a superb $5.7m number one launch in the UK that beat Five Armies and opened on a par with The Wolf Of Wall Street and War Horse.
This was Working Title's seventh biggest debut in the territory. Germany delivered $881,000 for $2.2m in the second session.

Russell Crowe's drama The Water Diviner took $2.3m in its second weekend in Australia and New Zealand to reach $7.2m. Australia generated $2.2m for $6.8m of that total. Universal holds distribution rights for 11 European markets while Mister Smith licensed the rest of the world.

Angelina Jolie's wartime survival story Unbroken is in the early stages and took $2.4m from 11 to raise the running total to $6.9m.

The UK produced $713,000 for $2.9m in the second weekend and Spain delivered $766,000 for $3.1m after the same period. The film arrives in South Korea and Netherlands this week.

Dumb And Dumber To, which Universal is distributing in seven territories, grossed $1.2m from five for $17.8m. Gloria, about the controversial Mexican singer Gloria Trevi, opened in Mexico in fifth place on $1.3m in 662 sites.

Boyhood stands at $20.6m and opened in Mexico on $81,000 from 25 venues. Ouija stands at $27.2m and opened at number three in Argentina on $529.000 from 93 sites.
SOUTH KOREAN UPDATE
International Market added $18.3m for a $55.8m running total.
STUDIOCANAL
Paddington has crossed $100m internationally as it reached a confirmed $105.4m ahead of its release in the US on Jan 16. The UK has provided almost half of the tally at $47m, with the next two highest grossing territories France ($18.9m) and Germany ($11.4m).
The Imitation Game stands at $22m.
FILMNATION
The Imitation Game ventured into six new territories this weekend and generated more than $7.4m overall as the early international running total leapt to $32.9m.
The worldwide tally including $30.8m from North America via TWC has soared to more than $63.7m.

The Alan Turing tale opened in Australia through Village Roadshow on $3.4m, Italy through Videa on $1.9m, Spain via Tri Pictures on $807,000 and New Zealand through Villlage Roadshow on $376,000. Norway has produced $1.5m after two sessions.
LIONSGATE INTERNATIONAL
UPDATED: The Hunger Games: Mockingjay — Part 1 added $5.2m from 64 markets to reach $372.5m. The YA hit has taken $47.9m from the UK, $39.4m from Germany, $28.8m from Australia, $25.6m from France, $23.6m from Mexico, $22.4m from Brazil, $20.8m from Scandinavia, $17.1m from Russia, $15m from Spain and $13.6m from Benelux.
Venus In Fur has grossed $7.4m and is nearing the end of its run.
SONY PICTURES RELEASING INTERNATIONAL
Annie grossed $4.2m in 21 territories, propelling the international running total to $16.9m. SPRI's total is $12.8m and Village Roadshow is responsible for the $4.1m balance.

The UK delivered $2.3m in its second session for $8.6m. The Netherlands has generated $1.4m and Belgium $740,000 after the same period. Annie has amassed $3.6m after three weekends in Australia through Village roadshow.

Fury used a $4.5m session to power to $110.1m, of which SPRI has delivered $65.2m and QED International licensees $44.9m.

The WWII film arrived in Germany on $1.9m in fourth place, Mexico on $1.9m in third, Austria on $375,000 in third and German-speaking Switzerland on $350,000 in second. It opens in Spain this week.