Warner Bros Pictures International unleashes the caper film Focus starring Will Smith and Margot Robbie day-and-date with North America in 31 markets including the UK, Russia and South Korea.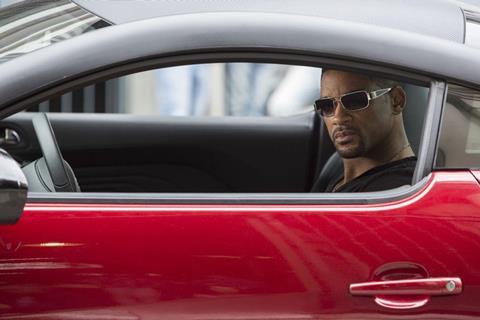 American Sniper has amassed $118.8m and arrives in Germany, while Jupiter Ascending stands at $77.5m.
Best animation Oscar winner Big Hero 6 has amassed $329.6m through Walt Disney Studios Motion Pictures International and could get a big boost when it touches down in China this week.
Fox International's Kingsman: The Secret Service will cross $100m this weekend when it arrives in 14 territories led by Spain, Italy and Mexico. The spy caper has grossed $99.4m.
The Book Of Life has generated $46.5m and debuts this weekend in Russia, while best picture Oscar winner Birdman on $40.6m opens in France and Turkey.
Wild has taken $13m and launches in Argentina, Holland and South Africa, while The Second Best Exotic Marigold Hotel reaches the UK, Australia and New Zealand a couple of weeks before its North America debut.
Universal Pictures International's Fifty Shades Of Grey is slowing down after racing to $304m. The S&M romance debuts this weekend in South Korea.
The Theory Of Everything starring best lead actor Oscar winner Eddie Redmayne stands at more than $100m and opens in Russia and South Africa.
Jennifer Lopez thriller The Boy Next Door opens in the UK and Taiwan, while Deadbeat Dad opens in Brazil.
Sony Pictures Releasing International's Annie stands at $38.8m and debuts in around eight territories including France, while The Wedding Ringer on $9m heads to Venezuela, Portugal and Sweden among others. Chef opens in Japan.