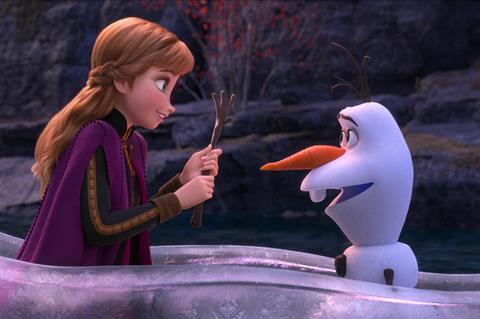 DECEMBER 2 UPDATE: After last weekend's record $358m global debut, Disney's Frozen 2 retained its worldwide box office crown in style thanks to a $251.9m weekend haul that propelled the running total to $742.1m after 12 days.
Lionsgate's murder mystery Knives Out debuted strongly on $70.9m worldwide, earning $13.6m in China.
WALT DISNEY STUDIOS MOTION PICTURES INTERNATIONAL
UPDATED: Fired up by muscular holds and robust debuts in Russia, Italy, and Australia, Frozen 2 generated a confirmed $166m from international markets to climb to $453.2m, putting the half-billion target within reach by next weekend.
The tentpole remains number one in all its markets except India, and stormed into Russia on $13.7m in a new industry animation debut record; Italy on $8m ($8.9m including previews) for the second highest industry animation launch and the highest by any Disney Animation or Pixar release; and Australia on $6.6m to finish 59% ahead of the opening weekend of Frozen.
After two weekends, Frozen 2 stands at $90.5m in China following a $26.9m session, $60.5m in South Korea following $18.8m, $39.5m in Japan following $13.2m, $35.2m in the UK following $11.3m, $26.3m in Germany following $8.7m, $25.1m in France following $9.7m, $16.7m in Mexico following $5.1m, and $11.9m in Philippines following $4.7m and $11.2m in Indonesia following $2.8m, ranking in the last two territories as the highest-grossing animation release in history.
In other debuts, Frozen 2 opened in New Zealand on $1m and ranks as the second highest opener by any Disney Animation or Pixar release. The film dropped 38% overall and has already overtaken the final gross of Frozen in 11 territories.
Fox's Ford v Ferrari added $10.6m for $62.8m at the international box office and stands at approximately $143.3m worldwide. The lead markets are Russia on an estimated $8.8m, the UK on $6.7m, and France on $6.3m.
LIONSGATE INTERNATIONAL
UPDATED: Rian Johnson's murder mystery Knives Out earned $70.9m worldwide, of which $29.5m came from 53 international markets driven by a feisty $13.6m from a number three debut in China. The all-star ensemble arrived in second place in the UK on $3.8m, second in Russia on $2m, second in Australia on $2m, and fourth in France on $1.7m.
UNIVERSAL PICTURES INTERNATIONAL
UPDATED: DreamWorks Animation and Pearl Studio's Abominable reached $100.1m following an $800,000 weekend haul, and climbed to $115.3m including China.
Last Christmas grew by $8m from 40 territories to $36.3m internationally, and $68m worldwide. The rom-com opened in 16 markets led by France on $819,000, Brazil on $567,000, and Spain on $490,000. It added $2.1m for $12.8m after three weekends in the UK.
Italian local-language comedy Cetto C'E added $1.2m for an early $4.6m running total. The Addams Family has grossed $68.1m internationally, rising to $83.5m including all distributors, and $179.9m worldwide.
WARNER BROS PICTURES INTERNATIONAL
UPDATED: Joker has reached $1.048bn worldwide and grossed $4.6m from 72 markets for a $718.4m international running total, with the UK the lead market on $71.9m, followed by France on $46.9m, Japan on $45.4m, Mexico on $43.8m, and Germany on $40m.
Horror sequel Doctor Sleep is up to $36.5m following a $2m session distinguished by a $1.2m Japanese debut. Russia and the UK are the top markets on $4.3m and $4.2m, respectively, and the global tally stands at an estimated $67.2m. Crime mystery The Good Liar stands at $6.9m internationally and $21.8m worldwide.
It: Chapter Two stands at $258.7m internationally and $470.3m worldwide with the UK on $23.1m and Mexico on $21.5m. Edward Norton's crime noir Motherless Brooklyn has reached an early $2.4m internationally and $11.6m globally, and Bruce Springsteen documentary Western Stars is at $1.5m and stands at $570,000 in the UK, $376,000 in Holland, and $263,000 in France.
SONY PICTURES RELEASING INTERNATIONAL
UPDATED: Charlie's Angels added $3.3m from 38 markets to reach a rather dismal $34.7m, and is set to open in Spain this week. Zombieland: Double Tap brought in $1.1m from 48 for $45.5m.