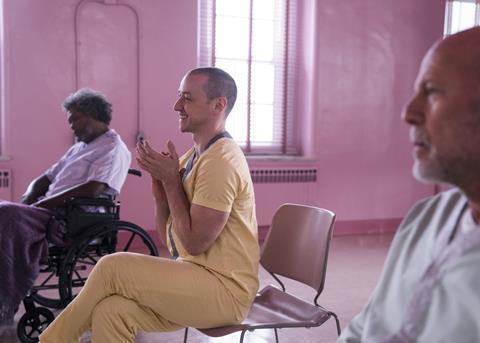 M Night Shyamalan returned to unfamiliar box office heights as Glass rules global box office on an estimated $89.1m that included a $48.5m haul through Buena Vista International.
Mary Poppins Returns crossed $300m worldwide, Bumblebee crossed $400m, and Ralph Breaks The Internet reached the $450m threshold.
WALT DISNEY STUDIOS MOTION PICTURES INTERNATIONAL
Active in 55 material territories alongside the number one North American launch through Universal, the trilogy-concluding genre release dominated regions, finishing as the top film across Latin America, Europe and Asia-Pacific and tracking 13% ahead of 2017's Split in the same markets at the same stage.
Glass posted Shyamalan's best opening weekend in Russia on $5.2m (some 39% ahead of Split), Mexico on $4.5m and 96% ahead of Split, Indonesia on $1.5m, and well as Hong Kong and Vietnam. Overall Latin American results were 59% ahead of Split in admissions, while Europe returned results that were 30% ahead of Split.
The film, in which James McAvoy, Samuel Jackson and Bruce Willis reprise their roles from Split and 2000's Unbreakable, arrived in the UK on $4.3m some 29% ahead of Split, and $3.4m in France where it was 1% behind its predecessor. The final instalment of Shyamalan's Eastrail 177 trilogy grossed $2.8m in South Korea and Germany, $2.4m in Australia, $2.1m in Italy, $2m in Spain, and $1.5m in Brazil for second place.
Mary Poppins Returns has crossed $300m globally and will pass Chicago ($307m), also from director Rob Marshall, on Monday. The musical starring Emily Blunt added $6m from 44 material territories and climbed to $147.3m. Worldwide has reached $306m.
The family release has amassed $118.8m in Europe, where it has overtaken the final grosses of Iron Man & Iron Man 2, Doctor Strange, Captain America: The Winter Soldier and Mission: Impossible: Rogue Nation across the region. It has reached $51.7m in the UK and was on course to pass Les Miserables on Sunday. After the UK, Italy is the second best market on $14.6m, followed by France on $11m, Australia on $10.7m, and Germany on $9.9m.
Ralph Breaks The Internet has crossed $450m worldwide and stands at $455.2m. The animation added $9.2m from 32 material territories to reach $262m internationally and the top market is China on $39m, then Japan on $31.7m, and the UK on $21.9m.
PARAMOUNT PICTURES INTERNATIONAL
Bumblebee crossed $400m worldwide to reach $412.3m, while a $20.9m weekend in 64 markets elevated the running total to $296.4m. The Transformers action adventure spin-off added $16.3m in China where a number one hold in the third weekend propelled the running total to $137.7m. The UK delivered $798,000 for $14.7m after four weekends, Philippines $869,000 for $3.3m after two, and France $419,000 for $9m after four
Comedy Instant Family added $2.6m from 20 markets for $17.4m as Australia generated $1.5m for $4.8m after two weekends.
WARNER BROS PICTURES INTERNATIONAL
UPDATED: Aquaman brought in a further $15.4m from 79 markets to propel international to $760.4m and the global tally to $1.067bn. Australia was the top performer of the weekend on $1.5m for $26.2m after four, followed by Germany on $1.3m for $22.2m after five.
France delivered $1.2m for $25.7m after five, Italy $1m for $11.7m after three, and the UK $928,000 for $27.3m after six. China remains the lead market on $289.7m, then South Korea on $39m, Brazil on $33.9m, and Mexico on $29.7m.
Creed II grossed $5.8m from 37 to reach a relatively early $60.5m tally, fired up by a $3m session in France than ranked second for $9.6m after two weekends. Japan has generated $2.2m and Russia $1.8m after two, and Mexico $5.9m after three. The UK is the lead market on $12.8m. A Star Is Born and Fantastic Beasts: The Crimes Of Grindelwald stand at $204.4m and $491.7m, respectively. The Mule has grossed an early $5.6m.
In its second weekend, Chinese production White Snake generated an estimated $10.4m to rank second and increase 78% over opening weekend. The running total stands at $24.4m. The film is a Light Chaser Animation Studios and Warner Bros. (F.E.), Inc. co-production, distributed by Joy Pictures in Mainland China.
FOX INTERNATIONAL
Bohemian Rhapsody is days away from crossing $600m internationally and $800m worldwide. An $11.3m session in 44 markets saw the running total climb to $596m to become Fox's fifth highest international release of all time. Worldwide has reached $798m.
The Queen / Freddie Mercury drama ranks as the biggest 2018 release in 13 international markets, including Japan, where it added $2.2m for $88.6m after 11, and Italy, where $1.1m resulted in $30.5m after eight.
Dragon Ball Super: Broly generated $5.3m from 18 for $65.9m. The film held on to number one in Chile, Peru, and Ecuador for the second weekend in a row. Mexico delivered the top result of the weekend on $1.3m for $9.5m after two sessions.
The Favourite grossed $3.2m from 11 for $19.7m as a $1.7m UK hold saw the Restoration Comedy climb to $14.2m after three to rank fifth. Family adventure The Kid Who Would Be King capitalised on school holidays in a handful of markets and opened in Australia on $448,000 at number 10, South Korea on $166,000 at number 12, and Malaysia on $172,000 a t number two. It opens in a further 14 markets this week. time.
UNIVERSAL PICTURES INTERNATIONAL
How To Train Your Dragon: The Hidden World used a $10.8m session from 13 territories to reach an early $29m for the DreamWorks Animation release. It opened in Brazil on $3.7m at number one in what was the third best result for DreamWorks Animation behind How To Train Your Dragon 2 and Madagascar 3. The Netherlands delivered $1.3m for number three, and Colombia $1.3m for number one.
Australia delivered the best hold of the session, adding $1.5m for $12.1m in the third weekend. Indonesia and UAE have generated $4.4m and $1.3m after two.
Mary Queen Of Scots starring Saoirse Ronan and Margot Robbie launched on $6.4m in 13 territories led by the UK with a $2.8m number two debut, and Australia on $970,000 in sixth place. Mortal Engines added $4.9m from 34 for $64.1m boosted by a $4.4m China debut, and The Grinch delivered $1.1m from 54 for $237.9m from 69 overall.
SONY PICTURES RELEASING INTERNATIONAL
Spider-Man: Into The Spider-Verse brought in $4.7m from 65 markets for $164.6m. Sony Pictures' thriller Escape Room added $9.5m from 16 markets for an early $13m. It debuted in China on $8.5m.
Columbia Pictures/Bona Film Group's PG family film A Dog's Way Home took in $2.8m from eight for $5.1m, and opened in third place in Mexico on $1.6m. Storm Boy, from Sony Pictures Worldwide Acquisitions' Stage 6 Films, swept into Australia on $1.2m including previews. Based on the Australian classic novella by Colin Thiele, the film tells of a young boy who rescues and raises three orphaned pelicans.
EONE
Stan & Ollie enjoyed a $2.4m weekend to push the early running total to $8.1m. The drama starring Steve Coogan and John C Reilly added $2.3m in a number three UK hold as the tally climbed to $7.9m after two sessions.