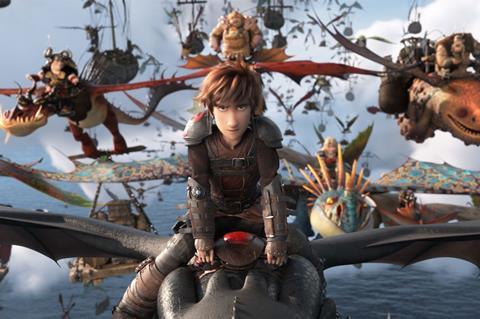 MARCH 4 UPDATE: How To Train Your Dragon: The Hidden World will cross $100m within several days after it held on to number to thwart Tyler Perry's final outing as Madea, a close contender in second place.
In a weekend where several of last weekend's Oscar winners took advantage of their triumphs – most notably Green Book and Free Solo – The Hidden World added $27.1m for $97.7m in its second weekend. How To Train Your Dragon 2 had reached $94.6m (adjusted for inflation to $99.9m) by the same stage of its run in June 2014.
Tyler Perry's A Madea Family Funeral opened in second place via Lionsgate on $27m. The franchise has generated more than $500m in since it launched in 2005 with Tyler Perry's Diary Of A Mad Black Woman. Fox's Alita: Battle Angel limped on in its third session, ranking third on $7m for a disappointing $72.5m that pales in comparison to the $278.m international tally.
Green Book was the obvious beneficiary of last weekend's best picture Oscar triumph, surging 114.9% and five slots to number five in its 16th weekend after Universal expanded the theatre footprint by 1,388 to 2,641 and grossed $4.6m for $75.8m.
Best documentary winner Free Solo also enjoyed the Oscar bump, vaulting 16 places to number 22 after a 149.9% gain as National Geographic Films increased the site count by 148 to 238, adding $364,000 for an excellent $16.9m running total after 23 weekends.
Bohemian Rhapsody also capitalised on its four Oscars including best actor for Rami Malek, climbing 54% and two places to number 17 after Fox enlarged the footprint by 415 to 839 sites, adding $961,926 for $214.5m in the 18th session.
The Favourite took advantage of Olivia Colman's best actress win, gaining 46.1% and three places to number 19 after Fox Searchlight expanded by 454 into 742, grossing $813,941 for $33.2m in the 15th weekend.
Neil Jordan's psychological thriller Greta starring Isabelle Huppert and Chloe Moretz opened at number eight on $4.5m in 2,411 venues through Focus Features. MGM's Fighting With My Family dropped 40.3% in its third session, falling one place to number five on $4.7m for $14.9m.
NEON launched the documentary Apollo 11 at number 15 on $1.6m from 120 venues. A24 delivered a solid result for Gaspar Noe's Climax, which debuted at number 38 on $119,423 from five venues for a $23,885 average. In its second session, the drama Run The Race added $1.3m for $4.2m after dropping a decent 39.2% and six slots to number 16 through Roadside Attractions.
Box office for the top 12 amounted to $98.5m, down 14% on last weekend, and down 28.2% on the comparable session in 2018, when the 90th annual Academy Awards took place.
This week's wide release is Disney / Marvel Studios' Captain Marvel starring Brie Larson.
Confirmed top 10 North America Mar 1-3, 2019
Film (Dist) / Conf wkd gross / Conf total to date
1 (1) How To Train Your Dragon: The Hidden World (Universal) Universal Pictures International $30m $97.7m
2 (-) Tyler Perry's A Madea Family Funeral (Lionsgate) Lionsgate International $27.1m –
3 (2) Alita: Battle Angel (Fox) Fox International $7m $72.5m
4 (3) The LEGO Movie: The Second Part (Warner Bros) Warner Bros Pictures International $6.6m $91.7m
5 (4) Fighting With My Family (MGM) MGM $4.7m $14.9m
6 (11) Green Book (Universal) Lionsgate International / Amblin Partners $4.6m $75.8m
7 (5) Isn't It Romantic (Warner Bros-New Line) Warner Bros Pictures International $4.5m $40.2m
8 (-) Greta (Focus Features) Sierra/Affinity $4.5m –
9 (6) What Men Want (Paramount) Paramount Pictures International $2.8m $49.7m
10 (7) Happy Death Day 2U (Universal) Universal Pictures International $2.5m $25.2m