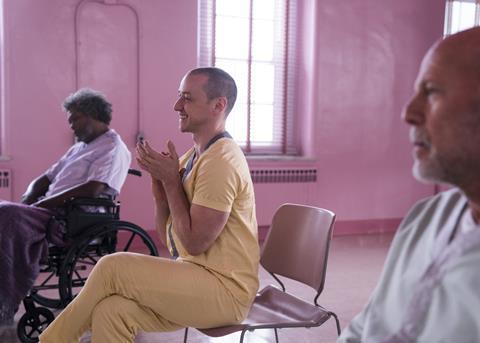 M Night Shyamalan is not a name one associates much with box office pyrotechnics these days, yet in the wake of the hit Split two years ago, the follow-up Glass is expected to sparkle this weekend.
The finale of Shyamalan's so-called Eastrail 177 Trilogy that began with Unbreakable back in late 2000 launches day-and-date with Universal's North American Martin Luther King Jr. holiday debut in most major markets this weekend via Buena Vista International.
Disney and Universal teamed up on Glass several years ago after having released the first two films (separately) to great success: Disney's Unbreakable finished on $248.1m worldwide by early 2001, which equates to roughly $356m in real terms, while Universal took Split to $278.5m by May 2017, which amounts to an inflation-adjusted $287m.
A combined box office of $630m from those first two films in the trilogy is nothing to sniff at and the studio partners will be looking to help the series end on a high. A $1bn aggregated gross is the obvious target, although if mediocre reviews and a $100m global weekend estimate are anything to go by, it might be a stretch too far.
Still, genre films can defy critics and given the inflation-adjusted final grosses of Unbreakable in the UK and Germany ($23.4m, $19.5m), and Split in the UK ($14.4m), Australia ($9.8m), Germany ($11.5m), France ($13.6m), Russia ($9.8m), and Mexico ($8.7m) for starters, anything is possible. James McAvoy, Bruce Willis and Samuel Jackson star in Glass, which has not yet been scheduled for release in China.
Last weekend it was the turn of Paramount Pictures International's Bumblebee to rule the international roost and while the Transformers spin-off has not lived up to that franchise's lofty revenue standards, it has not been an embarrassment, either. The $271.6m international running total is a good perch from which to surge towards $300m, and China's $117.8m tally is decent. The worldwide haul stands at $382m and it will cross $400m within the next few days.
How To Train Your Dragon: The Hidden World has been Universal Pictures International's (UPI) best performer in recent weeks and the DreamWorks Animation title has grossed an early $18.2m heading into a significant weekend that brings debuts in Brazil, South Korea, and Colombia.
How To Train Your Dragon 2 in 2014 is the biggest international hit of the series on $444.5m and in Brazil and South Korea produced two of the best results outside North America, debuting on $6.6m and $6.1m en route to $24.8m ($26.2m adjusted) and $22.6m ($23.8m), respectively.
The fantasy adventure Mortal Engines has reached $59.1m and opens in China, while The Grinch stands at $236.8m.
Mary Queen Of Scots has the most new debuts for a UPI film this weekend – 13 – and the Saoirse Ronan and Margot Robbie historical drama will do its best to put its opponents to the sword in the UK, Australia, Germany, Russia, Italy, and the Netherlands.
Walt Disney Studios Motion Pictures International's Ralph Breaks The Internet stands at $251.9m, while Mary Poppins Returns has reached $140.9m. There are no new markets this weekend, yet there is still plenty of life left in both family tentpoles.
Fox International's awards hopeful Bohemian Rhapsody stands at $581.1m and will cross $600m sometime next week, but the distributor's in-form release is animation fantasy Dragon Ball Super: Broly on $57.6m.
Another awards contender, The Favourite from Yorgos Lanthimos, has reached $15.4m and debuts in Spain and Norway. Fantasy adventure The Kid Who Would Be King, inspired by the Arthurian legend and starring Patrick Stewart and Rebecca Ferguson, arrives in Australia, South Korea, Malaysia and several other Asia-Pacific territories.
From Sony Pictures Releasing International, Spider-Man: Into The Spider Verse stands at $158.9m, Escape Room $3.6m with a China debut lined up, and A Dog's Way Home on $2.2m heading into Mexico.