Logan is currently shredding the competition as it nears $200m internationally.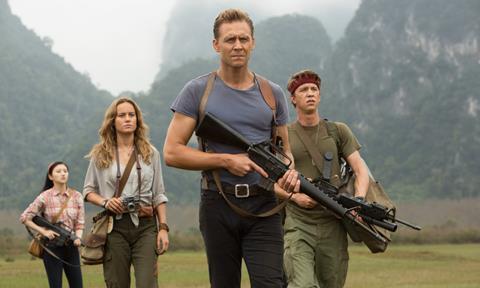 Warner Bros Pictures International executives anticipate a strong weekend debut of the Legendary tentpole Kong: Skull Island, which opens in 10 international markets this weekend day-and-date with North America including the UK, Australia, Germany France and South Korea.
The big-budget CGI fest stars Samuel L. Jackson, Tom Hiddleston and Brie Larson and is the second part of the planned Legendary-Warner Bros 'MonsterVerse' that kicked off with the 2014 reboot of Godzilla.
The LEGO Batman Movie enters the weekend on $111m internationally with no new openings, while Ice Cube-starrer Fist Fight stands at $7.2m.
Fox International executives enter the weekend on a high note as Logan heads into its second weekend on $190.8m.
The X-Men spin-off marks Hugh Jackman's final outing as Wolverine and Patrick Stewart's swansong as Professor Charles Xavier. It opens in two territories.
Horror A Cure For Wellness stands on $11.8m as it enters its fourth session this weekend. Hidden Figures has grossed $37.1m and opens in eight territories this weekend, including France and Italy, while Assassin's Creed has reached $182.8m.
Fox is releasing the Bollywood romantic comedy Badrinath Ki Dulhania starring Varun Dhawan and Alia Bhatt in India and the UK.
DreamWorks Animations' Trolls has no new debuts this weekend and stands at $190.5m.
Paramount Pictures International's XXX: Return Of Xander Cage is expected to surpass the $300m international mark this weekend. The Vin Diesel-led action film currently stands at $298.7m with no new openings.
The horror reboot Rings has generated $51.9m, while the Brad Pitt Second World War spy thriller Allied stands at $79.3m. Monster Trucks stands at $30.7m.
Universal Pictures International's box office champion Fifty Shades Darker will push past the $250m mark in its fifth session, as the erotic drama heads into the weekend on $249.8m.
Illumination Entertainment's animated musical Sing has reached $303.3m and there are no new openings.
Legendary's historical fantasy The Great Wall starring Matt Damon stands at $110.5m internationally in Universal territories, while the family film A Dog's Purpose has grossed $18m as it opens in Colombia this weekend.
Lionsgate International's musical La La Land stands at $405.2m worldwide and $258.7m internationally. Keanu Reeves action film John Wick: Chapter 2 stands at $61.2m.
Disney's animated film Moana has grossed $340.6m and the film that stars Dwayne Johnson opens in Japan over the weekend.
The Benedict Cumberbatch Marvel Studios release Doctor Strange stands at $444.8m, while Rogue One: A Star Wars Story has amassed $523.7m with all territories opened.