UPDATED JUNE 29: Jurassic World stayed top of the global food chain for the third consecutive session as a confirmed $84.3m from 66 territories propelled the international tally to $745.5m and combined with a confirmed $500.4m in North America for $1.246bn worldwide.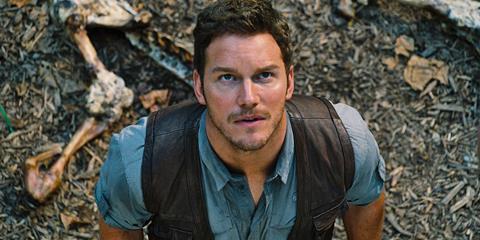 UNIVERSAL PICTURES INTERNATIONAL
UPDATE: With the $800m international milestone surely only several away, Universal Pictures International (UPI) executives said the adventure surged to $203.9m in China, where the adventure film has generated a little less than one-sixth of worldwide ticket sales to date.
The UK ranks second in the pantheon on $79.7m, followed by Mexico on $36.5m, South Korea on $35.3m, Germany on $34.7m, Australia on $29.4m, France on $29.3m and Russia on $21.9m.
Taiwan has produced $21.7m, Brazil $21m, India $19.3m, Spain $17.9m, Venezuela $15.5m, Italy $13.7m, Argentina $10.7m the Philippines $10.5m, Malaysia $10.5m and the Middle East $10m.
Universal Pictures and Illumination Entertainment's Minions gathered $37.6m from 11 markets for an early $53.4m running total.
The animation opened top in the UK on $18.1m from 573 sites, which UPI executives reported on Monday to be the biggest three-day animaton launch in history and the widest release for an animated feature.
Minions also opened top in Brazil on $7m from 550 for the biggest animation launch of all time. There were two more impressive debuts in Poland and the Czech Republic, taking $2.4m from 215 and $1.4m from 211, respectively.
The family release arrived in New Zealand at number one on $726,000 from 130 and followed up last weekend's record-breaking Australian debut with $3m from 279 in third place for $8.7m. The second session in Malaysia generated an estimated $1.1m from 121 for $3.8m.
This week brings 15 debuts, among them Germany, Spain, Argentina, the Netherlands and Austria.
Seth MacFarlane's Ted 2, which Universal co-financed with MRC, arrived day-and-date with a number three $33m North American debut in 26 territories, grossing $20m.
In a quartet of number two launches the R-rated comedy sequel starring Mark Wahlberg, Amanda Seyfried and the voice of MacFarlane produced a $3.7m number two debut in Germany from 653 venues, $3.5m in Russia from 1,088, $3.3m in Australia from 265 for second place and $1.9m in Taiwan from 84.
The film opened top in Italy on $1.6m and arrived at number one in Hong Kong on $1.6m from 45 and top in Italy on $1.5m from 404. Ted 2 opens in the UK on July 10.
Pitch Perfect 2 remains active in 29 territories and stands at $95.9m and $276.8m worldwide. Unfriended has grossed $14.2m and opened in France on $595,000 from 131 venues.
WALT DISNEY STUDIOS MOTION PICTURES INTERNATIONAL
Disney-Pixar's Inside Out added $26.4m from 42 territories to reach an early $81.5m from the typical staggered release pattern for Pixar fare.
Mexico currently stands as lead market on $18.4m, followed by Russia on $13.9m, France on $9.2m, Argentina on $7.3m, Australia on $6.8m, Brazil on $5.9m and Colombia and Panama both on $2.8m.
India registered the second largest debut for a Disney-Pixar film on approximately $400,000. Inside Out arrives in South Korea on July 9, Spain on July 17, Japan on July 18 and the UK on July 24.
Avengers: Age Of Ultron has amassed $919.1m internationally and $1.372bn worldwide and touches down in its final market of Japan this week. Tomorrowland stands at $111.9m and $202m worldwide.
ASIA UPDATE
Enlight Pictures, Sun Seven Stars and Perfect Storm's Mandarin-language action comedy Hollywood Adventures shot in Los Angeles and produced by Justin Lin opened at number one in China, generating $26m. IM Global handles international sales outside southeast Asia. Chinese action thriller SPL2 directed by Soi Cheang and starring Tony Jaa added $11m for $72m.
Next Entertainment World's NLL — Battle Of Yeonpyeong from South Korea finally opened after a two-week delay caused by concerns over the spread of Mers (Middle East respiratory syndrome) and grossed $8.7m for an early $9.7m worldwide running total. Kwak Kyung-taek's crime drama The Classified File added $4.5m for $13m.
WARNER BROS PICTURES INTERNATIONAL
UPDATE: San Andreas grossed a confirmed $10.7m from 4,773 screens in 69 markets to boost the tally to $299.2m. Roughly $71.2m has come from Latin America, where the film ranks as Warner Bros' biggest release in Mexico, Chile, Colombia, Peru and Venezuela.
China generated $5.2m from 860 screens over six days to reach $99.4m after 27 days in release. Despite a heatwave in Spain the disaster film opened in second place on $1.1m from 403. Mexico has produced $29.4m.
Mad Max: Fury Road added $3.1m from 50 markets to reach $209.3m after seven weekends. South Korea has generated $29.9m, the UK $26.5m and France $19m. Entourage has grossed $12.2m and Hot Pursuit $11.1m following a $773,000 Mexican debut on 345 screens.
PARAMOUNT PICTURES INTERNATIONAL
UPDATE: Terminator: Genisys stormed into 10 territories ahead of this week's North American launch and generated $8.4m from 1,525 locations.
There was a notable number one debut in Singapore on $1.4m from 84 sites that saw the sci-fi action release start approximately 26% ahead of Terminator: Salvation – the last entry in the series in 2009 – and score a record for the franchise and Arnold Schwarzenegger.
Colombia generated $1.3m at number one from 168 for the same pair of records and a 201% improvement on Terminator: Salvation.
Peru delivered $910,000 from 85 at number one and there were two more sets of franchise and Schwarzenegger records in Vietnam on $681,000 from 69 and Turkey on $562,000 from 463. Both delivered number one results.
Genisys gets a big push into a further 34 territories this week including the UK, Australia, Russia, France, Mexico and Brazil, followed the week after by Germany, Italy, Spain and Japan.
FOX INTERNATIONAL
UPDATE: Spy crossed $100m as a confirmed $6.2m from 65 markets boosted the tally to $106.3m. The action comedy added around $1m in the UK from 423 for $13.3m after four sessions and opened in Spain in fourth place on $542,000 from 392.
Fox International Productions' Dragon Ball Z: Resurrection F added $4.8m from 12 for $45.1m and opened at number three in Argentina on $1.5m from 165 and at number four in Venezuela on $848,000 from 45. After two sessions Mexico has delivered $5.5m, Peru $1.8m and Brazil $1.2m.
Poltergeist grossed $6.4m from 38 markets for $39.4m and not surprisingly there was a strong number three debut in horror-loving Mexico on $1.9m from 1,165, while France produced $855,000 from 258 for fifth place.
Far From The Madding Crowd opened in Australia on $501,000 from 75 and has grossed $12.9m internationally.
SONY PICTURES RELEASING INTERNATIONAL
UPDATE: Insidious: Chapter 3 grossed a confirmed $3.8m from 53 territories as the tally climbed to $36.9m via Sony and $45.1m overall. Mexico delivered a $1.8m debut from 1,050 screens and India $590,000 from 280 for the biggest horror opening of the year-to-date.
Spanish rom-com Ahora O Nunca (Now Or Never) earned a further $1.1m from 455 in Spain to reach $4m.
LIONSGATE INTERNATIONAL
The Divergent Series: Insurgent added $1.9m from four territories to stand at $165.1m and has amassed $16.2m in China after two sessions. France has generated $16.8m, Brazil $16.2m, the UK $11.9m, Australia $9.4m and Mexico $9.2m.