JUNE 15 UPDATE: An exceptional year for Universal Pictures vaulted to another level as the latest episode in the tentpole Steven Spielberg created 22 years ago set opening weekend records in North America, international and worldwide.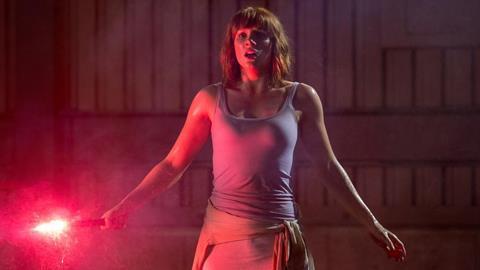 UNIVERSAL PICTURES INTERNATIONAL
UPDATED: The weekend's confirmed $315.3m international haul overtook the $314m mark set in 2011 by Harry Potter And The Deathly Hallows: Part 2, while $208.8m in North America trumped The Avengers' $207.4m North American record from 2012.
The overall global debut of $524.1m is by far the biggest ever as prior to this no film had ever grossed more than $500m within a single weekend.
RealD announced that approximately 65% of the international roll-out was on 3D-equipped screens and that 3D ticket sales drove $205m of box office. RealD said ticket sales for screens where it had licensed its 3D cinema technology accounted for $70m.
"An event film like Jurassic World is made even more memorable when it's experienced in 3D," said Anthony Marcoly, president of worldwide cinema at RealD. "We congratuale our friends at Universal Pictures, Amblin Entertainment, Legendary Films and our exhibition partners all around the world."
On Sunday the studio reported that Jurassic World, directed by Colin Trevorrow and featuring Spielberg as executive producer alongside Thomas Tull of co-financier Legendary, took an estimated $307.2m from 66 markets to deliver the industry's second highest international debut behind Harry Potter And The Deathly Hallows: Part 2's $314m in 2011.
It has become customary for China to lead the way in the territory roster, however that should not diminish the sense of awe its film-going public and the infrastructure that caters to the local audience continues to inspire.
A confirmed $100.1m from the first five days equates to a little less than one-fifth of the film's entire global weekend. This was Universal's biggest debut in China
The UK produced $30m, South Korea $14.4m, Australia $12.1m, France $13.8m, Australia $12.4m, Germany $11.4m, Rusia $10m, Spain $7.4m and the Philippines $5.5m alongside new marks in Hong Kong and Panama.
Jurassic World overtook the $250.4m scored earlier this year by Fast & Furious 7 to register Universal's highest international weekend. Studio executives reported that despite hot weather across much of Europe, the film claimed on average 70% market share around the globe.
Imax scored a record-breaking international weekend of $23.5m for a $53,000 average from 443 screens, beating the previous best of $16.7m set last summer by Transformers: Age Of Extinction. China alone contributed $11.8m from 208 for a $57,000 average.
A record global tally for Imax came to $44.1m from 806 screens, surpassing the previous best set by Iron Man 3 on $28.8m in 2013. Friday's $13m global gross is a new one-day record, as is that day's $8.6m North American haul and Saturday's $6.5m international score.
UPI executives said 3D generated approximately 50% of international box office. Japan is the last remaining territory to go and the film will open there on August 5.
Pitch Perfect 2 has reached $92.4m internationally and Fast & Furious 7 stands at $1.16bn.
The studio announced on Monday that Pitch Perfect 3 has been scheduled to open on July 21 2017 and will once again star Anna Kendrick and Rebel Wilson.
WARNER BROS PICTURES INTERNATIONAL
UPDATED: San Andreas rumbled up to $253.5m as a confirmed $41.8m from more than 14,500 screens in 68 markets boosted the running total to $254m.
The film ranks is now the studio's fourth biggest release and ranks second in China after 5,140 screens generated $23.3m over days and propelled the tally to $80.5m.
The disaster film ranks as the third biggest Warner Bros release in Mexico after $2.34m from 1,550 screens pushed the running total to $26.2m.
The UK has generated $15.3m, South Korea $11.2m, Russia $10.4m, Brazil $9.3m and France $6.8m.
Mad Max Fury Road used $5.5m from 4,320 screens in 64 markets to climb to $195.2m. South Korea leads the way on $28.9m, followed by the UK on $25.5m, France on $17.8m, Australia on $15.9m and Russia on $13.2m.
Entourage pulled in $1.6m on more than 791 screens in Australia and other markets for an early $5.8m. The small screen adaptation stands at $4.5m in Australia.
FOX INTERNATIONAL
UPDATED: Spy added $13.2m from 6,837 screens in 69 markets to reach $80m with four of the top 12 markets yet to open.
The Melissa McCarthy action comedy added $2.3m in the UK for $8.5m and climbed to $16.2m in South Korea, where it grossed $1.1m for the session and has overtaken the lifetime totals of every James Bond and Jason Bourne release.
Hamari Adhuri Kahaani from Fox International Productions earned $4.2m from 1,313 screens in seven markets. India was the main highlight as the film opened top on $3.6m from 1,200.
Poltergeist grossed $1.2m from 1,489 screens in 38 markets for $26.3m with more than 20 markets to go including Russia, France, Mexico and Italy.
Aloha stands at $3.1m and The Longest Ride more than $22.5m.
SONY PICTURES RELEASING INTERNATIONAL
Insidious: Chapter 3 grossed $6.7m from 3,045 screens in 45 territories as the early haul reached $26.3m.
The horror instalment took $1m in Russia for $5m after two weekends and has amassed $3m in the Philippines and $2.8m in Malaysia after the same period.
Colombia has produced $890,000 and Ecuador $680,000.
WALT DISNEY STUDIOS MOTION PICTURES INTERNATIONAL
Tomorrowland crossed $100m as $4.6m from 49 territories elevated the haul to $102.9m.
China remains the lead market for the adventure on $18.9m, then Russia on $7.7m, the UK on $7.6m, Mexico on $5.7m and France on $5.3m.
Avengers: Age Of Ultron added $2m from 41 for $1.362bn after eight weekends. China generated $235.5m by the end of its run.