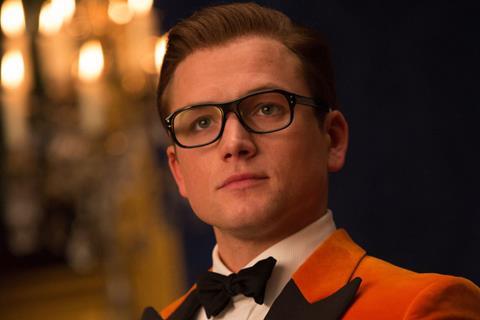 A sluggish North American box office session enabled Fox's adventure caper Kingsman: The Golden Circle hold on to top spot on a confirmed $16.94m to beat Warner Bros-New Line's It by the most slender of margins.
The horror smash had to settle for second place on $16.9m for $290.8m in its fourth session, while two big releases failed to live up to the hype.
After summer flop The Mummy, Tom Cruise's lacklustre year with Universal continued as American Made arrived at number three on $16.8m through Universal in 3,024 theatres. The film reportedly cost $50m to make excluding P&A costs and has reached $81.6m worldwide including $64.8m internationally.
Star wattage means less in the market these days – a common refrain by sales agents – and Doug Liman's adventure was unable to generate enough power with its headline star. By way of comparison, the sci-fi Edge Of Tomorrow starring Cruise and directed by Liman opened in June 2014 on $28.8m and crossed $100m by the end of its run.
Screen Gems' Flatliners reboot starring Diego Luna, Ellen Page and Kiefer Sutherland opened in fifth place on $6.6m from 2,552 venues, grossing approximately one-third of the 1990 debut of the original starring Sutherland when adjusted for inflation. That film finished on $61.5m or $114.7m in real terms.
Fox Searchlight's awards hopeful Battle Of The Sexes expanded from 21 theatres to 1,123 and vaulted 10 places to number six on a so-so $3.4m for $4.1m in its second session. Emma Stone and Steve Carell star.
Warner Bros' The LEGO Ninjago Movie fell 43% in its second sessions and fell one place to number four on $11.6m for $35.2m. Paramount's mother! remains in the top 10 in its third weekend, ranking tenth after dropping five places on $1.4m for $16.3m.
A Question Of Faith opened through PureFlix at number 12 on $1m from 66 venues. Focus Features expanded awards hopeful Victoria And Abdul in its second session from four to 77 venues and it added $1.1m for $1.3m, climbing 15 places to number 11.
Another Bollywood export, Judwaa 2, arrived at number 16 through Fox International Productions on $638,045 from 192.
SPC opened Mark Felt: The Man Who Brought Down The White House starring Liam Neeson at number 34 on $34,217 from five. Paladin released drama Te Ata one place behind on $28,640 in 14.
Magnolia Pictures opened the drama Lucky starring the late Harry Dean Stanton at number 41 on $43,293 from five sites, while The Orchard's Super Dark Times arrived at number 47 on $19,590 from 21.
Overall top 12 accounted for $83.6m, and down 20.9% on the comparable session in 2016, when Fox's Miss Peregrine's Home For Peculiar Children opened top on $28.9%.
This week's wide releases are: Alcon Entertainment's Blade Runner 2049 with Ryan Gosling and Harrison Ford via Warner Bros in North America; Fox's drama The Mountain Between Us starring Kate Winslet and Idris Elba; and Lionsgate's family film toy adaptation My Little Pony.
Estimated top 10 North America September 29-October 1, 2017
Film (Dist) / Est wkd gross / Est total to date
1 (3) Kingsman: The Golden Circle (Fox) Fox International $16.94m $66.6m
2 (2) It (Warner Bros) Warner Bros Pictures International $16.8m $290.8m
3 (-) American Made (Universal) Universal Pictures International $16.8m –
4 (3) The LEGO Ninjago Movie (Warner Bros) Warner Bros Pictures International $11.6m $35.2m
5 (-) Flatliners (Sony) Sony Pictures Releasing International $6.6m –
6 (16) Battle Of The Sexes (Fox Searchlight) Fox International $3.4m $4.1m
7 (4) American Assassin (Lionsgate-CBS Films) Lionsgate International $3.3m $31.9m
8 (6) Home Again (Open Road) $1.7m $25.2m
9 (-) Til Death Do Us Part (Novus) $1.5m –
10 (5) mother! (Paramount) Paramount Pictures International $1.4m $16.3m