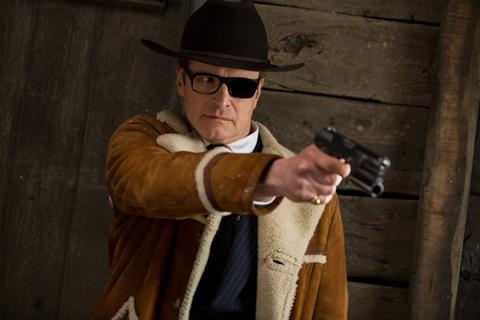 SEPTEMBER 25 UPDATE: Kingsman: The Golden Circle tops the international box office after debuting on $58.7m, taking the crown from It. Meanwhile, It continues its strong international performance, generating $38.4m over the weekend and propelling the horror past the $200m mark.
FOX INTERNATIONAL
UPDATED: Marv Film's Kingsman: The Golden Circle debuted at number one in 55 markets over the weekend. Matthew Vaughn's action sequel grossed $58.7m from 11,623 screens in its opening weekend of release. The opening weekend result is 63% greater than Kingsman: The Secret Service in the same group of markets at current exchange rates.
The UK is the top performing market, generating $11.1m in week one, which is more than twice the result of Kingsman: The Secret Service. Russia produced $5.9m, which is 63% bigger than Kingsman: The Secret Service. Taiwan generated $5.1m, for Fox's second-highest opening ever. Australia box office results were 32% bigger than Kingsman: The Secret Service on $4.5m, while Indonesia produced $3.2m, and Malaysia produced $2.7m.
The markets currently in release represent less than half of the international marketplace. The film starring Taron Egerton, Colin Firth, Channing Tatum, Julianne Moore, Mark Strong and Jeff Bridges debuts in South Korea this week, with openings in France and China set for October.
Kingsman: The Golden Circle grossed $3.5m internationally from 248 IMAX screens in 53 territories.
War For The Planet Of The Apes grossed $18.6m over the weekend, with $18.3m of that total coming from China where the film retains the number one position in the market for the second consecutive weekend, taking the market total to $98.5m. The film earned another $1.6m from 435 IMAX screens bringing its IMAX China cume to $7.3m. Japan is the final international market to release, scheduled for launch in mid-October. War For The Planet Of The Apes now stands at $324.6m internationally.
Captain Underpants: The First Epic Movie earned $2.3m from 359 screens in 10 markets. Australia generated $2m during its first weekend to lift the international total to $33.5m. Alien: Covenant pulled in another $830,000 from Japan, raising the international tally to $164.6m.
WARNER BROS PICTURES INTERNATIONAL
UPDATED: It continues to break international records, with exceptional openings in France and Argentina over the weekend. Overall, the film grossed another $38.4m on 12,275 screens in 59 markets, now passing the $200m mark on $212m and bringing the worldwide tally to $478.1m.
The horror adaptation debuted in France on $6.3m, including previews, ranking a dominant number one in the market. The opening was the biggest Warner Bros opening weekend in 2017 and came in ahead of all comparable titles.
Argentina produced $4.2m on 421 screens during its opening weekend. The film dominated the market and became the biggest opening weekend ever for a horror film, as well as becoming the biggest Warner Bros opening weekend ever in that market.
After two weeks, the film is still number one in Mexico after generating $4.3m for $21.3m. The UK produced $3.9m for $34.6m after three sessions, while Brazil generated $2.3m in week three for $14.4m, a mere 31% drop from last weekend. Australia produced $1.9m for $14.9m and second place after two sessions. Spain box office dipped just 28%, generating $1.4m for a running market total of $9.5m after three weekends in release.
The UK is the top grossing market on $34.6m, followed by Mexico on $21.3m, Russia $16.6m, Australia $14.9m, Brazil $14.4m, Spain $9.5m. South Korea generated $6.4m, France $6.3m, while Indonesia produced $5.4m, Sweden $4.8m, Chile $4.4m, and Holland $4.4m. It debuts in Germany on September 28.
The LEGO Ninjago Movie debuted in 37 international markets this weekend, grossing $10.1m on 6,650 screens. Russia produced $1.7m from 2,050 screens, ranking number two. Excluding previews, these results are on par with the opening of The Lego Movie. Germany produced $1.5m, including Wednesday sneaks, on 700 screens, also ranking number two. Poland generated $762,000 for first place, with results coming in on par with The Lego Movie.
Australia generated $729,000 on 295 screens in week one, while Spain produced $616,000 on 400 screens during its first session. The UAE generated $463,000 from 65 screens, ranking number two, which is on par with Lego Batman and 47% ahead of The LEGO Movie. This week, Warner Bros latest animated offering debuts in Brazil, South Korea, and Mexico.
SONY PICTURES RELEASING INTERNATIONAL
UPDATED: Spider-Man: Homecoming's worldwide total of $874.4m makes it the number one superhero movie of the year and the sixth-highest grossing Marvel film of all time globally. Over the weekend, the film brought in $5.9m from 40 markets for an international total of $542.4m. China produced $5.6m from 5,000 screens in its third session for $115.6m.
The Emoji Movie grossed $4.4m from 52 markets for $101.2m to date. With school holidays in full swing, Australia generated $1.2m from 331 screens in its second weekend for a total of $3.7m. The animation debuts in Italy on September 28. Elsewhere, Baby Driver added $1.9m from 45 markets, taking the international total to $117m. South Korea generated $1.3m for $5.2m after two weeks.
UNIVERSAL PICTURES INTERNATIONAL
UPDATED: American Made grossed a further $6.1m in 57 territories for an international total of $58.9m. Tom Cruise's latest starring vehicle debuted in Bolivia, Colombia, Ecuador and Venezuela over the weekend. Colombia generated $268,000 for third place, which is bigger than the Jack Reacher films and Captain Phillips. France, meanwhile, held at number three in week two on $899,000 for $3m. Italy produced $766,000 for $2.4m after two weeks, while Brazil held at number five in its second weekend on $590,000 for $2.1m. The action film opens in India, Trinidad, Paraguay and Uruguay day-and-date with North America this week.
Victoria And Abdul expanded its international run to 10 more territories for a total of 20 territories in release. Judy Dench and Ali Fazal's historical drama brought in $4.1m for an international total of $12.3m. Spain is the top opener on $627,000, while the Netherlands debuted at number seven on $169,000. Sweden produced $102,000, while the UK held at number three on $1.7m for $6.5m, a meagre 33% drop from the previous weekend. The film opens in eight territories this week, including Germany.
Illumination's Despicable Me 3 added $2.6m from 44 territories, raising the international total to $758.3m. Combined with $261.8m from North America, the worldwide total is $1.020bn. Illumination's latest offering is the sixth-highest grossing animated film worldwide, just behind Zootopia. In Japan, the animation is holding at number three in its tenth week in release on $500,000 for $64.5m. China is the top grossing territory on $152.3m, with the UK a distant second on $61.4m, followed by Germany $42.7m, France $40.7m, and Brazil on $38.9m.
The Beguiled grossed another $1.4m in 15 territories over the weekend to raise the international total to $14.9m. Combined with the North American total of $10.6m, the worldwide total stands at $25.5m. The film opened in three markets, Italy, Belgium and Paraguay, with Italy generating $1.1m for fourth place. France produced $100,000 in its fifth weekend for $2.7m. This weekend, the film opens in Bolivia, Ecuador, Panama and Peru.
Female-driven comedy Girls Trip added $676,000 in 11 territories to raise the international total to $19.6m. The film stands at $134.4m worldwide. The Netherlands held at number four in week three on $196,000 for $1m. The UK generated $50,000 for $11.6m. Girls Trip opens in the Philippines and Sweden this weekend. Atomic Blonde grossed $125,000 in 30 Universal and Sierra/Affinity territories, raising the international total to $44.1m, and the worldwide total to $95.6m.
PARAMOUNT PICTURES INTERNATIONAL
mother! grossed $4.6m from 29 markets, including 13 new openings. Darren Aronofsky's film, which has received reactions ranging from praise to outright anger, now stands at $12.5m. The art film generated $734,000 in Mexico, while Brazil delivered $657,000 in week one. All in their second week of release, France produced $529,000 for $2m, the UK $490,000 for $2.3m, and Germany $463,000 for $1.4m. Russia generated $441,000 for $2m after two sessions, while Australia added $218,000 for $992,000 after two sessions. The film will debut in Italy this week.
WALT DISNEY STUDIOS MOTION PICTURES INTERNATIONAL
UPDATED: Cars 3, which grossed $3.3m from 17 territories over the weekend, now stands at $209.6m internationally and $362m worldwide. In Italy, Cars 3 held the number one position for the weekend and stands at $7.2m after 11 days. The animation has no new openings this week.
China is the top territory on $20.7m, followed closely by France $18.9m, Japan $16m, Mexico $15.6m, and the UK on $15m. The animation will debut in its final international territories this week, Germany and Austria.