Warner Bros' animation held on to pole position over a sluggish four-day Presidents' Day weekend as an estimated $42.7m propelled the running total to $107.3m.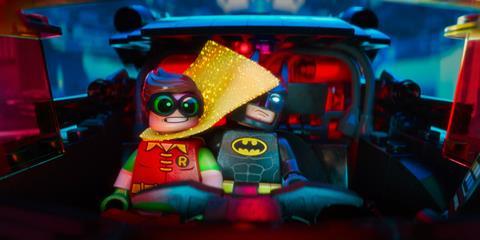 Legendary-Universal's adventure epic The Great Wall starring Matt Damon arrived in third place on a forgettable $21.5m from 3,326 venues.
While the debut would not bode well for the studios' recoupment prospects given the reported $150m production tag not including marketing, international markets have already generated $244.6m.
Universal's Fifty Shades Darker ranked second and added $22.7m for $91.4m and is tracking approximately 30% behind Fifty Shades Grey by the same stage.
New Line comedy Fist Fight with Ice Cube opened at number five on a dismal $14.1m from 3,185, while Fox's horror A Cure For Wellness debuted in 11th place on a poor $5m from 2,704 given the stated $40m price tag.
Pantelion released rom-com Everybody Loves Somebody at number 15 on $1.1m from 333.
Overall the top 12 combined for $163.8m, marking a 46.4% drop against the comparable session in 2016.
This week's wide releases are: Universal's horror film and recent Sundance surprise Midnight screening Get Out; action release Collide through Open Road; and Lionsgate-Summit's animation Rock Dog.
Estimated top 10 North America February 17-20, 2017
Film (Dist) / Est wkd gross / Est total to date
1 (1) The Lego Batman Movie (Warner Bros) Warner Bros Pictures International $42.7m $107.3m
2 (2) Fifty Shades Darker (Universal) Universal Pictures International $22.7m $91.4m
3 (-) The Great Wall (Universal) Universal Pictures International $21.5m –
4 (3) John Wick: Chapter Two (Lionsgate- Summit) Lionsgate International $18.9m $61.2m
5 (-) Fist Fight (Warner Bros) Warner Bros Pictures International $14.1m –
6 (5) Hidden Figures (Fox) Fox International $9m $144.5m
7 (4) Split (Universal) Universal Pictures International $8.5m $125.1m
8 (6) A Dog's Purpose (Universal) Universal Pictures International $7.5m $52.6m
9 (8) La La Land (Lionsgate) Lionsgate International $5.6m $134.6m
10 (9) Lion (TWC) TWC International $5.2m $37.4m