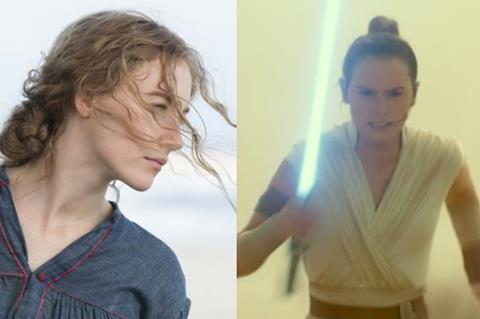 Major hits with women in the lead continued to impress at the box office as Sony's Little Women crossed $100m worldwide over the weekend and Lucasfilm's Star Wars: The Rise Of Skywalker climbed to within easy reach of the $1bn global box office milestone.
DreamWorks/Universal/Amblin Partners' 1917 earned the most for the weekend on $56.4m worldwide and debuted in the UK on $9.5m via eOne. Universal family adventure Dolittle starring Robert Downey Jr kicked off with $6.8m in South Korea, while thriller Underwater took $14.1m globally from its maiden voyage.
Blue Sky Studio's animation Spies In Disguise crossed $100m globally, and Fox's Ford v Ferrari will roar past $100m internationally any day now.
WALT DISNEY STUDIOS MOTION PICTURES INTERNATIONAL
Later this week Lucasfilm's Star Wars: The Rise Of Skywalker will become the seventh film released by Disney in 2019 to breach the $1bn barrier after another solid session. The sci-fi added $39.3m worldwide for $989.3m, and added $24.2m for a $511.4m international running total, compared to $478.2m from North America.
The final markets saw a $2.5m ($3.1m including previews) debut in South Korea to rank second behind Universal's Dolittle, and $1m ($3m including previews) in Philippines. The UK remains the overall lead market on $71.4m, followed by Germany on $61.3m, Japan on $54.3m, France on $48m, and Australia on $29.9m. The Rise Of Skywalker stayed top for the fourth consecutive weekend in France and Germany.
Underwater, the thriller starring Kristen Stewart from Chernin Entertainment and TSG and distributed by Fox, earned $7.1m internationally and $14.1m worldwide. It opened in 21 markets, led by Indonesia on $1.5m for number one, France on $1m in second place, and Mexico on $900,000 in second place. Underwater arrives in the UK on February 7.
Besides ranking as the all-time top global animation release, Walt Disney Animation Studios' Frozen II on $1.371bn has recently overtaken a cluster of historic releases to become the 11th highest grossing release of all time, leaving Star Wars: The Last Jedi ($1.333bn), Harry Potter and the Deathly Hallows Pt 2 ($1.342bn) and Black Panther ($1.348bn) in its wake.
The animation added $24.9m globally, and $19.1m internationally as it climbed to $912m. China is the leader on $120.2m, then Japan on $109.3, followed by South Korea on $96.9m, the UK on $66.5m, and Germany on $56.9m.
Blue Sky Studio's animation Spies In Disguise crossed $100m globally as $16.5m elevated the tally to $115m. A $3.4m number two debut in Russia ($3.5m including previews) powered an $11.4m international session that saw the running total climb to $60.4m. China has delivered $8m, the UK $6.8m, and France $5.9m.
Fox's Fox v Ferrari is a whisker away from crossing $100m at international box office after a $2.5m spin around the track propelled the tally to $99.96m. The worldwide haul climbed by $3.3m to $211m and the film opened in Japan on $1.7m ($2.2m including previews).
SONY PICTURES RELEASING INTERNATIONAL
Jumanji: The Next Level soared past $400m internationally as a $22.6m session elevated the tally to $414m, and the global running total climbed to $671m. The film ranks number one in seven out of nine Latin American markets and opened in Argentina on $1.2m. It opens in Brazil this week. China heads the leaderboard on $41.2m, followed by UK on $40.7m, Australia on $25.4m, France $23.7m, and Germany $21.8m.
Little Women crossed $100m worldwide to stand at $107m following an $8.1m international weekend haul that raised the tally to $33.2m. The period drama directed by Greta Gerwig dropped 24% in the UK where $2.6m boosted the running total to $17.2m after three sessions. A 37% slide in Australia produced $1.4m and $6m after two weekends.
The film debuted in Italy on $1.7m, and in Brazil on $390,00. Little Women stands at $2.6m in France after two, $3.9m in Spain after three. Upcoming debuts include Mexico on January 24, Germany and Russia on January 30, South Korea on February 12, and Japan on March 27.
AMBLIN PARTNERS
1917, heading into Monday's Oscar nominations after a week in which it enjoyed success at the Golden Globes and earned nominations from the DGA and PGA, grossed $56.4m worldwide, of which $36.5m resulted from the number one North American bow, and $19.4m came through Amblin Partners for an early $20.7m running total. That combines with a $500,000 session from Universal markets for a $19.9m international weekend, and a $21.2m overall international running total.
The First World War thriller directed by Sam Mendes earned a superb $9.5m in the UK, $3.3m in Australia, $1.7m in Spain, and $1.4m in Netherlands through eOne. It also earned $614,000 in Belgium and Luxembourg, and $447,000 in New Zealand via eOne.
In other Amblin markets, 1917 launched on $759,000 in Middle East via Italia Film, $585,000 in Hong Kong through Intercontinental, and $334,000 in Denmark via Nordisk.
UNIVERSAL PICTURES INTERNATIONAL
Family adventure Dolittle starring Robert Downey Jr kicked off its run in fine style, coaxing $8.1m out of audiences in four territories. In particular the film impressed in South Korea where it ranked number one and grossed $6.8m, earning 40% market share, and in Ukraine, where $1.1m ensured Universal's fourth highest opening in history.
1917 grossed approximately $500,000 from Universal ahead of a wider roll-out next weekend that will bring debuts in France, Germany, and Mexico. Leading the line this weekend was Singapore on $289,000 for number one, and $162,000 for Chile, ranking fourth.
Cats, the embattled Broadway adaptation from Working Title and Amblin Entertainment that Tom Hooper directed, added $1.6m for a $33.1m running total, and $59.5m worldwide. It opened in nine markets and the highlight was a $200,000 bow in Philippines, while the UK delivered $566,000 for $14.6m after four weekends. Drama Queen & Slim earned $300,000 for an early $400,000 tally, and $43.9m worldwide. It arrived in Germany on $285,000.
LIONSGATE INTERNATIONAL
Whodunnit Knives Out brought in $5.5m from 66 markets as the tally climbed to $125.8m, and worldwide reached $265.4m. After seven weekends, the all-star murder mystery has grossed $28.2m in China, $15.8m in UK, $8.7m in Australia, $7.4m in France, and $5.8m in Russia. It has taken $5.2m in Germany after two following an 11% drop. Japan will be the final market to open on January 31.
MIRAMAX INTERNATIONAL
Strong word-of-mouth ensured gangster caper The Gentlemen added $4m for an early $14.2m running total. The film earned most of its money from the UK via Entertainment Film, where $2.2m following a 23% drop ensured third place and boosted the tally to $7.8m after two sessions. Roadshow reported a $1.6m weekend in Australia after a 34% drop, where the film ranks third and climbed to $5.8m after two. Combined with New Zealand, Roadshow's total stands at $6.4m.
At this stage, the film is tracking some 72% ahead of The Man From U.N.C.L.E., 52% ahead of Hitman's Bodyguard, and 21% ahead of Knives Out. Remaining international territories will start rolling out with North America in two weeks. Upcoming key releases are: Middle East (Eagle) and Taiwan (Moviecloud) on January 24, France (SND) on February 5, Russia (Volga) on February 13, Mexico (CDC) on February 14, and Germany (Universum) on February 27.
WARNER BROS PICTURES INTERNATIONAL
Clint Eastwood's drama Richard Jewell used $1.8m a session to lift itself to $4.8m and $26.7m globally. The film opened in Russia on $468,000 and debuted in China on $231,000, while $381,00 in the second session in Spain elevated the running total to $1.6m.
More to follow…