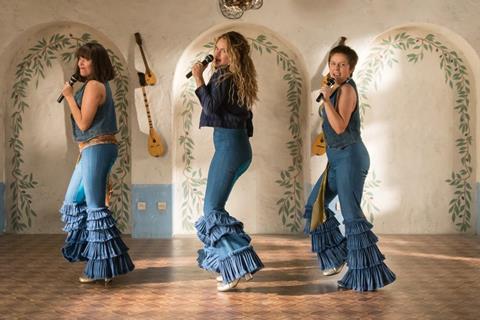 Mamma Mia! Here We Go Again is projected to finish its first international weekend in the high $40m range and close to $90m worldwide after reaching $20.7m including $5m in previews by Saturday in its first markets outside North America.
The musical sequel is in 41 international markets over the weekend and delivered Universal's fourth biggest opening day of all time in the UK on $4.8m and New Zealand, the studio's biggest in Norway on $1m and Iceland on $42,000, and the industry's second biggest opening day of all time in Norway.
It also generated the biggest live action musical opening day of all time in Norway, Sweden ($491,000), and Hungary
The film ranked number one in 24 markets by Saturday and opens this weekend in Australia, Germany, and Spain. It is on track for a $39m North American weekend. The 2008 original stormed to $609.8m worldwide, and took $465.7m internationally.
"Despite the fact that it's blazing hot sunshine, which is never the best for cinema-going, we've had a really good start," said Universal Pictures International president of distribution Duncan Clark.
The executive said that while Mamma Mia! Here We Go Again was not the kind of film where young males turn out en masse for opening weekend, the film had been playing well anecdotally across Europe among an audience ranging from 15 to 80 and was expected to play well throughout the summer.
"The number of males who came out was surprising," Clark added, "It's a uniquely distinctive brand in that it leans female and slightly older. There won't be something like this for for a while, so we're building a foundation."
Original cast members Meryl Streep, Amanda Seyfried, Dominic Cooper, Pierce Brosnan, Stellan Skarsgaard, Colin Firth, Christine Baranski, and Julie Walters return alongside newbies Cher and Lily James.
The musical will land in China on August 3. Executives are tempering expectations given that the original did not open there theatrically and so awareness may be limited, despite the efforts of counterfeiters at the time.