EXCLUSIVE: Double Oscar-winner grosses $27.3m from international markets through Sierra/Affinity licensees.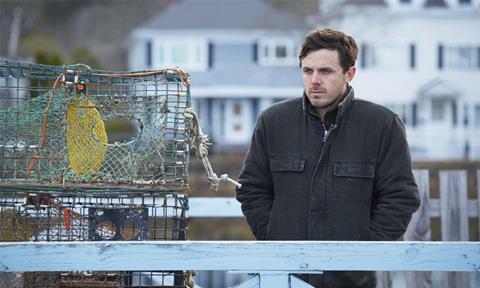 Kenneth Lonergan's acclaimed drama crossed the $75m global box office milestone at the weekend, a triumphant result for the $8.5m drama that will serve to further empower the independent space.
Internationally the drama has delivered $27.3m through Sierra/Affinity's network of buyers. The sales agent launched the title at the EFM in Berlin 2015, shortly before production kicked off in Boston, and immediately struck a UK deal with StudioCanal among other transactions with leading independents, while Sony picked up a swath of territories.
Universal acquired outstanding territories at Sundance 2016, when the film premiered. Amazon Studios pounced in a $10m deal in Park City and partnered with Roadside Attractions on the release in North America, where it has generated $47.7m. Casey Affleck won the lead actor Oscar and Lonergan took the best original screenplay prize in February.
Highlights from the international run include $4.3m in the UK, which is tracking 9% ahead of Boyhood and 53% ahead of Whiplash, and $3.2m in France through Universal.
The French result is tracking 176% ahead of Wild and 212% ahead of Room. Sweden has delivered $991,000 so far through Sony and the film is tracking 214% ahead of Boyhood and has generated five times more than Room. In all cases, comparisons were adjusted to factor in exchange rates.
"It's remarkable how well it did. It's really good for the business in general," Sierra/Affinity president of international sales and distribution Jonathan Kier said. "This speaks to how much people are looking to be moved."
Kier said Sierra/Affinity led by Nick Meyer "never thought twice" about handling sales on what appeared a risky proposition: an intense drama directed by Lonergan, a highly regarded writer-director whose previous film Margaret was beset by troubles and grossed less than $50,000 despite being hailed a masterpiece by some critics.
"To be able to work with Kenny Lonergan and Casey Affleck was a great opportunity," Kier said. "We said, 'Where do we sign?'
"Universal picked up a big chunk [of territories] at Sundance and Sony had come on board earlier. Even places like Israel delivered outstanding results."
Manchester By The Sea grossed $724,000 in Israel through United King and is currently tracking 6% ahead of Whiplash and 68% better than Spotlight.
Kier noted that in France the drama opened in December against Rogue One: A Star Wars Story and debuted one week after Arrival, yet it managed to hold its own and stay afloat throughout the holiday season.
It opened in the UK on January 13, just after the BAFTA and Golden Globes ceremonies. "The following weekend was Lion, which was a big release," Kier said. "Then there was Jackie and Hacksaw Ridge and Trainspotting 2."
Amazon Studios' commitment to a traditional theatrical run backed by p&a spend and a strong awards campaign emboldened international distributors.
"That's what everyone is looking for when a new player comes on board and there's uncertainty," Kier said, adding that not only international distributors but exhibitors were encouraged by the theatrical release plans in North America.
Financier Kimberly Steward of K Period Media knew she was taking a risk when she stepped in to fund the $8.5m production, but it paid off.
"This film far exceeded my expectations financially," Steward said. "I knew it would be an incredible, beautiful film, but I did not anticipate this level of success.

"My advisors and peers told me it was a risk, so I was prepared for a much different outcome. This experience has taught me to go with my gut and continue to invest in projects that move me."
Steward added: "It feels like everything about this experience has been a highlight, it's like a fairy tale. Working with Matt Damon, my producing partner Lauren Beck, producers Kevin Walsh and Chris Moore, and of course our head of development Josh Godfrey. The talent in this film was incredible both in front of and behind the camera truly bringing this film to life."
Manchester By The Sea is set to open in Japan on May 13.