UPDATED JULY 13: The Despicable Me spin-off grossed a confirmed $130.7m from 56 territories after launching top in 29 of 30 new regions to reach $287.8m.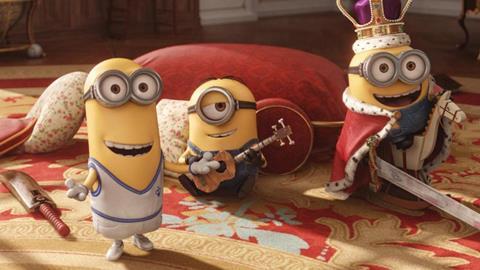 UNIVERSAL PICTURES INTERNATIONAL
UPDATE: Minions has scored the biggest animated opening of all time in 25 territories, among them France, Mexico and Russia this weekend.
In a string of number one debuts the film opened in Mexico on $19.5m from 692 for the second biggest animation debut ever; Russia on $15.3m from 1,210 for the same accolade; France on $12m from 868; and Venezuela on an estimated $5.6m.
There are 11 territories to go over the next two months. The global running total factoring in the $115.2m North American launch stands at $403.5m.
Jurassic World added $23.1m from 65 for $877.2m and has overtaken Frozen to rank as the seventh biggest international release ever. It is the fifth biggest global release.
Ted 2 grossed $12.5m from 35 for $53.3m and arrived in second place in the UK behind Minions on $3.8m. Pitch Perfect has reached $96.8m.
PARAMOUNT PICTURES INTERNATIONAL
UPDATE: Terminator Genisys ventured into 14 markets including Japan, Germany, Spain Italy and Argentina for a confirmed $46.5m session from 60 territories that pushed the tally to $155.5m.
The sci-fi reboot opened in Japan on $5.5m from 339 sites, Germany in second place on $3.1m from 554 and Spain on $1.5m from 373 for an Arnold Schwarzenegger record.
Genisys took $2.3m from 157 in Argentina for the biggest Paramount opening weekend and set new marks for star and franchise. It opened in Italy on $1.2m from 530 and the Netherlands on $605,000 from 90.
In a string of solid second weekends, the film added $5.4m from 775 in South Korea for $19.3m, $3.5m from 1,121 in Russia for $18.8m and $2.6m from 541 in the UK for $11.4m.
Brazil generated $2.5m for $8m, Australia $2.1m for $7.9m. France added an estimated $1.9m for $6.9m and Mexico an estimated $1.6m for $9.7m.
ASIA UPDATE
Forever Young took $38m while Tiny Times grossed $36m and climbed to $54m. Monk added $6m for $58m. South Korea's NLL – Battle Of Yeongpeong from Next Entertainment World used a $6.6m haul to surge to $32m.
WALT DISNEY STUDIOS MOTION PICTURES INTERNATIONAL
Inside Out brought in a further $19.1m from territories to reach $151.8m as Disney crossed $2bn for all its international releases for the year-to-date. The global running total starts at $435.4m.
Mexico has delivered $27.7m, Australia $18.9m, Russia $18.3m, France $16m and Argentina $12.7m. Brazil has produced $10m, Colombia $6.3m and South Korea $5.1m. The animation hit opens in Spain and Japan this week and the UK on July 24, followed by Italy on September 16 and Germany on October 1.
Avengers: Age Of Ultron stands at $933.3m internationally and $1.4bn worldwide. Japan has generated $13.5m after two sessions.
WARNER BROS PICTURES INTERNATIONAL
UPDATE: Magic Mike XXL grossed $10m from 30 markets now to stand at an early $20.1m.
It opened in Australia on $3.9m from 401 screens including previews and was locked in a tight contest for top spot with Minions and Inside Out. France delivered $563,000 from 295 including previews in the opening weekend. The UK added $1.5m for $6.2m.
Horror release The Gallows kicked off on $1.3m from 13 territories including $424,000 from 77 in Argentina and arrives in the UK and Mexico this week. Mad Max: Fury Road stands at $216m.
SONY PICTURES RELEASING INTERNATIONAL
UPDATE: Insidious: Chapter 3 grossed $3.6m from 50 to rise to $47m ($55.6m via all distributors) and opened in sixth place in South Korea on $1.5m from 368 screens. It arrives in Australia this week.
FOX INTERNATIONAL
UPDATE: Spy grossed $2.2m from 55 markets to reach $116.9m and has reached $14.9m after six weekends in the UK and $11.1m in Australia after eight.
Poltergeist stands at $47.3m and Dragon Ball Z: Resurrection F $50.3m, while Paper Towns opened in third place in Brazil on $2.4m on 630 screens.