Fox's children's fantasy tale starring Eva Green debuted at number one over the weekend, while Lionsgate-Summit's Deepwater Horizon secured second place and Buena Vista's Queen Of Katwe burst into the top ten.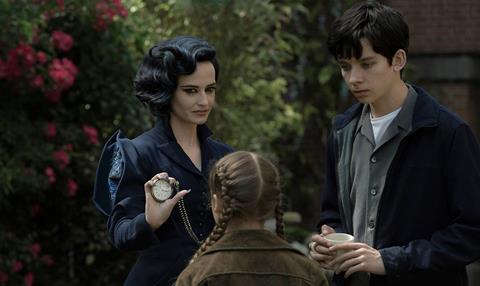 Miss Peregrine's Home For Peculiar Children marks the latest film by Tim Burton and grossed a confirmed $28.9m from 3,522 theatres. It earned a 64% Rotten Tomatoes rating.
Deepwater Horizon debuted on $20.2m and stars Mark Wahlberg in Peter Berg's film based on the 2010 oilrig disaster in the Gulf of Mexico that created the biggest oil spill in US history.
The film premiered last month in Toronto and scored 82% on Rotten Tomatoes.
Last weekend's champion, Columbia Pictures-MGM western reboot The Magnificent Seven, slipped two place to number three on $15.6m for a solid $61.5m after two weekends.
Storks fell a mere 36.8% and dropped two places to number four in its second sessions, adding $13.5m for $38.5m. The animation's Warner Bros stablemate Sully crossed $100m in its fourth weekend and ranks fifth on $105.3m.
Relativity Studio's comedy Masterminds from Napoleon Dynamite director Jared Hess debuted at number six on $6.5m. Owen Wilson, Kristen Wiig and Zach Galifianakis star in the comedy, which delivered 38% on Rotten Tomatoes.
Buena Vista expanded Queen Of Katwe starring Lupita Nyong'o in its second weekend from 52 sites to 1,241 as the film climbed 15 places to number seven on $2.5m for $2.9m.
Fox International Productions' Bollywood release M.S. Dhoni: The Untold Story arrived via Fox at number 14 on $1.1m from 256. China Lion opened the romance I Belonged To You at number 23 on $311,738 from 50.
Denial, an awards hopeful starring Rachel Weisz as the American historian who went toe-to-toe in court with Holocaust denier David Irving, opened through Bleecker Street at number 35 on $93,728 from five venues for an excellent $18,746 average.
Andrea Arnold's American Honey, which premiered in Cannes at the start of the summer, debuted through A24 at number 40 on $71,203 for a strong $17,801 average from four.
FilmRise released Harry & Snowman at number 42 on $56,842 from 18 through, while Music Box opened Hannes Holm's Swedish Oscar submission A Man Called Ove at number 43 on $54,608 from nine.
Overall the top 12 combined for $105.7m, representing an 11.4% gain on last weekend yet a 25.9% drop against the comparable session in 1015 when Fox's The Martian landed at number one on $
This week's wide releases are: Fox Searchlight's The Birth Of A Nation, written, directed, produced by and starring Nate Parker; Lionsgate's Middle School: The Worst Years Of My Life; and Universal's Emily Blunt thriller The Girl On The Train.
Confirmed top 10 North America September 30-October 2, 2016
Film (Dist) / Conf wkd gross / Conf total to date
1 (-) Miss Peregrine's Home For Peculiar Children (Fox) Fox International $28.9m –
2 (-) Deepwater Horizon (Lionsgate) Lionsgate International $20.2m –
3 (1) The Magnificent Seven (Columbia) Sony Pictures Releasing International/ MGM $15.6m $61.5m
4 (2) Storks (Warner Bros) Warner Bros Pictures Animation $13.5m $38.5m
5 (3) Sully (Warner Bros) Warner Bros Pictures International $8.3m $105.3m
6 (-) Masterminds (Relativity) $6.5m –
7 (22) Queen Of Katwe (Buena Vista) Walt Disney Studios Motion Pictures International $2.5m $2.9m
8 (7) Don't Breathe (Screen Gems) $2.4m $84.7m
9 (4) Bridget Jones's Baby (Universal) Universal Pictures International $2.3m $20.9m
10 (5) Snowden (Open Road) Wild Bunch $1.9m $18.7m