DECEMBER 14 UPDATE: In a tight contest with new arrival In The Heart Of The Sea, Lionsgate's enduring champion The Hunger Games: Mockingjay – Part 2 retained the title by the slimmest of margins.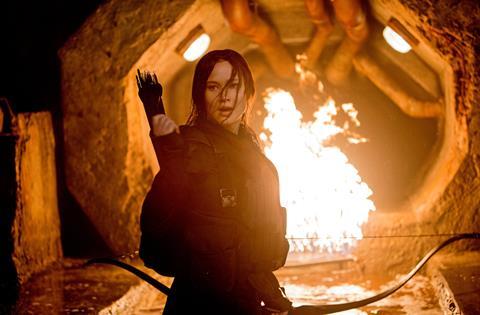 The confirmed $11.4m hold resulting in a $244.6m running total after four weekends might be overturned on Monday when actual figures may tell a different story.
Warner Bros' seafaring adventure from Ron Howard starring Chris Hemsworth arrived at number two on a confirmed $11.1m, a highly disappointing result for a film that is understood to have cost around $100m.
The debut marks another flop in a bad year for Warner Bros that has seen Pan, The Man From U.N.C.L.E. and Jupiter Ascending all fail at the box office.
Paramount opened The Big Short starring Christian Bale, Steve Carell and Ryan Gosling at number 15 on $705,527 from eight for a stellar $90,000 average.
Both The Good Dinosaur and Creed in third and fourth places continue to march towards $100m, while awards season contenders Spotlight and Brooklyn did well.
The former expanded by 109 to 1,089 theatres via Open Road and added $2.5m for $20.3m after six sessions and fell once place to number eight.
Fox Searchlight expanded Brooklyn by 41 to 947 and saw the film rise one place to number nine on $1.9m for $14.4m.
This week's wide release is Disney's Star Wars: The Force Awakens, when box office records are expected to fall like dominoes.
Confirmed top 10 North America December 11-13 2015
Film (Dist) / Conf wkd gross / Conf total to date

1 (1) The Hunger Games: Mockingjay – Part 2 (Lionsgate) Lionsgate International $11.4m $244.6m
2 (-) In The Heart Of The Sea (Warner Bros) Warner Bros Pictures International $11.1m –
3 (3) The Good Dinosaur (Pixar-Buena Vista) Walt Disney Studios Motion Pictures International $10.3m $89.5m
4 (4) Creed (Warner Bros) Warner Bros Pictures International $10.1m $79.3m
5 (2) Krampus (Universal) Universal Pictures International $8.4m $28.6m
6 (5) Spectre (MGM-Sony) Sony Pictures Releasing International-MGM $4m $190.8m
7 (6) The Night Before (Sony) Sony Pictures Releasing International $3.9m $38.2m
8 (7) The Peanuts Movie (Fox) Fox International $2.7m $124.9m
9 (8) Spotlight (Open Road) eOne Features $2.5m $20.3m
10 (9) Brooklyn (Fox Searchlight) HanWay Films $1.9m $14.4m