Optimum has its biggest-ever opening with The Tourist; Vertigo's Monsters passes $1m.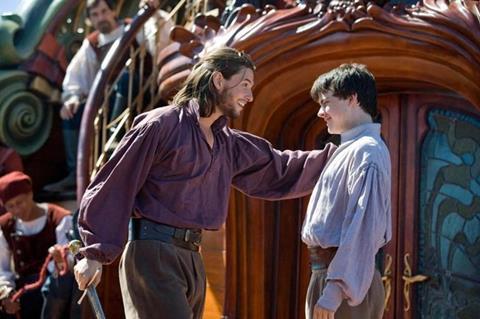 Harry Potter was denied a fourth straight week at the top of the UK box office as The Chronicles Of Narnia: The Voyage Of The Dawn Treader sailed in to commandeer the number one spot.
The latest edition in what is now Fox's family fantasy franchise grossed £2.5m ($3.9m) from 536 locations at an week-high average of £4,590 ($7,222). 72% (£1.8m) of the gross came from 3D screens.
However Dawn Treader's opening was some way down previous two entries in the franchise: Prince Caspian took £4.1m ($6.5m) in its opening weekend, but The Lion, The Witch And The Wardrobe remains the series' front runner after it opened on £8.9m ($14.1m) back in 2005.
Even though it was knocked from the top spot, Harry Potter And The Deathly Hallows: Part 1 continued to perform strongly in its fourth week. The Warner Bros. fantasy took a further £1.9m ($3.0m) to stand at £42.6m ($67.0m) so far.
Optimum's release of Angelina Jolie-Johnny Depp starring The Tourist entered in third place after a £1.3m ($2.1m) opening weekend. That figure was significant for the distributor as it was not only their biggest-ever opening weekend, but also marked 2010 out as their biggest ever box office year to date with over £20m taken so far. Daniel Stamm's horror The Last Exorcism previously held the record for Optimum's biggest opening weekend.
Sofia Coppola's latest film Somewhere grossed £125,581 ($197,610) to open in eighth, resulting in the director's worst opening weekend at the UK box office. That figure is some £16,000 off the £141,888 ($225,398) taken by her directorial feature debut The Virgin Suicides, although the latter did open in more screens.
The week's best holdover performance came from Artificial Eye's Of Gods And Men which posted only a 8% week-on-week drop as it took £54,368 ($85,552) to post an strong £155,096 ($244,054) so far.
Gareth Edwards' directorial debut Monsters also had a decent second week for Vertigo (which also produced) as it passed $1m gross so far after a further £154,743 ($243,498) was amassed.
The only other new entries in the top 20 came from Eros' No Problem (£114,652 from 47) and Yash Raj's Band Baaja Baaraat (£24,675 from 16), who charted at ninth and 16th respectively.
Next week sees saturation releases for Disney's long awaited sequel Tron: Legacy, Sony's Burlesque, Lionsgate's Fred: The Movie and Entertainment's animated family film Animals United, while Momentum's much buzzed-about Catfish gets a limited release.