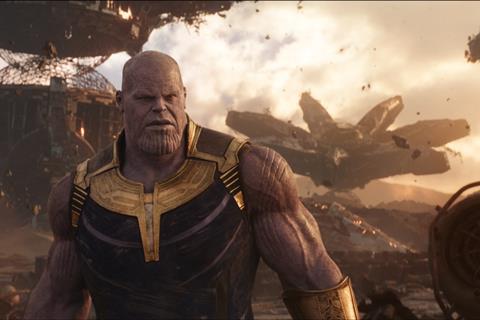 Box office in the first half of 2018 climbed 9.6% year-on-year according to data released by the National Association Of Theatre Owners (NATO).
The average ticket price in the US reached $9.38 in the second quarter of 2018, while average cost in the first half of the year reached $9.27.
The Q2 number represents 2.4% rise from $9.16 in the first quarter and a 4.8% year-on-year climb from $8.95 in Q2 2017. Average cost for the first half of the year climbed 4.14% on $8.9 in 2017.
Admissions in the second quarter reached 355,506,768 and box office $3.334bn, marking gains of 17.1% and 22.73% against 2017.
The first half of this year generated 667,600,919 admissions, up 5.22% on 2017 levels.
NATO also provided statistics on film-going demographics courtesy of comScore's PostTrak service. The 18-24 group accounts for 27.56% of Q2 box office, against 2017 levels of 24.47%.
The next highest group is the 25-34 category on 22.15% compared to 20.1% in Q2 2017. Viewership among the 55 and over group climbed from 4.59% to 5.08%, while the under-10's fell from 8.79% to 6%.
Of the top five films of the year-to-date, Avengers: Infinity War drew a 60.4%-39.6% male-female divide. By ethnicity, Caucasions accounted for 47.6% of the crowd, followed by Hispanics on 21.1%, African Americans on 16.9%, and Asians on 9.9%.
Incredibles 2 drew a 50-50 gender split, while Caucasians accounted for 45.9%, Hispanics 23.6%, African Americans 16.7%, and Asians 8.8%.
Deadpool 2 delivered a 60-40 male-female divide, 53.7% Caucasian, 19.4% Hispanic, 12.4% African American, and 11% Asian break-down; and Jurassic World: Fallen Kingdom the closest gender divide on 54.1%-45.9%, with 49% Caucasian, 22.9% Hispanic, 14.8% African American, and 9.2% Asian.
Solo: A Star Wars Story delivered the greatest gender discrepancy on 61.1%-38.9% male-female. By ethnic groups, the film provided the strongest Caucasian turn-out on 61.1%, followed by Hispanics on 18.4%, African Americans on 8.4%, and Asians on 8.3%.