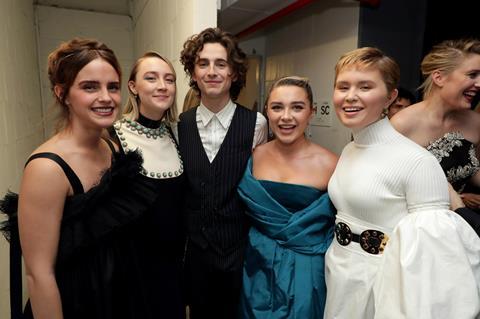 Greta Gerwig's Oscar-winning Little Women is on course to cross $100m at the international box office this spring according to sources, as the period drama's remarkable trajectory continues to charm fans.
At time of writing Columbia Pictures' Louisa May Alcott adaptation stood at $178m worldwide, with international markets contributing $75.1m, and North America accounting for $102.9m through Sony's distribution pipeline.
Ever since the film premiered in New York on December 7, 2019, Gerwig and her cast including Oscar-nominated Saoirse Ronan, Florence Pugh, Timothée Chalamet and Emma Watson have put in the hard yards, promoting the film to a predominantly young female and family demographic that has embraced its modern sensibility and broad appeal.
Sony executives would not comment on the campaign, however studio executives clearly sensed they had something that would cross over from arthouse into the mainstream. At the planning stage, long before the red carpet in New York, a decision was taken to open in the US on December 25, typically reserved for major end-of-year tentpoles, and roll out quickly in a handful of key international markets on high screen counts.
After the world premiere, Ronan, Chalamet, Pugh and Gerwig flew to Paris for two days of press, where they were joined by co-star Louis Garrel, cinematographer Yorick Le Saux, and Golden Globe-nominated composer Alexandre Desplat.
Little Women opened in France on January 1 and has grossed $5.6m and counting. Sony executives worked with exhibitors to broaden the film's reach beyond the Parisian arthouse enclave and get it in front of families in cities where popular releases tend to perform well.
Cast and director then crossed the English Channel to appear on The One Show and The Graham Norton Show in the UK. They were joined by James Norton and costume designer Jacqueline Durran, ultimately the film's only Oscar winner last Sunday. To add some sparkle to the awards campaign, the studio arranged a special screening hosted by Kristin Scott Thomas, and a director Q&A with Gerwig moderated by Mike Leigh.
The Civil War-era story of the March sisters launched in the UK on December 26, where it has earned $27.2m to date, a number that compares well to Pride & Prejudice on $21.4m, The Favourite on $21.9m, and Atonement - also starring Ronan - on $16.1m, all at current exchange rates.
As it did in France, the studio targeted families in Spain, which has produced $5.1m since its December 26 launch, and in Mexico, where the literary adaptation has delivered $2.1m since opening on January 24. The territory is not known for its arthouse audiences but there is an upscale crowd that will turn out for an appealingly marketed film, and Mexican female film-goers are influential within the market.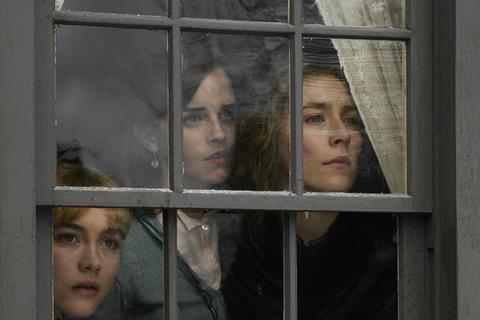 Australia followed on January 1 and has generated $10.2m, a huge achievement for a period drama since any film that crosses the $10m threshold in the territory is regarded as a significant box office hit. By way of comparison, Pride & Prejudice, The Favourite and Atonement finished on $5m, $3.9m, and $7.1m, respectively.
Italy has delivered $6.4m since the January 9 release – a notable result that outstrips Pride And Prejudice on $4.6m, The Favourite on $3.3m, and Atonement on $1.1m – while Russia has impressed in its early days, generating $2.3m since the January 30 launch on a very wide 871 screens.
Ronan's home turf Ireland deserves special mention. Little Women almost beat Star Wars: The Last Jedi, and the top three sites in the British Isles are Irish: The Stella Cinema Rathmines in Dublin on $239,250 (£185,000) and counting; the Omniplex Cinema Cork on $206,900 (£160,000) and Movies @ Dundrum in Dublin on $194,000 (£150,000). The top UK site is London's Picturehouse Central.
The adaptation opened the 20th anniversary of the Rio de Janeiro International Film Festival on December 9 ahead of the January 9 release date. To date it has grossed $1.5m in Brazil. Following a screening at Rotterdam in advance of the Netherlands launch, where it is closing on $500,000 since opening on February 6, Ronan and Gerwig are scheduled to jet off to Tokyo in March to support the March 27 release. South Korea, which knows a thing or two about getting behind a phenomenon, is also lining up.
Marketing included a collaboration with global book-sharing project The Book Fairies to hide more than 2,000 copies of the Little Women novel, each containing a handwritten note from Watson, in 38 countries. Watson stashed books around London and documented her efforts to her 52m-plus Instagram followers.
A fan art contest organised with Talenthouse encouraged artists to make digital art inspired by the film. Work by four winners announced on Watson's Instagram account featured in global marketing campaigns.
Less than two months into the worldwide release, the plan seems to be working. Within another month or two, it is anticipated Little Women will have crossed $100m internationally, by which time it will have breached the $200m worldwide box office barrier. That is a memorable performance by a period drama, let alone one that has been adapted twice before for the big screen and turned into a mini-series three years ago. Denise Di Novi, former Sony Pictures Entertainment chairman Amy Pascal and Robin Swicord produced.