JANUARY 17 UPDATE: The sci-fi delivered the best result of Hollywood releases this weekend, scoring an estimated $32.5m from 65 markets to reach $147.1m.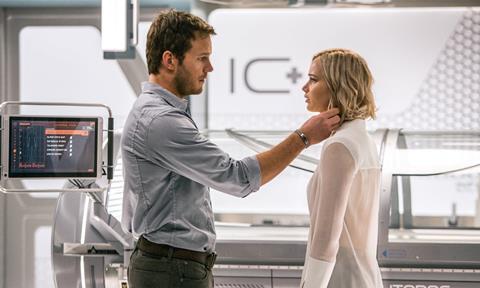 SONY PICTURES RELEASING INTERNATIONAL
The film, presented in association with LStar Capital, Village Roadshow Pictures, and Wanda Pictures, opened top in a slow session in China on $17.5m from 12,000 screens.
Passengers stayed top in Germany for the second consecutive weekend on $2.5m for $8.2m and added $1.4m for $8.1m in Australia. France has generated $8.1m after three and Brazil $5.7m after two.
Arrival opened in five SPRI markets, taking $3.1m for $43.7m, rising to $65m including FilmNation licensees.
Resident Evil: The Final Chapter grossed a further $1.4m in Japan for $31.5m after four sessions. The rest of the world will follow in the coming weeks.
Underworld: Blood Wars added $1.4m from 31 for $46.8m. Brazil leads the way on $4.9m.
FOX INTERNATIONAL
UPDATE: Assassin's Creed led the charts in 14 markets as the video game adaptation added $23.1m from 79 and climbed to an early $132.7m running total.
In a trio of those number one debuts, Brazil generated $4m, Sweden $825k and Peru $528k.
Holdovers Russia on a $13.9m running total and Mexico on $6.7m retained top spot, as did Philippines, Colombia, Ukraine, Portugal, Romania, Greece and Israel.
Why Him? added $9.4m from 56 for $37.9m and the comedy debuted in Russia on $1.9m, Germany on $1.4m, Spain on $702k and Austria on $434k.
Bollywood release OK Jaanu, from Fox International Productions and FoxStar, took $2.8m from India and the UK as the former generated $2.7m.
WALT DISNEY STUDIOS MOTION PICTURES INTERNATIONAL
Rogue One: A Star Wars Story added $21.9m from 53 markets to reach $481.1m, which combines with the $498.9m record 2016 North American haul for $980m worldwide.
The film underperformed in its second session in China to deliver $9.8m for a relatively weak $53.4m. Had it stormed off to an earlier start the film would have crossed $1bn last week.
However the running total is good enough to put China second behind the UK, where Rogue One stands as the 11th highest grossing film of all-time on $77.5m.
In third place is Germany on $43.6m, Japan on $35.3m, France on $35m, Australia on $34.3m and Spain on $15.6m. Brazil has generated $14.5m, Russia $11.3m, Mexico $11.2m, Italy $10.7m and Sweden $10.3m.
In its eighth weekend Moana brought in a further $16.9m from 40 for $251.3m and $482.5m worldwide.
The animation arrived in South Korea on $4.7m to rank as the top Western release and Disney's third best animation launch behind Frozen and Big Hero 6.
The lead market is France on $32.9m followed by China on $32.5m and the UK on $21.7m. Then comes Italy on $14.2m, Australia and Russia on $13.8m apiece, Mexico on $12.2m, Germany on $12.1m, Brazil on $11.1m and Spain on $10.4m.
LIONSGATE INTERNATIONAL
UPDATE: Golden Globe winner La La Land added $20.3m to reach $57.8m and $131.9m worldwide.
UNIVERSAL PICTURES INTERNATIONAL
UPDATE: Illumination Entertainment's animation Sing crossed $400m worldwide on Monday (January 16) after a $14m international haul from 61 territories propelled the running total to $166.2m and combines with $238.2m from North America for $403.7m.
The family release stayed top in its third session in Australia where $1.7m resulted in $16.5m. Germany has delivered $17.6m, Spain $13.9m, Mexico $11.9m, South Korea $10.9m, Brazil $10.1m, the Netherlands $7.4m and Italy $6.2m.
Legendary's The Great Wall ventured into six new Universal markets to add $9.1m from 25 for $30.3m. Combined with China, the weekend result is $10.5m for $194.5m.
The film arrived at number one in France on $2.4m and opened in second place in Germany on $2.1m.
Nocturnal Animals added $1.1m from 27 territories for $16.9m internationally and $27.5m worldwide. The drama-thriller opened in South Korea on $143k and in Belgium and Israel on $85k and $50k, respectively.
PARAMOUNT PICTURES INTERNATIONAL
Allied grossed $8.4m from 44 markets including 14 new openings as the wartime romance climbed to $62.2m. South Korea delivered the top launch on $2.4m, while Italy generated $1.9m and Mexico $1.4m.
Monster Trucks grossed $4m from 17 including seven new openings to reach $14.7m. The animation adventure opened in Australia $1m and in Malaysia on $450k.
WARNER BROS PICTURES INTERNATIONAL
UPDATE: Collateral Beauty used a $5.9m weekend from 55 territories to climb to $39.2m as Italy continued to deliver and added $2.3m to stay top and reach $6.8m. Debuts in Australia, Colombia and Argentina produced $629k, $508k and $386k.
Fantastic Beasts And Where To Find Them added $3.1m from 51 for $572.7m. China remains the lead market on $85.7m, with the UK next on $67.2m, Japan on $62m, Germany $35.8m and South Korea $33.3m.
France has generated $30.5m, Australia $23.9m, Russia $22m, Brazil $19.4m, Italy $16.2m, Spain $14.4m and Mexico $14.4m.
Live By Night grossed $3m from 25, aided by a $850k number two UK launch and a $212k debut in Taiwan in second place.
The crime noir's staggered release pattern sees debuts in France this week, followed by Australia and Spain at the end of January and Germany on February 2.
STX INTERNATIONAL
Horror release The Bye Bye Man generated $1.3m from 11 international markets and opened in seventh place in the UK on $700k. The Netherlands arrived at number 12 on $125k and Belgium placed fourth on $90k.
STUDIOCANAL UK
Manchester By The Sea arrived on $854.5k including previews. In its second session Silence added $179.7k for $2.5m.