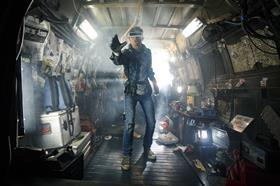 Warner Bros Pictures International executives reported on Thursday (March 29) that Steven Spielberg's sci-fi adaptation Ready Player One had grossed $3.2m including previews from its first international opening days.
The pop culture sugar rush heads into 62 markets this weekend – a holiday weekend in many territories – and as of Thursday it stood at $2.9m excluding Tuesday evening previews. It arrived in second place in South Korea on $980,000, and opened at number one in France with 45% share of the top five nationwide on $794,000.
In Italy Ready Player One arrived top on $323,000. The tentpole arrives in a further 37 markets on Thursday, among them the UK, Spain, Russia, Brazil, Mexico and Australia. Friday brings debuts in China and 13 additional markets.
Tye Sheridan, Olivia Cooke, Ben Mendelsohn, Lena Waithe, Win Morisaki, Philip Zhao, Mark Rylance, Simon Pegg, T.J. Miller, Susan Lynch, and Ralph Ineson star in the adaptation of Ernest Cline's bestseller.
Warner Bros and MGM's adventure reboot Tomb Raider starring Alicia Vikander has reached $182.3m, while the comedy Blockers debuts in the UK and Australia and New Zealand one week ahead of its North American debut.
Legendary Entertainment's Pacific Rim Uprising has crossed $150m internationally. The sci-fi action sequel stands at $72.7m via Universal Pictures International and is lined up to open in in Hong King and the Philippines. It has produced a further $80.3m in China via Legendary East, to bring the international running total to $153m and the worldwide tally to $187.8m.
Mary Magdalene on $6.5m opens in Argentina, France, and South Korea, while The Post has reached $32.8m and opens in Japan. Darkest Hour stands at $88.8m and debuts in Japan, and Lady Bird $21.4m.
Marvel Studios' Black Panther from Ryan Coogler has reached $614.4m internationally through Walt Disney Studios Motion Pictures International and $1.252bn worldwide. Ava DuVernay's A Wrinkle In Time on $15.8m arrives in Australia, Mexico, Italy and Brazil. Pixar's Coco stands at $564.3m.
Wes Anderson's Berlinale opener Isle Of Dogs debuts in the UK this weekend via Fox International. Bollywood action tentpole Baaghi 2 debuts in India, the UK, and various Middle Eastern territories.
Three Billboards Outside Ebbing, Missouri will cross $100m this weekend and stands at $99.7m. The Shape Of Water has amassed $123.6m and arrives in Indonesia. Red Sparrow stands at $77.9m and enters Japan, The Greatest Showman stands at $237.6m and Ferdinand $210.6m. Gay dramedy Love, Simon debuts in Australia and New Zealand.
Latest figures were unavailable for Peter Rabbit at time of writing. The family film stood at $75.7m through last weekend through Sony Pictures Releasing International.