AUGUST 10 UPDATE: The Tom Cruise roadshow rolled on with gusto as Mission: Impossible - Rogue Nation stayed top in its second weekend on a confirmed $28.5m that propelled the Paramount-Skydance film's running total to $107.8m.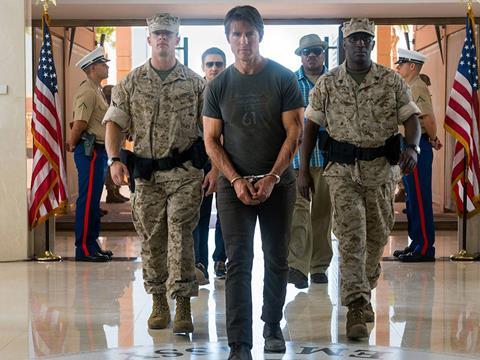 The action-thriller added $4.3m from 369 Imax screens for a $15.5m North American and $35m worldwide tally.
Meanwhile Fox launched its third crack at the Fantastic Four property in second place on a rather dismal $25.7m from 3,995 venues.
Miles Teller, Michael B Jordan, Kate Mara, Jamie Bell and Tobey Kebbell star in the reboot. By comparison Tim Story's 2005 original arrived at number one on $56.1m, which was 54.2% higher. The $68.5m figure adjusted for inflation comes in 62.5% higher.
The $58.1m number one debut for Story's sequel The Fantastic Four: Rise Of The Silver Surfer comes in 55.8% higher than this weekend's launch, while the $66.9m inflation-adjusted figure comes in 61.6% higher.
Matters were not helped late last week when director Josh Trank intimated in a tweet that was rapidly deleted that this was not the version of the film he had intended.
STX launched its first film, Joel Edgerton's psychological thriller The Gift. The film opened at number three on $11.9m from 1,648, a promising result for a film that an STX spokesperson said STX co-financed with Blumhouse Productions to the tune of $5m.
TriStar's Meryl Streep starrer Ricki And The Flash arrived at number seven on a decent $6.6m from 1,603 venues, while Lionsgate debuted Aardman Animations' Shaun The Sheep Movie at number 11 on $4m from 2,320 venues.
Universal and Illumination Entertainment's Minions crossed $300m and ranks sixth in its fifth weekend. Marvel Studios' Ant-Man is closing in on $150m after four sessions and Disney executives will look to more international heroics to help the film finish on a profit-making number.
In its second weekend New Line's comedy Vacation ranks fourth through Warner Bros on $37.1m.
FUNimation Entertainment announced on Monday that Dragon Ball Z: Resurrection F has reached $5.8m in North America since its opened last Tuesday (August 4). The film grossed $1.8m over the weekend.
In limited release, SPC opened Diary Of A Teenage Girl on $52,334 from four venues, Focus Features opened Cop Car starring Kevin Bacon on $26,146 from three and Kahlil Gibran's The Prophet arrived on $27,435 from two via GKids.
Overall box office for the top 12.3% fell against last weekend and dropped 31.1% against the comparable session in 2014.
This week's wide releases are: Guy Ritchie's The Man From U.N.C.L.E. starring Henry Cavill, Armie Hammer, Alicia Vikander and Hugh Grant through Warner Bros and Universal's NWA biopic Straight Outta Compton starring O'Shea Jackson Jr, Corey Hawkins, Jason Mitchell, Neil Brown Jr and Paul Giamatti.
Confirmed top 10 North America Aug 7-9, 2015
Conf (Dist) / Conf wkd gross / Conf total to date

1 (1) Mission: Impossible – Rogue Nation (Paramount) Paramount Pictures International $28.5m $107.8m
2 (-) Fantastic Four (Fox) Fox International $25.7m –
3 (-) The Gift (STX) Universal Pictures International/Blumhouse International $11.9m –
4 (2) Vacation (Warner Bros-New Line) Warner Bros Pictures International $8.9m $37.1m
5 (3) Ant-Man (Disney-Marvel Studios) Walt Disney Studios Motion Pictures International $7.9m $147.5m
6 (4) Minions (Universal-Illumination) Universal Pictures International $7.4m $302.8m
7 (-) Ricki And The Flash (TriStar) Sony Pictures Releasing International $6.6m –
8 (6) Trainwreck (Universal) Universal Pictures International $6.1m $90.9m
9 (5) Pixels (Sony Pictures) Sony Pictures Releasing International $5.4m $57.7m
10 (7) Southpaw (The Weinstein Company) The Weinstein Company $4.7m $40.7m