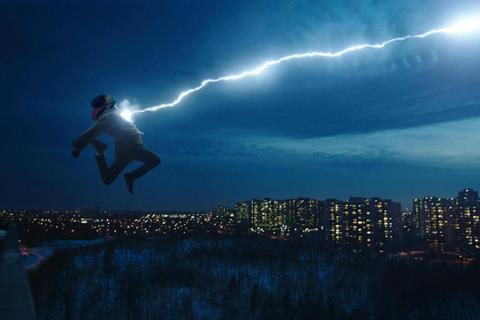 APRIL 15 UPDATE: DC Entertainment / New Line's Shazam! added $35.3m from 79 markets through Warner Bros to propel the international running total to $164.1m, and worldwide to $258.4m as studio executives said the superhero release retained top spot at the international and global box office.
Meanwhile, Bohemian Rhapsody crossed $900m worldwide at the weekend through Fox International, while Disney's Dumbo soared past $250m worldwide in its third session. Two independently co-financed films, the YA adaptation After and the Hellboy reboot, made a splash in their launch weekends, earning $11.7m and $10.1m, respectively.
WARNER BROS PICTURES INTERNATIONAL
Shazam!'s top market China led second weekend results on $4.7m (RMB 31.9m) to rank as the number one US release and climb to $40.2m (RMB 270.1m). The UK produced $2.8m (£2.1m) to rank second behind Dumbo and reach $11.6m (£8.9m), while Mexico delivered $2.7m (Ps 51m) in the best result for a US film and stands at $10.4m (Ps 200.2m).
Brazil produced $2.4m (R$ 9.4m) to hold on to number one and reach $8.8m (R$ 34.3m); Australia $2.3m (A$3.3m) for number one and a $7m (A$9.9m) running total; Russia $2m (Rb132m) for number two and $8.3m (Rb 543.9m); France $1.7m (€1.5m) for number four and $5.2m (€4.6m); Germany $1m (€919,000) and $2.8m (€2.5m); Italy $949,000 (€844,000) and $3.4m (€3m); and Spain $764,000 (€679,000) for $2.9m (€2.6m).
WALT DISNEY STUDIOS MOTION PICTURES INTERNATIONAL
Dumbo soared to $265m worldwide in its third weekend, adding $31.2m for $266.9m, and $22m from 55 material territories for a $177m international running total. The family release reclaimed top spot in the UK despite the launch of the Hellboy reboot, slipping 36% to $3m (£2.3m) for a $23m running total.
It ranks top in Belgium, and second in France, where it has reached $9.9m, and Italy ($10.8m) – both after three sessions – as well as the Netherlands, and possibly Spain, according to studio executives. The film dropped 41% across Europe as Easter holidays continue across the region.
Dumbo dropped 49% across Latin America and stayed top in Argentina, Ecuador, Uruguay, Peru and Bolivia. The UK remains the lead market so far, followed by China on $20.9m, Mexico on $17.6m, Italy, Spain on $10.3m, France, Russia on $7.4m, Japan on $6.8m, Brazil on $6.4m, and Australia on $5.1m.
Captain Marvel grossed $16.6m globally for $1.0645bn and ranks as the ninth highest superhero adaptation and moved up to rank as the 28th highest film of all time globally.
Internationally the hit starring Brie Larson and Samuel L. Jackson brought in a further $8m from 52 material markets to reach $678m, dropping a mere 34% across Europe, where it has generated $193m. Asia-Pacific, has generated $370m and Captain Marvel ranks as the fourth highest release in history in the Philippines. Latin America has produced $115m and the film stands as the fifth highest Marvel Cinematic Universe (MCU) release of all time, the highest stand-alone MCU release, and the fourth highest grossing film in Brazil on $37.3m.
China remains the top market on $153.6m, followed by the UK on $47.7m, then South Korea on $44.6m, then Brazil, and Mexico on $33m.
ASIA UPDATE
Hong Kong crime thriller P Storm added $19.6m for $91.3m. The fourth installment of the Storm franchise reunites Hong Kong director David Lam with veteran producer Raymond Wong. India's black comedy Andhadhun grossed $10.4m for $30.5m, after scoring the eighth highest debut by an Indian film in China last week.
PARAMOUNT PICTURES INTERNATIONAL
Horror Pet Sematary brought in $12.6m from 56 markets as the early running total reached $35.7m. The Stephen King adaptation opened in France on $2.3m at number three, South Korea on $694,000 at number six, Taiwan on $301,000 at number two, and Belgium on $232,000 at number four
Russia led the second weekend holdover territories on $1.4m for $5.3m, followed by Germany on $1m for $2.8m, the UK on $869,000 for $4m, and Mexico on $821,000 for $3.6m. The final markets will be Brazil and Italy on May 9.
Family release Wonder Park added $11.2m from 48 for $30.3m and opened at number five in the UK on $2m. In other debuts, Australia delivered fourth place on $1.4m, Mexico fourth on $1.1m, and Germany $960,000. Wonder Park opens in China on April 19, and South Korea on August 8.
VOLTAGE PICTURES
YA sexual awakening drama adaptation After starring Josephine Langford and Hero Fiennes Tiffin launched on $12.3m including $600,000 in Canada via VVS. The film, inspired by Anna Todd's publishing phenomenon, marks the first feature from veteran producers Courtney Solomon and Mark Canton's CalMaple Films, and launched day-and-date with North America in a number of international territories. It earned $3.4m in anumber one debut in Italy (Leone), $2.9m for number one in Germany and Switzerland (Constantin), Spain $486,000 through Saturday via Sun, $412,000 in Mexico (Sun) and $254,000 in Brazil (Sun) from Friday opening day only. French previews (SND) have generated $750,000.
Voltage Pictures, the film's co-financier with CalMaple and Diamond Film Productions, handled all sales. The stars toured with Todd and visited Canada, Mexico, Brazil, Spain, Italy, France, and Portugal. Voltage Pictures CEO Nicolas Chartier and president and COO Jonathan Deckter served as executive producers alongside Adam Shankman, among others.
"Our production partners have done an amazing job bringing this book franchise from Watt Pad to the big screen, giving our international distributors a film that delivers for both the core fans of the book and the general public," said Chartier and Deckter. "The movie outperformed in international markets. We can't wait for France and Belgium openings since they're killing it in previews. Nicolas and I couldn't be happier with our international partners who's results speak for themselves."
MILLENNIUM MEDIA
The Hellboy reboot opened day-and-date with North America in virtually every market, earning an estimated $10.1m. Neil Marshall directed the supernatural superhero adaptation that has gone out in two previous iterations directed by Guillermo del Toro. Individual territory results were unavailable at time of writing. David Harbour stars alongside Milla Jovovich.
MEXICO BOX OFFICE
Pantelion Films' No Manches Frida 2 is on track to score the second highest debut of all time for a Mexican film in Mexico behind Instructions Not Included. Videocine is estimating $5.3m – which equates to roughly in the Ps 99m. Instructions opened on Ps 149m.
No Manches Frida 2 pushes Que Culpa Tiene El Niño to third on the all-time roster on Ps 73m. Nacho G. Velilla directed No Manches Frida 2 and the R-rated comedy stars Omar Chaparro, Martha Higareda, Aaron Díaz, Itatí Cantoral, and Regina Pavón.
UNIVERSAL PICTURES INTERNATIONAL
Jordan Peele's horror film Us grossed $4.3m internationally for $72.2m, and stands at $235.6m worldwide. Fifty-one markets have now grossed more than Peele's first film, Get Out. The UK is the lead market and added $653,000 for $11.9m in the fourth session. Us stands at $10.9m in South Korea after three, $5.6m in Australia after three, $5.3m in France after four, $4.2m in Germany after four, and $1.3m in Italy after two.
Body-swap comedy Little from super producer Will Packer and starring Issa Rae, Regina Hall and youngster Marsai Martin, opened in 11 territories and delivered $2m. The UK produced the top result on $694,000 for a number eight debut, while Australia delivered $491,000 in a number nine debut.
DreamWorks Animation's How To Train Your Dragon: The Hidden World grossed $1.4 for $354.2m, and $512.1m worldwide. Fighting With My Family has reached $4.5m internationally and $37.8m worldwide, and UPI executives reported Halloween opened in Japan on $483,000 at number ten and stands at $95m internationally overall, and $254.4m worldwide.
LIONSGATE INTERNATIONAL
Romantic drama Five Feet Apart grossed a further $2.5m from 43 markets as the international running total climbed to $25.3m. Italy is the top market so far on $5.2m after four weekends, followed by Brazil on $4.8m after four, Australia on $3.4m after three, Mexico on $2.6m after four, and the UK on $972,000 after four. The next market to open is CIS on May 1.
FOX INTERNATIONAL
Faith-based drama Breakthrough starring Josh Lucas opened on $2.3m in 15 international markets one week before the US launch. The weekend was driven by a $1.4m number three debut in Brazil that was more than twice as big as the debut of Miracles From Heaven, and Puerto Rico on $219,225 in first place, 6% ahead of the debut of Miracles From Heaven.
Breakthrough is outpacing Miracles From Heaven by 46% in released markets to date (through same point in release, at current exchange rates), with releases from Mexico and Australia coming this week.
Bohemian Rhapsody continues its outstanding run at the worldwide box office and crossed $900m worldwide at the weekend. The Freddie Mercury drama added $817.564 for a $685.4m international running total. The multi Oscar winner dropped a mere 18% in its 23rd session in Japan and added $215,825 for $115.3m. China has generated $13.9m after four.