Warner Bros' second instalment in the Holmes franchise takes $5.9m (£3.8m) to land ahead of newcomer Alvin and the Chipmunks: Chipwrecked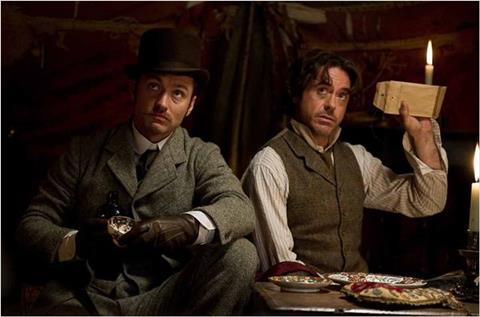 Sherlock Holmes: A Game Of Shadows entered the UK in top spot over the December 16-18 weekend, conjuring $5.9m (£3.8m) from 540 screens at a week-high screen average of $11,004 (£7,088).
The take was £1.3m (£0.8m) more than 2009 original which made $4.7m (£3m) from 476 sites and represents UK director Guy Ritchie's best opening weekend in his home market.
Fox's own Christmas franchise Alvin and the Chipmunks: Chipwrecked landed in second place, taking an adequate $3.7m (£2.4m) on debut, $1.1 (£674,935) of which came from 453 previews. However, Fox will be disappointed in the drop off between third instalment Chipwrecked and 2009 Squeakquel, which debuted top on a far superior $8.3m (£5.3m) from 478 screens at an average of $17,485 (£11,186).
Arthur Christmas became the second film this year to go six consecutive weeks on more than $1.6m (£1m) in the UK, after grossing another $2.1m (£1.3m) from 550 screens in third. The only other film to achieve the accolade was The King's Speech. Harry Potter and the Deathly Hallows: Part 2 narrowly missed out on the feat,according to iboe Rentrak.
While Sony's charge will not get near the $46.9m (£30m) and $50m (£32m) taken by Aardman's Chicken Run and Wallace and Gromit in the Curse of the Were-Rabbit, the comedy only posted a -6% week-on-week differential – the smallest drop off among the top ten films - and actually improved its locations by 15% - the biggest increase among the top ten.
Paramount's Puss In Boots dropped to fourth on $2m (£1.3m) from 510 screens while New Year's Eve slipped to fifth on $1.3m (£846,761).
Seventh-placed Happy Feet Two has been a major disappointment for Warner Bros so far, having only taken $5.5m (£3.6m) through three weeks, when 2007 original made $28m (£18m) cumulative, while at the other end of the performance scale, eOne's The Twilight Saga: Breaking Dawn – Part 1 is poised to become the most lucrative instalment in the franchise as it now stands $470,000 (£300,000) off Eclipse's record of $46.7m (£29.8m) in the UK.
Dogwoof's well-received Dreams Of A Life debuted in 18th, taking $42,070 (£27,100) from 18 screens at an average of $2,337 (£1,506), to give the doc specialist its biggest opening in almost two years.
Christmas weekend brings a saturation release for Paramount's Mission: Impossible - Ghost Protocol and a wide release for Sony's anticipated The Girl With The Dragon Tattoo remake.