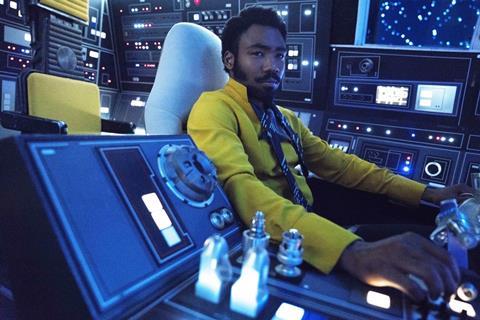 MAY 25 UPDATE: Solo: A Star Wars Story grossed an estimated $11.4m from its first two days in 43 markets, opening number one in many.
On Friday the film debuts in Mexico, China, Spain, India, Poland, South Africa, Turkey, and Vietnam. The only major market not opening this weekend is Japan, which receives the film on June 29.
In North America, Solo earned $14.1m from Thursday previews, marking a Memorial Day weekend record and overtaking the $13.2m record held by Pirates Of The Caribbean: At World's End. Disney executives aniticpate a $105m-$115m weekend.
Solo and Deadpool 2 will thrash it out for box office supremacy this session as Disney/Lucasfilm's sci-fi debutant goes head-to-head with Fox's R-rated titan in what is expected to be a potent second weekend.
Solo: A Star Wars Story stars Alden Ehrenreich as the raffish space smuggler in his earlier life. Disney executives can expect a worldwide opening salvo in the $300m range. Donald Glover (pictured) and Woody Harrelson, Emilia Clarke, Thandie Newton, Phoebe Waller-Bridge, and Paul Bettany are also among the cast.
Approximately half of that $300m estimate is expected to come from international markets, making Solo the odds-on favourite to usurp Deadpool 2 as the box office champion. The latter scored the highest R-rated international debut in history last weekend on $174.9m and currently stands at $207m with no significant new markets this weekend.
The joy of being Disney is that the company owns three massive content stables and can occasionally appear to be competing against itself. Besides Lucasfilm's Solo, there is the small matter of Marvel Studios' Avengers: Infinity War, which remains vibrant after four sessions. It will add to the $1.246bn international tally and could cross $1.3bn by the end of the weekend.
Latest numbers from Universal Pictures International put Blumhouse's supernatural thriller Truth Or Dare on $38.7m, R-rated comedy Blockers on $28.2m, and thriller Breaking In on an early $1.9m.
Melissa McCarthy comedy Life Of The Party opens through Warner Bros Pictures International in the UK and Australia. Rampage stands at an even $300m, and Game Night $46.1m with Brazil set to open this weekend. Ready Player One has grossed $435.9m.
Paramount Pictures International executives said A Quiet Place stands at $101.4m, and Sherlock Gnomes $29.7m.
For Sony Pictures Releasing International, global family hit Peter Rabbit has amassed $223.3m. Local-language release A Rough Draft opens in Russia.