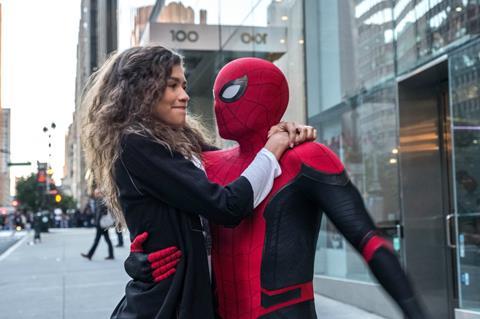 JULY 6 UPDATE: Columbia Pictures executives have revised their projections and are forecasting a higher $176.6m six-day North American opening weekend for Spider-Man: Far From Home after a $32.5m haul on Friday boosted the running total to $124m.
That puts the global tally on at least $334m without latest updates from the international arena, which had reached $218.5m by Friday. Studio brass will make full results available on Sunday.
If the projection for North America holds, Far From Home would overtake Beauty And The Beast on $174.8m to rank 11th on the all-time roster. Captain America: Civil War ranks tenth on $179.1m.
JULY 5 REPORT: Columbia Pictures' Spider-Man: Far From Home is off to a flying start and has surged past $300m worldwide and $200m internationally in its first week.
The Tom Holland tentpole stands at $310m globally and $218.5m from all international markets with the exception of Italy, where the film launches on July 10. The North American tally has reached $91.5m after three days following record hauls on Tuesday opening day and Wednesday.
At this early stage and after six days in release, Far From Home has swung to $136.8m in China, $12.9m in Japan, and $6.6m in Hong Kong. The web-slinger has amassed $12m in South Korea and $7.2m in the UK since opening in both territories on Tuesday (2).
By region, Far From Home opened across Southeast Asia some 46% ahead of Spider-Man: Homecoming. The Philippines, Indonesia, Malaysia, Singapore, and Thailand generated a combined $5.2m on opening days and reached $9.2m through Thursday.
Spidey debuted in Taiwan on Wednesday on $1.25m, 41% ahead of the Homecoming opening day for the second highest debut by a stand-alone superhero film behind Deadpool's Chinese New Year opening. Through Thursday it stands at $2.1m.
India produced $1.8m for the highest non-holiday Thursday opening day, roughly 33% ahead of that of Homecoming. Wednesday's launch in France delivered $2.5m and was 37% ahead of Homecoming's opening day, and the film stands at $3.7m through Thursday.
Germany's $1m Thursday opening day ($1.7m including previews) was 27% ahead of that of Homecoming, while the Russian and UAE opening days of $2.8m and $1.1m were 30% and 33% ahead, respectively.
In Latin America, Far From Home produced $3m in Mexico (up 30% on Homecoming) and $2.2m in Brazil (up 21%) – both territories delivered the best July opening days of all time.