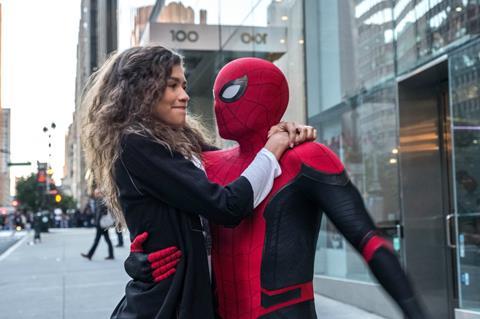 JULY 1 UPDATE: Spider-Man: Far From Home delivered a confirmed $110.8m international debut from China, Japan and Hong Kong in a superb opening salvo that ruled the international box office as China produced $98m.
Meanwhile Disney-Pixar's global box office champion Toy Story 4 is within a whisker of the half-billion global mark after two weekends after an estimated $141.5m worldwide haul raised the tally to $499.9m after two sessions. Lionsgate's John Wick: Chapter 3 – Parabellum surged past $300m worldwide to consolidate its status as by far the best in the Keanu Reeves assassin series.
SONY PICTURES RELEASING INTERNATIONAL
UPDATED: Days away from the extended North American July Fourth holiday launch on Tuesday (July 2), the impressive $97.7m opening weekend by Spider-Man: Far From Home in China produced the seventh highest debut for a Hollywood studio and the fourth highest for a superhero film behind Avengers: Endgame, Avengers: Infinity War, and Venom.
Already the second best debut by a Sony film in China (after Venom) and close to the $116.3m final gross of 2017's Spider-Man: Homecoming, Far From Home came in in roughly 46% ahead of Spider-Man: Homecoming. The result beat expectations, although it is hard to say how much of this was driven by a potential thawing in US-China economic relations after Donald Trump and Xi Jinping agreed to restart trade talks when they met at the G20 summit on Saturday. By comparison, Spider-Man: Homecoming opened in China in September 2017 on $69.2m.
The Tom Holland vehicle earned $110.7m from China, Japan and Hong Kong combined. The $9.4m launch in Japan for the second highest superhero movie launch in the last decade behind Avengers: Endgame. Homecoming opened in Japan on $7.1m (it finished on $25.4m). Hong Kong generated $3.7m over three days in the fifth highest Friday-to-Sunday debut of all time, the highest for a stand-alone superhero tentpole, and the highest for Sony. Homecoming opened on $3.3m and finished on $9.1m. Spider-Man: Far From Home expands worldwide next week with the exception of Italy, where it opens on July 10.
Men In Black: International earned $11.5m from 65 markets as international box office reached $154m, and worldwide climbed to $219m.
WALT DISNEY STUDIOS MOTION PICTURES INTERNATIONAL
UPDATED: After last weekend's $244.5m global launch, Pixar's Toy Story 4 defied scorching heat across Europe and remained in fine form, adding an estimated $141.5m worldwide for $499.9m (including an estimated $58m second weekend in North America), and a confirmed $83.6m internationally for a $262.9m running total, with Japan set for July 12 and Germany for August 15. It debuted at number one in France on $6.2m over five days including previews for Pixar's fifth highest launch and the best in the franchise despite no holidays yet.
Unsurprisingly given the fierce weather conditions, Toy Story 4 dropped 37% across Europe, which was still a strong holdover percentage, to reach a rough $71m running total. It fell 38% across Asia-Pacific where it stands at approximately $75m, and 46% in Latin America (roughly $113m), where Mexico remains the film's strongest performer in the international arena on $49.5m to date following a $12.7m holdover. The UK added $10.5m for $34.3m, South Korea $5.3m for $16.6m, China $5.2m for $24.3m, Australia $4.7m for $14.6m, Brazil $4.3m for $16.2m, Australia $4.5m for $11.8m, and Spain $2.6m for $9.7m.
Aladdin crossed $870m worldwide thanks to an estimated $33.7m weekend for $874.2m. Internationally the hit fantasy adventure earned a confirmed $25.3m for $570.2m. It dropped 40% across Europe where it stands at roughly $206m, and a mere 18% in Asia-Pacific to reach approximately $276m. Latin America has produced roughly $86m. Japan is the lead market on $66.8m following an $8.2m holdover session, followed by South Korea on $7m for $60m, then China on $53.3m, the UK on $42.9m, and Mexico on $32.1m. Avengers: Endgame stands at $2.761bn worldwide, and $1.92bn internationally.
WARNER BROS PICTURES INTERNATIONAL
UPDATED: New Line horror Annabelle Comes Home debuted in 63 markets on $47.2m, ranking number one in 22, and combined with the North American launch for a $78.4m global bow.
Warner Bros international executives said compared to like-for-like markets, horror was tracking some 13% ahead of Annabelle, and 65% ahead of The Conjuring. It delivered the highest regional opening weekend for a horror film this year in Latin America, and Mexico led the way as the highest international territory of the entire weekend session on $7m in second place.
Elsewhere, Annabelle Comes Home opened in Indonesia at number one on $4.9m, India at number three on $2.6m, Russia at number one on $2.6m, Malaysia at number one on $2.2m, South Korea on $2.1m, and Vietnam at number one on $2.1m for the best debut in the Conjuring universe. Brazil generated $1.9m for number two, Thailand $1.5m for number one and a Conjuring universe opening record, Taiwan $1.5m for number two, Colombia $1.5m for number two, and Australia $1.3m for number three.
There are 17 markets yet to open including Italy and Germany this week, France and the UK on July 10, Spain on July 12, and Japan on September 20.
Godzilla II: King Of The Monsters grossed $2.8m from 73 international for $271m, and $377.6m worldwide. China is the lead market on $134.4m, then Japan on $24.1m, Mexico on $10m, the UK on $8.8m, and Taiwan on $8.2m. Pokémon Detective Pikachu has grossed $284.8m thus far, and $427.4m worldwide. The lead markets are China, Japan and the UK on $93.7m, $26.8m, and $17.5m, respectively.
UNIVERSAL PICTURES INTERNATIONAL
UPDATED: The Secret Life Of Pets 2 used solid $2.3m and $1.6m respective debuts in Germany and Brazil a notable $1.3m number one bow in Poland to power an $12.1m international weekend from 52 territories. The running total stands at $92m and the $223.6m worldwide haul remains far behind the 2016 predecessor, which finished on $507.1m internationally and $875.5m worldwide.
Australia delivered the highest holdover result as $1.1m elevated the running total to $5.6m after two weekends. The UK delivered $374,000 in its sixth session for $22.6m. Russia is the lead market on $23.3m following $605,000 in the fifth weekend.
Danny Boyle's musical fantasy Yesterday starring Himesh Patel and Lily James opened on $7.8m from its first 30 territories, led by a $2.8m number two launch in the UK that delivered Boyle's third highest opening weekend and came on a par with Best Exotic Marigold Hotel and Baby Driver. Australia was next on $2.5m in second place for a new Boyle record, and tracked in line with Bridget Jones's Baby and Best Exotic Marigold Hotel.
Anne Hathaway and Rebel Wilson caper The Hustle opened in Mexico on $1.4m in third place, above comps like The Heat and The Spy Who Dumped Me. The crime comedy has reached a respectable $50.2m internationally, of which $40.6m comes from Universal markets, which generated $1.9m at the weekend. Family title A Dog's Journey stands at $42.8m, of which $32.7m comes from Universal markets. Jim Jarmusch's The Dead Don't Die stands at $4.4m internationally and opened in Spain on $75,000.
PARAMOUNT PICTURES INTERNATIONAL
Rocketman grossed $2.6m from 47 markets to reach $81.4m, boosted by a $680,000 holdover in Australia that pushed the tally to $12.4m after five sessions. The UK produced $430,000 for $28m after six, while Germany and Brazil have generated $5m and $3.6m, respectively, both in the fifth session. Japan is the final market to receive the Elton John biopic on August 23.
LIONSGATE INTERNATIONAL
UPDATED: Lionsgate's action thriller John Wick: Chapter 3 – Parabellum crossed $300m worldwide as $10m pushed the running total to $303.9m, by far the best in the series. Internationally, Keanu Reeves added $6.8m from 77 markets for $142.6m, led by South Korea, where the arrival of Donald Trump may have inspired audiences to flee to the cinema to watch a violent assassin saga and generated $4.9m to rank third, already three and a half times higher than the lifetime total of John Wick 2. The UK has generated $13.3m after seven weekends, Germany $11m after six, Australia $10.6m after seven, Russia $7.6m after seven, and Mexico $7.4m from seven.