Sony's action-comedy will vie for the international box office crown this weekend against Chinese smash Monster Hunt — although it holds a few territories itself — as well as Disney-Marvel Studios' Ant-Man and Universal-Illumination's Minions.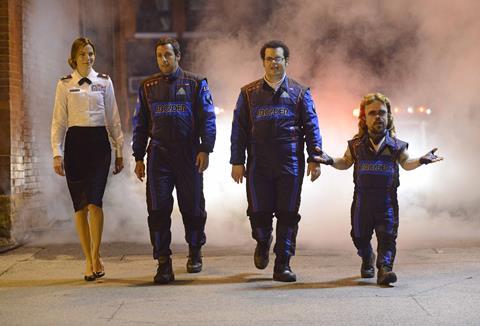 Pixels opens day-and-date with North America in 51 territories through Sony Pictures Releasing International (SPRI) this weekend including Mexico, Brazil, France, Russia and Argentina.
The film stars Adam Sandler, Peter Dinklage, Kevin James and Michelle Monaghan and also ventures into Colombia, Venezuela, Poland, South Africa and Chile.
A big weekend for SPRI also sees Insidious: Chapter 3 arrive in Hong Kong, while Chinese smash Monster Hunt debuts in Singapore and Malaysia.
Edko Films' Monster Hunt could well remain the biggest film at the international box office. The fantasy crossed RMB 1bn in a record eight days this week and stands at $169m and counting.
Disney-Pixar's Inside Out crossed $500m worldwide this week and stands at $198.6m internationally through Walt Disney Studios Motion Pictures international.
The weekend brings debuts in the UK, Germany and Italy, all of which are expected to play a considerable role in pushing the film over $200m internationally.
Marvel Studios' Ant-Man has climbed to $81.5m heading into its second session, when it will open in Germany, Spain, Sweden and India, among others. Avengers: Age Of Ultron has grossed $939.4m.
Universal Pictures International's Minions stands at $451.2m and will remain a highly potent force. Jurassic World has grossed $909.5m, Ted 2 $69.5m and Pitch Perfect 2 $97.3m.
Terminator: Genisys stands at more than $207m through Paramount Pictures International.
Fox International opens its YA mystery drama Paper Towns in around 32 territories day-and-date with North America, among them Mexico, Russia and Singapore.
Poltergeist has produced $47.6m and arrives in Taiwan and Thailand. Spy stands at $120.8m.
Warner Bros Pictures International executives reported that Magic Mike XXL has amassed $34.2m and ventures into Germany. Horror title The Gallows on an early $5.9m has debuts lined up for France, Russia, Brazil and Australia.