AUGUST 15 UPDATE: Warner Bros' R-rated kept new arrival Sausage Party at bay despite a precipitous 67.4% drop in its second weekend that shows how top-heavy the demographic can be for comic book adaptations.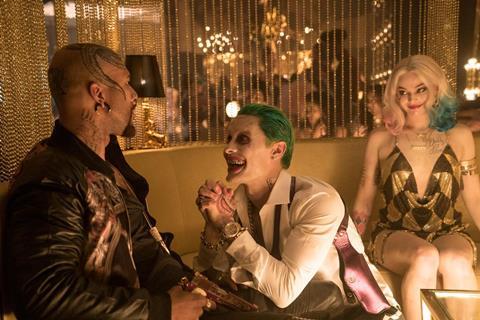 Suicide Squad stands at $222.6m in North America and $466m worldwide. Studio executives should take joy from that, although the reported $175m production cost – likely to be higher as it invariably is – plus tens of millions in marketing on top means it needs to rumble on everywhere before executives can view this as an unqualified success.
Sony/Annapurna Pictures' R-rated Sausage Party from the fertile minds of writers and regular collaborators Seth Rogan Evan Goldberg debuted in second place via Sony on $34.3m from 3,103 theatres. It reportedly cost $19m.
Buena Vista opened the family film Pete's Dragon at number three in what was a disappointing $21.5m start in 3,702 venues for the allegedly $65m production.
Pathé/BBC Films' period drama Florence Foster Jenkins from Stephen Frears starring Meryl Streep and Hugh Grant arrived at number eight via Paramount on $6.6m from 1,528.
After three weekends Universal's Jason Bourne ranks fourth on $127m and has overtaken 2012's Jeremy Renner starrer The Bourne Legacy. It has grossed more than 2002 franchise pilot The Bourne Identity although not in real terms.
Pixar's Finding Dory in 14th place on $476.7m after nine sessions now ranks as the seventh highest grossing film in North American box office history.
The Walt Disney Studios currently holds the four highest grossing global releases of 2016 so far, with Captain America: Civil War on $1.152bn, Zootopia on $1.023bn, The Jungle Book on $948m and Finding Dory on $897m.
Bleecker Street launch wartime thriller Anthropoid starring Cillian Murphy and Jamie Dornan at number 15 on $1.2m from 452 theatres. CBS Films debuted thriller Hell Or High Water at number on $621,329 from 32 sites for a solid $19,417 average.
The top 12 dropped 28.3% against last weekend and combined for an estimated $158.7m, up 14.4% on the comparable session in 2015.
This week's wide releases are: Paramount-MGM's Ben-Hur remake from Timur Bekmambetov starring Jack Huston and Toby Kebbell; Laika Entertainment's Kubo And The Two Strings; and Warner Bros' War Dogs starring Jonah Hill and Miles Teller.
Confirmed top 10 North America August 12-14, 2016
Film (Dist) / Conf wkd gross / Conf total to date
1 (1) Suicide Squad (Warner Bros) Warner Bros Pictures International $43.5m $222.6m
2 (-) Sausage Party (Sony) Sony Pictures Releasing International $34.3m –
3 (-) Pete's Dragon (Buena Vista) Walt Disney Studios Motion Pictures International $21.5m –
4 (2) Jason Bourne (Universal) Universal Pictures International $13.8m $127m
5 (3) Bad Moms (STX Entertainment) STX International $11.4m $71.4m
6 (4) The Secret Life Of Pets (Universal) Universal Pictures International $9.1m $336.2m
7 (5) Star Trek Beyond (Paramount) Paramount Pictures International $6.9m $139.8m
8 (-) Florence Foster Jenkins (Paramount) Pathé $6.6m –
9 (6) Nine Lives (EuropaCorp) $3.5m $13.6m
10 (7) Lights Out (Warner Bros) Warner Bros Pictures International $3.2m $61.1m