AUGUST 5 UPDATE: The R-rated comic book adaptation opened top in 33 new markets on Thursday led by a record $3.9m industry opening day in Russia as the overall international running total climbed to $29.6m.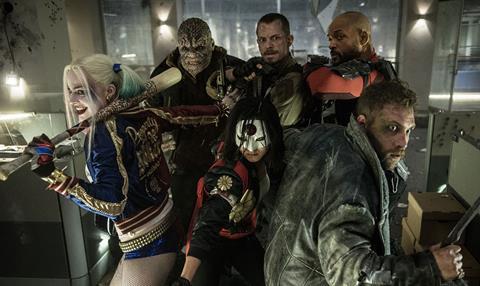 The film debuted in Australia on $2.4m from 516 screens, which included the second biggest midnight session for a 'superhero' adaptation.
Brazil generated $3m including previews from 1,405 in the biggest August opening day, the biggest Will Smith opening day and the third biggest for Warner Bros.
Holland delivered the biggest opening day of all time for a 'superhero' film, the biggest opening day so far in 2016 and the biggest August opening day on $517k from 158 screens.
Eastern Europe and the Middle East combined for $5.7m and produced the biggest industry launch in the Ukraine and the third biggest Warner Bros debut in the UAE.
Turning to the second days, Suicide Squad held on to its number one berth in South Korea and added $1.8m from 822 for $4.7m.
Meanwhile France generated a further $1.5m and 172k admissions from 667 screens for $4.2m.
Seventeen new markets debut on Friday including the UK, Spain and Mexico.
AUGUST 4 REPORT: Ahead of what is tracking to be a monster global session for the PG-13-rated comic book adaptation, Warner Bros Pictures International executives announced a robust start to international roll-out in the first seven of 57 markets this weekend.
South Korea led the way in the overall $8.1m Wednesday result for Suicide Squad, delivering $2.9m from 732 screens for Warner Bros' second biggest opening day of all time.
Launching on a non-traditional Wednesday in the Asian market, the DC Entertainment tentpole starring Will Smith, Margot Robbie, Jared Leto, Viola Davis and a host of others produced several notable data points.
The studio said this was the biggest August opening day for a US film in South Korea, the fourth biggest debut for a superhero adaptation, and a record launch for both Smith and Robbie.
The number one debut beat local titles Operation Chromite heading into its second weekend, the opening of Last Princess, and the onset of the third weekend for Train To Busan.
France generated $2.7m including previews from 667 screens for 307k admissions in what is the biggest superhero opening day of the year-to-date.
Suicide Squad also debuted on a non-traditional Wednesday in Sweden on $564k from 147 for the biggest August opening day of all time and a new high-water mark for Smith.
Thursday brings launches in Australia, Russia and Brazil, while Friday sees debuts in the UK, Mexico and Spain.
The film will have opened in approximately 70% of the international arena by Sunday and arrives in Italy on August 13, Germany on August 18 and Japan on September 10.
It debuts in North America on Friday and is tracking in the $130-140m range for what would become the biggest August debut in history.
David Ayer directed Suicide Squad from his adapted screenplay.
Meanwhile Jason Bourne has grossed $69.4m heading into its second session through Universal Pictures International and arrives in Argentina.
Illumination Entertainment's The Secret Life Of Pets on $115.2m debuts in a further 20 markets, among them China, South Korea, Spain and Sweden.
Central Intelligence has amassed $78.8m and Purge: Election Year $18.6m.
Pixar's Finding Dory stands at $380.3m through Walt Disney Studios Motion Pictures International, while The BFG has mustered $25.6m.
Blue Sky Studios' Ice Age: Collision Course has taken $217.8m though Fox International and arrives in a host of Middle Eastern markets, while Absolutely Fabulous: The Movie on a little over $21m opens in Australia. Independence Day: Resurgence has crossed $272m.
Star Trek Beyond has grossed $60.5m through Paramount Pictures International and Teenage Mutant Ninja Turtles: Out Of The Shadows has reached $155.2m.