AUGUST 8 UPDATE: After a patchy 2016 Warner Bros has a rare North American opening weekend to crow about as its comic book adaptation destroyed the previous high-water mark for the late summer month and the studio crossed the $1bn milestone for the 16th consecutive year.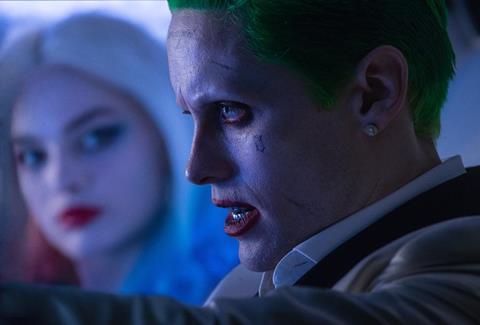 Universal's Jason Bourne fell 62% in its second weekend and ranks second on $22.4m for $103.1m, while Bad Moms held well at number three for STX Entertainment, adding $14m for $50.9m in the second weekend.
Suicide Squad scored a confirmed $133.7m over the Friday-Monday sessions, swatting aside the previous best of $94.3m set by – wait for it – Marvel Studio/Buena Vista's Guardians Of The Galaxy two years ago. It also beat Marvel/Fox's R-rated Deadpool's $132.4m debut in February.
While will be plenty of joy among executives for that particular feat of one-upmanship given the general commercial and critical superiority of Marvel Studios, the DC Expanded Universe (DCEU) adaptation already showed signs of decelerating over the weekend.
Friday brought $64.9m before dropping 41% to $38.6m on Saturday. Before Suicide Squad can be hailed a breakthrough for a studio desperate to rid itself of the gunmetal grey sobriety of its slate and capture the imagination in the way Marvel Studios generally does time after time, it will need to hold.
Guardians Of The Galaxy went on to make $333.2m in North America alone and $773.3m worldwide. Deadpool ended on $363.1m.
Suicide Squad is off to a fine start internationally as well on $133.3m from 57 territories but bear in mind it reportedly cost $175m to make. Add at least ten percent to that and factor in multiple tens of millions of dollars in marketing on top and there is a way to go before this experimental DCEU adaptation can be called a blockbuster.
Still, the global numbers will encourage Warner Bros and will have somewhat allayed perennial concerns about summer box office.
EuropaCorp debuted the family comedy Nine Lives starring Kevin Spacey, Cheryl Hines and Christopher Walken at number on $6.2m.
Universal/Illumination's The Secret Life Of Pets ranks fourth on $319.5m after five weekends, while Star Trek Beyond in fifth place stands at a disappointing $127.7m after three sessions through Paramount.
Overall the top 12 generated $221.3 m and climbed 23.2% on last weekend and 45.8% on the comparable session in 2015, when Mission: Impossible – Rogue Nation held on to its top berth and Fox's Fantastic Four arrived in second place on $25.7m.
This week's wide releases are: Buena Vista's family adventure Pete's Dragon; Annapurna Pictures' animated feature Sausage Party through Columbia Pictures; and Paramount's drama Florence Foster Jenkins with Meryl Streep and Hugh Grant.
Confirmed top 10 North America August 5-7, 2016
Film (Dist) / Conf wkd gross / Conf total to date
1 (-) Suicide Squad (Warner Bros) Warner Bros Pictures International $133.7m –
2 (1) Jason Bourne (Universal) Universal Pictures International $22.4m $103.1m
3 (3) Bad Moms (STX Entertainment) STX International $14m $50.9m
4 (4) The Secret Life Of Pets (Universal) Universal Pictures International $11.5m $319.5m
5 (2) Star Trek Beyond (Paramount) Paramount Pictures International $10m $127.7m
6 (-) Nine Lives (EuropaCorp) $6.2m –
7 (6) Lights Out (Warner Bros) Warner Bros Pictures International $6m $54.7m
8 (8) Nerve (Lionsgate) Lionsgate International $4.9m $26.9m
9 (7) Ghostbusters (Columbia Pictures) Sony Pictures Releasing International $4.7m $116.6m
10 (5) Ice Age: Collision Course (Fox) Fox International $4.3m $53.6m
Estimated top 10 North America August 5-7, 2016
Film (Dist) / Est wkd gross / Est total to date
1 (-) Suicide Squad (Warner Bros) Warner Bros Pictures International $135.1m –
2 (1) Jason Bourne (Universal) Universal Pictures International $22.7m $103.4m
3 (3) Bad Moms (STX Entertainment) STX International $14.2m $51.1m
4 (4) The Secret Life Of Pets (Universal) Universal Pictures International $11.6m $319.6m
5 (2) Star Trek Beyond (Paramount) Paramount Pictures International $10.2m $127.9m
6 (-) Nine Lives (EuropaCorp) $6.5m –
7 (6) Lights Out (Warner Bros) Warner Bros Pictures International $6m $54.7m
8 (8) Nerve (Lionsgate) Lionsgate International $4.9m $26.9m
9 (7) Ghostbusters (Columbia Pictures) Sony Pictures Releasing International $4.8m $116.7m
10 (5) Ice Age: Collision Course (Fox) Fox International $4.3m $53.5m