JUNE 6 UPDATE: Paramount's Teenage Mutant Ninja Turtles: Out Of The Shadows dominated the weekend after studio chiefs mobilised a demographic that was predictably mostly under-25 and male.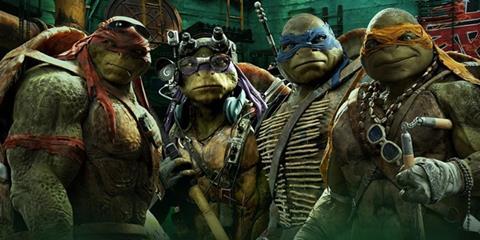 While the estimated $35.3m debut from 4,071 theatres ruled box office it was nowhere near the debut of its predecessor nearly two years ago.
On that occasion Paramount reported that Teenage Mutant Ninja Turtles opened top in the August 8-10 2014 session on $65.6m, roughly 49% ahead of the current film's launch. The film grossed $2.2m from 375 global IMAX screens.
In the second weekend two tentpoles continued to under-perform. Fox's X-Men: Apocalypse fell to number two after a heavy 65.3% drop as $22.8m elevated the running total to $116.9m. By this stage two years ago X-Men: Days Of Future Past had reached $162m in North America.
Buena Vista's Alice Through The Looking Glass is performing poorly in North America compared to its international run and fell 57.9% as $11.3m raised the running total to $51.4m. By the comparable stage Alice In Wonderland stood at $209.3m in 2010, which is $229.7m when adjusted for inflation.
Warner Bros opened its romance Me Before You starring Emilia Clarke from Game Of Thrones and UK prospect Sam Clafin on a $18.7m from 2,704 sites, a reasonable uplift for what is likely to perform well on ancillary platforms given Clarke's involvement. Warner Bros claims the film cost $20m to make.
Universal debuted Popping: Never Stop Stopping in third place on a disappointing $4.7m from 2,311 venues.
In the fourth session, Love & Friendship ranks eleventh on $7m through Roadside Attractions, while Tristar's Money Monster at number 12 has reached $38.3m and The Lobster at number 13 stands at $3.5m via A24.
Eros released Bollywood rom-com Housefull 3 at number 15 on $683,620 in 145 venues.
Oscilloscope opened Sundance entry The Fits at number 46 on $11,300 from a single screen.
The top 12 tally of $127.7m fell 19.6% against last weekend and gained 2.2% against the comparable session in 2015.
This week's wide release are: the horror The Conjuring 2 via Warner Bros; fantasy MMORPG (massively multiplayer online role-playing game) adaptation Warcraft from Universal and Legendary Pictures; and Lionsgate-Summit's Now You See Me 2.
Confirmed top 10 North America June 3-5, 2016
Film (Dist) / Conf wkd gross / Conf total to date
1 (-) Teenage Mutant Ninja Turtles: Out Of The Shadows (Paramount) Paramount Pictures International $35.3m –
2 (1) X-Men: Apocalypse (Fox) Fox International $22.8m $116.9m
3 (-) Me Before You (Warner Bros) Warner Bros Pictures International $18.7m –
4 (2) Alice Through The Looking Glass (Buena Vista) Walt Disney Studios Motion Pictures International $11.3m $51.4m
5 (3) The Angry Birds Movie (Sony) Sony Pictures Releasing International $10.2m $87.1m
6 (4) Captain America: Civil War (Buena Vista) Walt Disney Studios Motion Pictures International $7.8m $389.2m
7 (5) Neighbors 2: Sorority Rising (Universal) Universal Pictures International $4.9m $48.7m
8 (-) Popstar: Never Stop Stopping (Universal) Universal Pictures International $4.7m –
9 (6) The Jungle Book (Buena Vista) Walt Disney Studios Motion Pictures International $4.4m $347.7m
10 (7) The Nice Guys (Warner Bros) Bloom $3.5m $29.1m