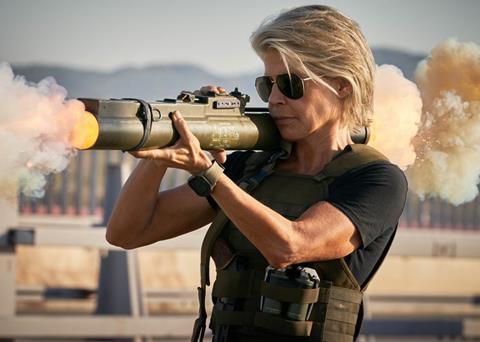 Paramount/Fox's Terminator: Dark Fate was Hollywood's top albeit not entirely convincing performer at the global box office over the weekend on an estimated $101.9m as the early running total climbed to $124m.
Meanwhile Warner Bros' Joker has surged past $925m worldwide, Disney's Maleficent: Mistress Of Evil is a day away from crossing $300m internationally, and Abominable has reached $159.7m.
WALT DISNEY STUDIOS MOTION PICTURES INTERNATIONAL
Terminator: Dark Fate from Skydance Media, Paramount Pictures and 20th Century Fox and starring Linda Hamilton, Mackenzie Davis, Arnold Schwarzenegger and Edward Furlong grossed $101.9m worldwide for a $124m early running total. The action sci-fi ranks number one in 23 markets including Australia on $2.3m, South Korea on $9.8m, and Mexico on $2.6m, with Japan to open this week.
Dark Fate grossed a middling $72.9m from 48 material territories to accompany the $29m number one North American debut that fell way below expectations and already has sparked reports the film will lose its backers in the region of $120m-$130m. Approximately $28m came from China via Tencent, and Dark Fate grossed $6.9m in the UK, $5.8m in France, $4.2m in Russia, $3.4m in Indonesia, and $3.2m in Germany. Paramount distributes Dark Fate in North America, and Fox the rest of the world via WDSMPI. The tentpole earned $9m on IMAX globally and $6m from 992 international screens.
Maleficent: Mistress Of Evil added $40.5m to propel the international running total to $298.9m and worldwide to $383.2m, which trail well behind the 2014 original's $517m and $758.4m final international and global hauls. That said, Disney executives reported on Sunday that the sequel has surpassed the original in 11 markets including China, France, Korea and Russia.
China is the lead market on $46.9m, followed by Russia on $28.2m, Mexico on $19.2m, France on $15.3m, the UK on $14.9m, Brazil on $14m, Italy on $12.3m, and Spain on $10.2m.
CHINA UPDATE
Last weekend's champion Better Days added $47.8m and perches on a $170.2m worldwide running total.
WARNER BROS PICTURES INTERNATIONAL
Joker surged past $925m worldwide at the weekend to reach $934m, adding $37m from 79 international markets to reach $634.4m and rank as the highest Warner Bros release in 19 markets, the highest from DC in 36, and the highest across Latin America. In Europe it ranks as the number one film for the fifth consecutive sessions after a 17% drop.
The supervillain origins story ranked number one and generated $5.4m in its fourth weekend in France, where the running total has reached $35.7m. A further $4.3m in second place in Germany resulted in $32.9m. In the fifth weekend, the UK delivered $3.1m for top place and a $64.1m tally; Japan $2.58m for second and $37.5m; Spain $2.56m and number one for $27.3m; Italy $2.5m and number four for $30.2m; Brazil $2.1m for number two and $33.3m; Australia $1.2m for number two and $23.9m; and Mexico $1.1m for number five and a $41.7m running total.
Doctor Sleep, the sequel to The Shining that stars Ewan McGregor and Rebecca Ferguson and is based on a Stephen King horror novel, ventured into nine European markets on $5.6m led by a $1.9m number four debut in the UK. It earned $1.3m at number five in Italy, $986,000 in France, and $748,000 at number six in Spain. It: Chapter Two stands at $245.8m internationally and $457.1m worldwide and opened in Japan at number one on $3.3m.
UNIVERSAL PICTURES INTERNATIONAL
The Addams Family added $19.3m for $35.8m from Universal territories, and $25.9m in total for $44m, rising to $129.3m worldwide. The film scored the third highest animation opening weekend of the year-to-date on $6.1m, and arrived in Brazil on $1.3m. In the second weekend the UK generated $2.8m for $8.9m, Spain $1.9m for $4.2m, Mexico $1.6m for $5.4m, Germany $1.1m for $2.4m, and Ukraine an excellent $639,000 for $1.5m.
Abominable from DreamWorks Animation and Pearl Studios brought in a further $7.7m for $86.3m, with China on $14.9m via Pearl. France was the top holdover on $3.9m for $9.4m after two weekends, and the UK has produced $8.7m after four. Russia is the second highest market on $11.2m after five, and Spain has generated $4.8m after four. Downton Abbey grossed $2.2m for an $84.1m international running total, and $178.6m worldwide. The UK has generated $33.6m after eight sessions.
SONY PICTURES RELEASING INTERNATIONAL
Columbia Pictures' Zombieland: Double Tap earned $7m from 45 markets for an international running total of $27.8m. It opened in France on $2.1m, roughly double the opening weekend of the 2009 original.
PARAMOUNT PICTURES INTERNATIONAL
Gemini Man grossed $4.5m from 55 markets to reach $115.1m, of which $31.9m comes from China after three weekends. Ang Lee's sci-fi thriller starring Will Smith playing opposite a CGI version of his younger self has amassed $5.7m after four weekends in the UK.
STX INTERNATIONAL
Horror thriller Countdown opened in seven international territories this weekend including Singapore, and took in $1.1m for a $3.7m international tally and $21.4m worldwide. Hustlers starring Constance Wu and Jennifer Lopez opened in Denmark, Colombia, Argentina and Venezuela and overall brought in $1.97m to reach $35.6m, and $139.9m worldwide.